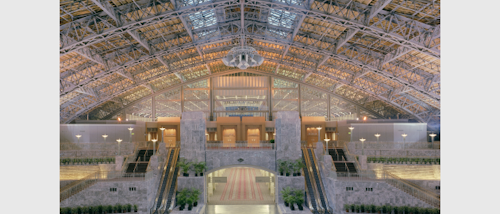 LightFair International launches next week in Philadelphia, PA, with this year's theme "The Synergy of Light in Life." The organizers have placed the integration of connectivity and design at the forefront of this year's conference and tradeshow, so we will see how that is demonstrated during the event. We at LEDs Magazine have long been in discussion with industry business leaders, researchers, and solid-state lighting (SSL) experts regarding the advance of connected lighting, what options are available for bringing connectivity to SSL, as well as what remains to be implemented to launch truly smart lighting across a variety of applications and environments.
We expect that after last year's LightFair event, many companies have regrouped and focused on differentiation in LED luminaire offerings in addition to building a more robust feature set or advanced performance capabilities into SSL design components. It's likely we will see a lot of exhibits centered around Internet of Things (IoT) capabilities, especially with two separate pavilions for Intelligent Lighting and IoT, which will display smart lighting end products and enabling technologies alongside smart controls, respectively. It will be interesting to follow what comes out during the tradeshow and what chief editor Maury Wright found compelling – watch for his full take on the LightFair exhibits in a full-length feature in our July/August issue.
For now, check out the sampling of enabling technologies and SSL products in our show-floor preview below. Visit the LightFair website for additional event and exhibit details.
Architectural, indoor/outdoor, façade lighting
Acclaim Lighting introduces Cylinder One HO
Acclaim Lighting will introduce its Cylinder One HO, a 6-in., high-output LED cylinder fixture delivering up to 12,000 lm and 99,000 max. cd for more than 20-ft ceiling height downlight applications. Visit Booth #415.
Amerlux plans eye-popping demonstrations for LightFair
Amerlux will showcase its new Rook square lighting solution, as well as other new SSL solutions, at LightFair 2019 (Booth #5837). Demonstrations will be held during the conference across the street at Le Meridien Philadelphia, located at 1421 Arch St.
Barn Light Electric to exhibit outdoor and sign lighting
Visit Barn Light Electric Co. at Booth #4361 during LightFair International to view its stylish LED outdoor wall and sign lighting offerings, such as the Gridiron LED Gooseneck light, Bullet dual LED sign light, Original LED wall sconce, and more.
CSL releases groundbreaking Gyroshift adjustable downlighting
Hudson Valley Lighting Group's Creative Systems Lighting (CSL) brand has a new line of high-performance and adjustable downlighting called GyroShift designed for spaces that require precise lighting, such as restaurants, hotels, or retail stores. Visit Creative Systems Lighting in Booth #1709.
Espen Technology offers 10W TLEDs, both ballast-compatible and bypass
Espen Technology now offers 10W, 4-ft TLEDs — also known as LED tubes — in both ballast-compatible (Type A) and ballast-bypass (Type B) versions. The 10W Type A and B TLEDs will be demonstrated at Espen's LightFair International Booth #2711.
Hubbell Outdoor Lighting introduces Ratio family of area and flood luminaires
The all-new Ratio family of area and flood luminaires from Hubbell Outdoor Lighting matches a classic rectilinear aesthetic with the latest in LED technology to illuminate a wide variety of applications. Find more information on the Hubbell Lighting family of products that will be exhibited in Booths #1419 and #1425.
JLC-Tech announces T-BAR Flex for ceiling systems
Leveraging JLC-Tech's patented technology of replacing cross tees in a suspended ceiling, the T-BAR Flex utilizes the XM clip. JLC-Tech's Booth #3973 will have an interactive exhibit with an up-close look at the installation of the T-BAR Flex.
Neri North America brings its architectural lighting to LFI
Neri North America will exhibit its latest architectural lighting solutions — including the Lang post-top and illuminated Brenta outdoor furnishings — in Booth #2009 at LFI.
Optec LED Lighting updates key features on OLA1 area fixture
Optec LED Lighting updated the OLA1 DLC Premium area luminaire to include Inventronics' 10-year driver, optional Synapse wireless mesh network and a type 5 distribution. This luminaire and other products may be seen at the company's LFI booth #5000.
Orion Lighting debuts new LED lighting enhanced with smart controls
Orion Lighting, a provider of enterprise-grade LED lighting and energy project solutions, announced it will be exhibiting several new and improved LED lighting products at LightFair Booth #409, such as LED high bays and LED retrofit offerings.
Riverside LED luminaire from Sentry Electric to debut at LightFair
At the heart of the Riverside SLR-NG-LED luminaire is Sentry's optical system, which works in tandem with the LED light source and horizontal luminous plane to provide comfortable, pleasing, diffuse light. See it in Booth #236.
Traxon introduces new members of the ProPoint family for exterior façades
Traxon Technologies, an Osram business, introduces its latest architectural lighting fixtures, the ProPoint Family of Linear, Vista, Pixel, and Sconce fixtures. Osram will be located at Booth #1701.
Vista Architectural Lighting adds to COB LED in-grade series
Vista Architectural Lighting has added three new models to its line of 1180 Series COB (chip-on-board) LED In-Grade lighting fixtures: the 1180 drive-over in-grade, 1181 marker light and 1182 in-grade, all with a low-profile, 4-in. fixture height. Visit Vista in Booth #1343.
Smart lighting/IoT, tunable lighting, & controls
Cree Lighting combines smart controls and dynamic, simulated natural light with Cadiant
Cree Lighting's Cadiant dynamic skylight is a standalone system that creates the sensation of natural light and a sunlit sky via a virtual skylight experience, using SmartCast advanced lighting controls. Visit Cree Lighting in Booth #2119 at LightFair.
Digital Lumens reimagines IIoT through LED fixture with interchangeable smart sensor
Digital Lumens will unveil the RLE intelligent LED fixture at LightFair International 2019, along with demonstrations of its SiteWorx industrial IoT (IIoT) applications for intelligent lighting control, facility monitoring, and more, alongside its parent company, Osram, in Booth #1701.
Lutron HXL combines elements of lighting design to focus on benefits to occupants
The Lutron HXL approach combines four elements of lighting design to allow people to be, work, and feel their best: Quality Light, Natural Light, Connection to the Outdoors, and Adaptive and Personalized control. To learn more, meet with Lutron experts in Booth #1724.
Osram Tunable White system to be exhibited at LightFair
The Osram Tunable White System provides a digitally, controllable lighting solution which simulates natural daylight that reinforces human wellness and productivity. Osram – Digital Systems will demonstrate its technologies in Booth #1701.
Signify brings LED retrofit, control, and modular systems to LightFair
Signify will exhibit its latest smart lighting system building blocks in Booth #1401 at LFI, including the Bodine ELI-S-10 emergency lighting inverter, Fortimo InstantFit LED modules, and the Advance FlexTune system for developing networked tunable-white lighting.
Synapse Wireless presents SimplySNAP software for lighting control and energy monitoring
SimplySNAP Illuminate is a scalable, cloud-based lighting control system designed for customers with multiple sites or larger single sites with thousands of lights and controllers. Learn more at Booth #4125 in the IoT Pavilion.
TRC Electronics brings LED drivers to LFI exhibit floor
The Mean Well XLG series of LED drivers will be displayed by TRC Electronics at Booth #150. The XLG series ranges from 25~240W, are IP67 rated and UL 8750 Type "HL" approved.
Tridonic expands NFC-programmable LED drivers with software controls
Tridonic simplifies parameter settings by expanding its portfolio of NFC-programmable LED drivers with its companionSUITE software collection. Visit Tridonic Booth #4039 in the IoT Pavilion.
SSL product/system design components & tools
Konica Minolta Sensing Americas to showcase advanced light measurement solutions
Konica Minolta Sensing Americas, Inc. will be exhibiting its luminance and color meters CS-150 and CS-160 at LightFair 2019, and will host a "Show Special" on one of its popular lux meters at the event. Stop by Booth #1137 for more details.
MOSO launches latest X6 LED drivers as 'black box' of LED luminaires
MOSO's X6 LED drivers are developed for professional outdoor lighting applications. The drivers will keep recording the temperatures of critical components and electrical stress data during operation in order to provide failure diagnostics.
Overdrive launches MPLR LED engines
Overdrive announces the formal release of its Multi Purpose LED Retrofit (MPLR) engines, at its LightFair Booth #457. The MPLR is designed for both OEM use in new fixtures, as well as retrofitting of legacy fixtures in the field.
RedBird LED to exhibit LED components and luminaires
RedBird's 100% Made in the USA LED products include a universal strip kit for retrofits, industrial high bay, tunable retrofit kit, wireless controls, and a horticultural SSL offering, to be exhibited in Booth #2748.
Seoul Semiconductor to illuminate LFI with LED technologies for human-centric lighting design
Seoul Semiconductor is a sponsor and exhibitor at LightFair in Booth #3101, and is sponsoring the LFI2019 "My Headshot" lounge, where all attendees can receive a professionally photographed portrait, illuminated by SunLike Series natural spectrum LEDs in Booth #5734.
TE Connectivity announces Lumawise Drive LED holder type Z50 – DALI-2 series
Designed for 48-VDC input, the new holder incorporates DC/DC constant current LED driver functionality into a low profile LED holder, enabling lighting designers to develop more compact, cost-effective, and better-looking lighting products. Visit TE Connectivity in Booth #1949.
Check back for more updates on the latest news and announcements coming out during LFI 2019 here at ledsmagazine.com.
Follow @ledsmagazine and @LED_Maury on Twitter for breaking news and viewpoints, join in the conversations on our LinkedIn group (search: LEDs & Lighting), follow our LinkedIn Showcase page updates, and find us on Facebook.
*Editor's note: All announcements that appear in this article were sent in response to a call for products by LEDs Magazine.