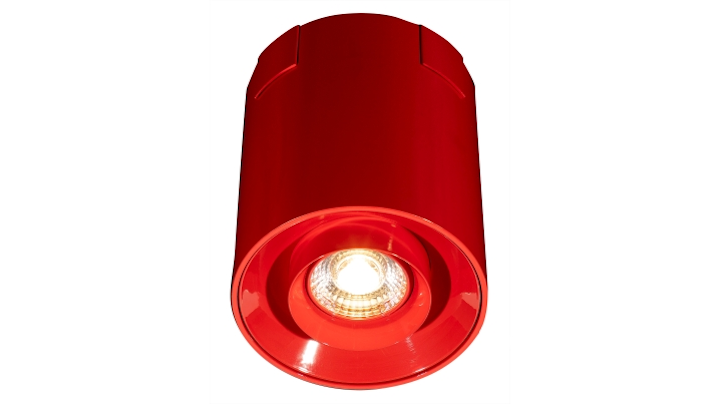 City Of Industry, May 2019 – Hudson Valley Lighting Group's Creative Systems Lighting (CSL®) brand has a new line of high-performance and adjustable downlighting called GyroShift™.  The GyroShift™ system is great in spaces that require precise lighting, such as restaurants, hotels, or retail stores.
CSL's most recent launch, GyroShift™ multiples harnesses ground-breaking technology that allows side-by-side multiples to point their light beams in all directions, without fear of obstruction or interference on the back end. The GyroShift™ technology allows the fixtures' backends to remain stationary while the proprietary CSL® GyroShift™ optic focus, shift, shape, and deliver up to 2200lm of light at targets up to 45-degrees from the nadir, all the while maintaining a circular beam shape. This new way of developing multiples eliminates the need for large enclosures, reduces the impact of installation in the ceiling space, and allows for clusters of fixtures to be assembled at close proximity without any concerns about space and interference.
The 1" remodeler delivers 650lm with 35 degrees of adjustability, 2" remodeler delivers 840lm with 45 degrees of adjustability, and the 3" remodeler delivers 1400lm with 45 degrees of adjustability. The GyroShift™ system also offers a unique thermal design that allows the downlight to deliver higher light output without overheating when installed in insulated ceilings.
About CSL® (Creative Systems Lighting)
CSL® (Creative Systems Lighting) has been designing and manufacturing performance engineered architectural lighting fixtures since 1990. Known as the pacesetter in low voltage, small aperture recessed lighting, CSL has emerged as a leader in architectural LED lighting. More than 90% of CSL's products are designed and manufactured in the U.S. with the remaining teams in Europe and Asia. CSL continues to revolutionize the way architects and lighting designers perceive technical performance and energy efficiency with each new lighting innovation. The company's catalog includes the recently released Acrobat® Downlights, Eco-Downlights, Task Lighting, Steplights, Linear and Architectural Lighting. Today, CSL's diverse range of LED lighting products can be found in commercial buildings, hotels, retail establishments and homes all over the world. For more information about CSL, visit: www.csllighting.com. 
Contact:
Alex Klaassen - LaRue PR
For Creative Systems Lighting
Email:
Web site: