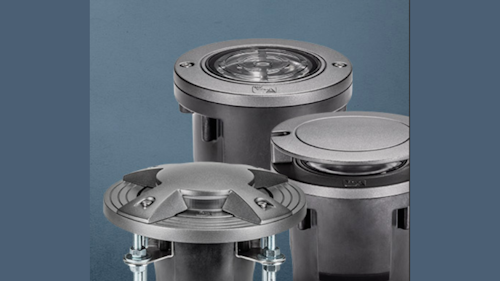 SIMI VALLEY, Calif.  — Vista Architectural Lighting has added three new models to its line of 1180 Series COB (Chip-On-Board) LED In-Grade lighting fixtures: the 1180 drive-over in-grade, 1181 marker light and 1182 in-grade, all with a low-profile, 4" fixture height.
The 1182 in-grade includes a one-of-a-kind, patented, magnetic hot-aiming system. This system utilizes a Vista-supplied magnetic tool that's externally applied to the fixture's lens and then mated with a magnet affixed to the pre-installed tilt optics of 5°, 10° or 15° or a linear spread. With the wand and the magnet mated, the internal tilt optics can be rotated up to 360° with no need to open the fixture, saving time and further enhancing lighting customization. 
"Our unique hot-aiming system provides more flexible lighting control," said Cruz Pérez, vice president of sales and marketing for Vista Professional Outdoor Lighting. "Because the internal tilt optics can be aimed without opening the fixture and while power is being supplied, it's easier to quickly direct light precisely where it's needed."
With a drive-over rating of 7,000 pounds and IP68 certification, the 1180 drive-over in-grade is designed for direct burial in poured concrete, making it ideal for installation places like hotel or casino driveways to create easily vislble traffic lanes. The 1180 is also useful indoors to mark walkways and pathways.
The 1181 marker light pushes light to the side, making it ideal for illuminating appropriate travel directions on pathways, sidewalks and driveways, while the 1182 circular, in-grade fixture provides attractive uplighting for architectural features and signage. The 1182 is available with or without a trim ring for further customization. Both models are low profile, with a 4"-5" fixture height, making them easier to install and design around in tight areas. Their unitized housing offers the high-load strength required for outdoor use. While the 1181 marker is not intended for drive-over applications, the 1182 has a drive-over rating of 10,000 pounds, making it extremely versatile.
The 1180, 1181 and 1182 are rated for wet indoor and outdoor applications. All utilize integrated COB LED technology – up to 450 delivered lumens for the 1180 and 1181 and up to 1,300 delivered lumens for the 1182 – in color temperatures ranging from 2700°K to 5000°K. The 1182 offers different flood variations that allow the optics to go from a very narrow spot to a wide flood – a rare feature among lights of this type available on the market today. A piston gasket on the perimeter of the factory-sealed lamping module creates a water-tight seal to the Rough-In-Section (RIS), making these non-flow-through luminaires ideal for indoor applications as well as outdoor installations where drainage is not practical.
"Back in 2015, we surveyed architectural lighting sales agents, and 37 percent of those individuals said they'd like to see Vista expand its offering of in-grade products," said Perez. "The following year, we introduced the 1180 Series to the architectural lighting market with great success. Now, we're adding these three new models to give agents and designers more easy-to-install options that provide the customized lighting their customers expect and demand."
To learn more about Vista's new 1180, 1181 and 1182 COB LED In-Grade Series lights, visit www.vistapro.com/1180Series.aspx To learn more about Vista's many other or their many other quality products for the architectural lighting industry, visit www.vistapro.com or follow Vista Professional Outdoor Lighting on Facebook, Twitter and LinkedIn. Visit Vista Professional Outdoor Lighting at LightFair International in Booth #1343.
About Vista Professional Outdoor Lighting
Since 1984, Vista Professional Outdoor Lighting has been producing innovative lighting for the architectural and landscape industries. The company designs, manufactures and supplies a diverse line of distinctive lighting fixtures, transformers, HID ballasts and accessories ideal for residential, commercial, public area, resort and institutional applications. All of Vista's products are American-made at the company's headquarters in Simi Valley, Calif. Vista also custom-builds and ships each light fixture in just a few days after receiving a distributor's order, providing superior personalized service, quality and reliability without compromising design.
Contact:
Lynette S. Von Minden - Public relations
Swanson Russell, for Vista Professional Outdoor Lighting
Email:
Web site: