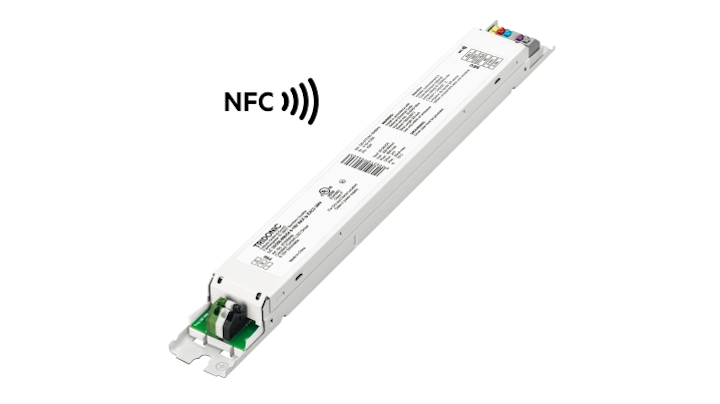 Tridonic simplifies parameter settings by expanding its portfolio of NFC-programmable LED drivers with its companionSUITE software collection. companionSUITE with NFC technology can wirelessly define and transfer one, or up to 20, LED driver parameters in one step to enable significant time and cost savings in production.
In addition to being NFC-programmable, the new excite (EXC) series of LED drivers now come with a 24V auxiliary outlet to power control modules and sensors without the need for an extra cable or wiring. When matched with Tridonic's intuitive lighting control system, basicDIM Wireless with (Casambi Ready) control modules, it provides the ideal solution for updating conventional lighting without requiring any additional wiring or construction. Now, Tridonic has made wireless lighting control a quick, cost efficient and reliable way to manage small offices, classrooms and retail settings. Simplified wireless lighting control includes a luminaire with an LED module, a Tridonic EXC series driver with NFC interface and one of Tridonic's basicDIM Wireless (Casambi Ready) control modules. The optional sensor integration allows for automated adjustment of the lighting.
Luminaire control is performed with Tridonic's intuitive user interface or with the free 4remote BT app on an Android or iOS smartphone. Tridonic's new EXC series drivers are an important part of tomorrow's lighting systems for the U.S. LED lighting market.
Visit Tridonic Booth #4039 in the IoT Pavilion at LIGHTFAIR.       
Contact:
Angie Kellen - Open Sky Communications
for Tridonic
Email:
Web site:
https://www.tridonic.us/us/download/brochures/NewsCards_LW_2019_2020_US_web.pdf