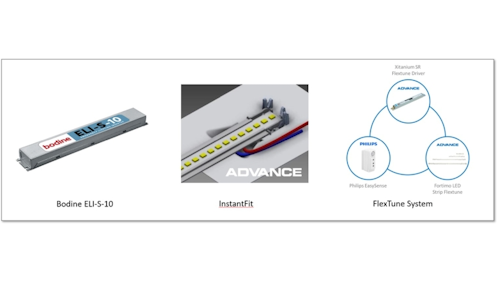 Signify will exhibit its latest smart lighting system building blocks in Booth #1401 at LIGHTFAIR International.
Featured Products:
The new Bodine ELI-S-10 emergency lighting inverter is technology that fits. The 10VA unit's size (390 mm x 58 mm x 30 mm) helps simplify installation and provide flexibility. Two models will be available: conduit and non-conduit. The non-conduit ELI-S-10 has been designed to fit into your fixture, depending on fixture size, type and application. ELI-S-10 allows you to dim a higher power fixture to 10VA automatically in emergency mode. The inverter is UL Listed for the U.S. and Canada and meets California Energy Commission (CEC ) Title 20 efficiency requirements. Targeted availability for ELI-S-10 is July 2019.
InstantFit - This revolutionary breakthrough meets the concerns that will be raised by the need to junk whole LED troffers when their light sources fail. The next wave of LED troffers will be easily serviced by simply replacing a Zhaga-standard Fortimo Instantfit LED Module. Modules can be replaced without screws, simply by snapping into connector on fixture.
https://signify-portal-oem-nam-prod.trimm.net/public-dashboard/public-news/lightfair-2019.html?linkId=67172059
The Advance FlexTune system provides a new level of design flexibility, control precision, and simplicity for the tunable white lighting system for the commercial applications such as commercial office, healthcare, hospitality, and education. This system includes an all-new 40W digital LED driver with Sensor Ready (SR) interface, a portfolio of matching LED modules, and a fixture-mounted sensor based on the Philips EasySense platform. It can also be easily paired with third-party LED modules and/or SR-certified network lighting control (NLC) solutions.
https://www.signify.com/en-us/brands/advance/xitanium-sr
Contact:
Robert E. Lee, Signify
Email:
Web site: