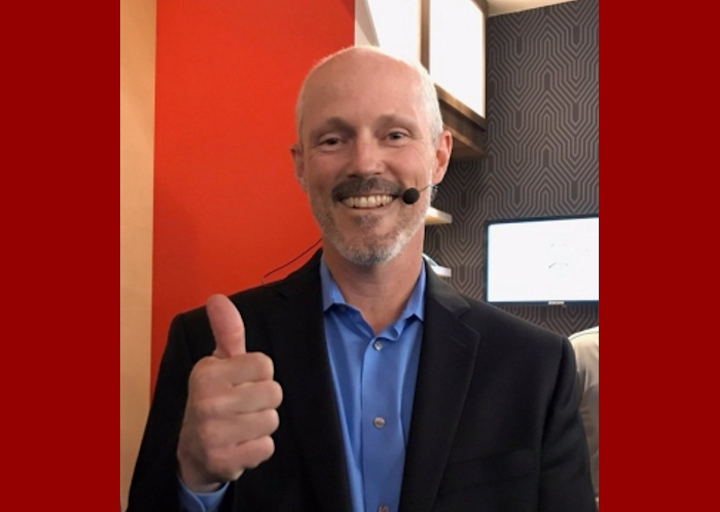 The Internet of Things (IoT) lighting champion who helped lead Acuity Brands into hundreds of millions of square feet of connected US retail space including Target, and who oversaw Acuity's Atrius IoT integration program, has left the company.
Greg Carter, who was senior vice president of connected building software, exited Atlanta-based Acuity in July to join Slalom Consulting as technology practice leader in Austin, TX, Carter's hometown.
LEDs Magazine learned of the development via LinkedIn when we were following up on our story last week about a new Acuity president.
While Acuity has yet to announce the move, it is believed to have replaced Carter internally with Audwin Cash, who has been a senior vice president with connected lighting responsibilities.
Cash would be taking over broad IoT duties just as Acuity itself expands its own stable of products that could potentially tie into the Internet, as Acuity this week acquired privately held The Luminaires Group. TLG, a roughly $100 million company based in Montreal, markets indoor and outdoor lighting fixtures to architects, designers, and engineers under the a-light, Cyclone, Eureka, Luminaire LED, and Luminis brands.
The post that Carter held is an important one: Acuity, like many LED lighting companies, is staking a substantial part of its future on establishing lighting as a core element, if not the backbone network, of smart building infrastructure.
The smart lighting vision calls for equipping lights with wireless technologies such as visible light communications (VLC), Bluetooth, sensors, and others to help track assets, people, and conditions, and to gather data that organizations send to the cloud for analysis. It can guide shoppers around retail stores and offer them tailored discounts; it can help employees and visitors find works spaces; it can give facility managers keen insight on how to reorganize space; it can find lost items such as wheelchairs at hospitals; it can help control climate settings and adjust light levels for human comfort; and much more.
Under Carter, Acuity has been a driving force in IoT lighting, especially in the retail area. Acuity is one of the few lighting companies that cites deployments on a scale exceeding small or one-off pilots.
At last count earlier this year, Acuity had installed connected lighting in over 300 million ft2 of North American retail space, a six-fold increase in two years. Carter told LEDs in February that of the 300 million, about 150 million ft2 was activated, engaging shoppers and providing stores with marketing and merchandising analytics based on shopper movements.
Retail chain Target has deployed Acuity smart lighting across many of its 1855 stores (up from 1845 locations).
Carter also had responsibility for Lucid, a division of Acuity that handles building analytics through a business intelligence program called BuildingOS. Acuity acquired Oakland, CA-based Lucid Design Group in February 2018 with the aim of combining it with connected lighting. Audwin Cash is believed to be taking over that role as well.
Cash will oversee Atrius, the IoT lighting program that Carter had run which draws on software and analytics expertise from other companies. Under Carter, Acuity was also hoping to recruit other luminaire makers into the Atrius habitat.
In more flux for the Atrius program, Vinod Kashyap, who was Atrius' vice president of product management for Atrius retail IoT solutions, also left Acuity in July, around the same time as Carter.
It is not clear who might take over Carter's oversight of another Acuity IoT division, DGLogik, based in Oakland.
Meanwhile, Acuity did not reveal the price it paid to private-equity firm Sentinel Capital Partners for TLG. The TLG products join Acuity's many other brands, which include Lithonia Lighting, Holophane, Aculux, American Electric Lighting, Antique Street Lamps, Atrius, DGLogik, Distech Controls, DTL, eldoLED, Gotham, Healthcare Lighting, Hydrel, Indy, IOTA, Juno, Lucid, Mark Architectural Lighting, nLight, Peerless, RELOC Wiring, ROAM, Sensor Switch, Sunoptics, and Winona Lighting.
MARK HALPER is a contributing editor for LEDs Magazine, and an energy, technology, and business journalist (markhalper@aol.com).