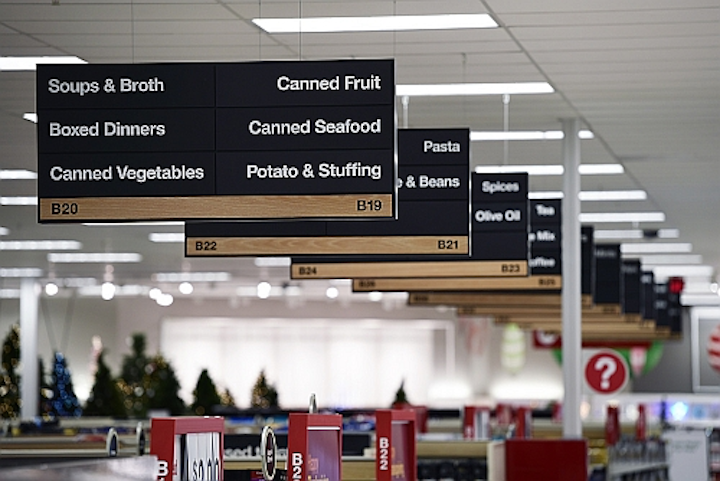 Both alliances are aimed at indoor positioning — one for retail stores, the other for healthcare settings.
The partnering dance between lighting companies and IT companies continues to move to an IoT beat, as LED lighting vendor Acuity Brands teamed with location-marketing specialist Verve to help use luminaires for communicating with shoppers via their smartphones at retail stores.
Interested in articles & announcements on IoT lighting and indoor positioning applications?
The alliance is part of the Atrius IoT program that Acuity launched last spring, aimed at providing lighting-based Internet of Things (IoT) products and services under the Atrius brand with the help of IT firms. It comes a few weeks after Acuity teamed with healthcare technology provider Gozio Health to offer wayfinding services at hospitals.
Under the agreement, Verve will develop programs to take advantage of Acuity's indoor positioning software, called Atrius Navigator. Retailers would then use the software to engage customers in-store, providing them special offers, discounts, and information, and helping them to locate items. Deployments would typically tie into end users' loyalty schemes, further enabling customized information.
The Atrius hook-up gives Verve another outlet for its own software, which it already provides for both indoor and outdoor settings, independent of the lighting infrastructure. Acuity embeds Bluetooth chips in luminaires to support the service. Alternatively, it also delivers the service through a lighting technology known as visible light communications (VLC), which embeds communication signals into modulate lightwaves emitted by LEDs rather than in the radio waves of Bluetooth.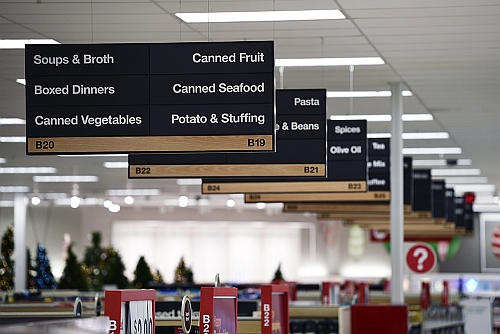 Acuity Brands signs up two new IT partners to its Atrius IoT platform for indoor positioning systems applications
In case the signs like these inside a Target store don't provide enough clues, lighting-based indoor positioning systems can help shoppers navigate the aisles. More to the point, they can also deliver personalized offers and information. (Photo credit: Target.)
"Joining the Atrius IoT Partner ecosystem broadens Verve's ability to provide our brand and retail clients with precise indoor location capabilities for engaging customers and robust insights to measure campaign efficacy," said Brian Dunphy, general manager of Verve's device and IoT business. "The Atrius-Ready Sensory Network solves a key challenge in scaling Bluetooth beacon networks across multi-location retailers, and it eliminates the operational concerns of replacing beacon batteries or beacon units, which has been a barrier to mass adoption."
In a similar pairing, Atrius' partnership with Gozio extends that company's potential reach. Gozio's mobile technology is designed to help people navigate from their home to a healthcare facility, to find the correct parking area, and to find a specific location inside the facility.
"We chose the Atrius IoT solution to expand our current mobile application development offering for our hospital partners," said Joshua Titus, CEO of Gozio Health.
Acuity did not disclose the names of any customers that might use either the Verve or Gozio Atrius-linked systems.
The lighting industry is increasingly trying to double as an IT industry, using lights and the lighting infrastructure to help gather data and disseminate data on everything from customer behavior to roadways to air quality. The push was very much on display at last week's Light+Building exhibition in Frankfurt, with announcements such as Philips Lighting's new cross-industry Interact IoT platform.
It has also given rise to IT integration and partnership initiatives, such as Acuity's Atrius and Feilo Sylvania's SylSmart.
Notably, the number of product and partnership announcements have far outstripped end-user announcements, although as of last July, Acuity was claiming that it already covered 50 million ft2 of retail space with lighting-based indoor positioning systems. Customers include Target retail stores and are also believed to include Walmart.
In one recent end-user example from another vendor, Zumtobel reported that some customers spent between 34% and 42% more at an E.Leclerc retail store in France after a few months of using an indoor-positioning system for customer engagement.
While lighting companies strike partnerships with IT companies, they are also at the same time competing against them.
MARK HALPER is a contributing editor for LEDs Magazine, and an energy, technology, and business journalist (markhalper@aol.com).