Signs & Displays
Updated September 2006
May 13th, 2004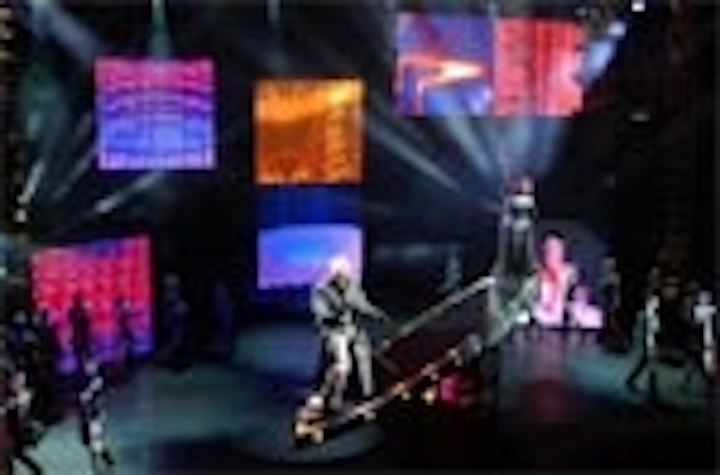 Latest
Full-color video LED billboards feel the impact of alternative technologies (Sep 06)
Smaller LED display manufacturers could struggle in the face of decreasing prices and the emergence of competing technologies such as digital ink, according to Peter Pihos of EDG Research and Consulting.
Chamaeleon LEDs illuminate Heathrow advertising sign (Sep 06)
A high-profile advertising wall at Heathrow airport's Terminal 3 uses LED lighting and controls supplied by Chamaeleon Technologies.
ROHM unveils full-color LED dot matrix display (Sep 06)
Viacom installs Lighthouse LED screens in Dutch stations (Aug 06)
Viacom is building a digital LED signage network in Dutch railway stations, while Clear Channel is rolling out another network in Albuquerque.
Introductory Articles
Car manufacturers make a stand with LED technology (Dec 05)
Automotive manufacturers pull out all the stops when it comes to attracting visitors to their stands at the major motor shows around the world.
LEDs in Signs and Displays
Promising markets emerge for LED signage
Digital signs using LEDs are now a major force in signage markets such as channel letters, message reader boards, and large-format video-screen displays, according to Intertech Corporation.
Selected Features
SID 2006 reinforces emerging role of LEDs in electronic displays (Jun 06)
Every LCD display maker or solution provider at SID 2006 showed some type of LED-backlit LCD, reports Stewart Hough, and some highly complex backlighting technologies are now being developed.
Slablight - the world's largest LED backlight? (Jan 06)
Using techniques developed for mobile phone display backlights, Polymer Optics Limited (POL) and Ambisol are able to manufacture very large-area backlights that use LED light sources, as POL's Mike Hanney describes.
LED dragon breathes fire into Japanese attraction
A 40 ft tower featuring two intertwining LED video displays is the highlight of a Japanese spa resort. Louis Brill describes the design and fabrication challenges involved in the project.
Boston's CITGO sign gets LED treatment
A landmark Boston sign has been restored using 240,000 LEDs in time to welcome the Red Sox back to Fenway for the new season
Displays and signs call for improvements in green and white LEDs
Speakers at the recent Strategies in Light conference described trends and challenges in the full-color video display and signage markets.
Case study: Canopy border lighting for gas stations
TIR's LightMark border tube system has been used extensively by two major petroleum retailers, BP and Petro-Canada.
Internal calibration and efficient optics ensure long-term consistency for LED billboards
Visioneered Image Systems has developed a display technology that counteracts the degradation of LEDs and ensures consistent LED brightness over the full lifetime of the display.
LEDs attempt the jump from small screen to large screen
Several recent announcements indicate that liquid-crystal-display manufacturers are increasingly interested in using LED modules as the backlights in larger screens for PCs and televisions. However, the market may not grow as rapidly as some predict.
Black area and fill factor in LED display systems
Black area, an inherent characteristic of LED displays, is one of the key factors influencing the visual quality of LED imaging. Sansi Technology has developed a method of reducing the black area and increasing the fill factor of its LED displays.
Why use LEDs in an exit sign?
Ian Harwood of Cooper Lighting & Security presents the case for using LEDs to illuminate emergency luminaires and exit signage.
White Tetra strips extend GELcore's range for channel letter lighting
GELcore has added a white LED strip to its GE Tetra range for channel letter applications and has also extended the length of strips operated from a single power supply.
Custom LED displays for instrumentation and message panels
Geoff Lidgard of PRP Optoelectronics Ltd describes the design, development and manufacture of small-scale custom LED arrays for instrumentation, message panels and imaging equipment.
G-LEC's transparent LED displays used on Dido's Life for Rent tour
Dido's recent Life for Rent tour took full advantage of the capabilities of G-LEC's ClassicFrame system, a lightweight, largely transparent display made up of LEDs inside polycarbonate tubes.
Tiles from Element Labs provide backdrop for MTV awards
Versa TILEs from Element Labs have had a high profile year so far, with a starring role in the MTV Movie Awards as well as titillating viewers of the Super Bowl halftime show.
Selected News
SACO Technologies acquired by LSI (Jun 06)
SACO and its Smartvision brand of LED displays and lighting products have been acquired by LSI, a lighting and graphics company.
Displays news: Solar Sports Scoreboard, Lighthouse, OnScreen (Jun 06)
Two US companies have teamed to produce the LED Solar Sports Scoreboard, Lighthouse provided LED screens for the Poseidon premiere, and OnScreen says that LED signs help retailers raise sales.
Carmanah gets orders for LED signs and bus stops (May 06)
Carmanah has received follow-on orders for solar-powered LED bus stop lighting in London, and point-of-sale signs for LG Electronics.
Displays: LEDs in Las Vegas billboards & Lisbon casino (May 06)
An LED billboard network will reach 36.7 million visitors in Las Vegas, while G-LEC has provided a large exterior display for a Lisbon casino.
Displays: Opticomm, ANC Sports, Daktronics (Mar 06)
Opticomm has deployed a fiber-optic control system for a Lighthouse display, while both ANC Sports and Daktronics have sold systems to sports stadiums.
SIGNS & DISPLAYS: Cinema signage, Sports arena displays (Mar 06)
A total of 5.2 miles of LED channel letter lighting has been used to rebrand a UK cinema chain, while Odeco has installed 100 square meters of LED display screen in a Madrid sports venue
Displays: Barco, Color Web, XL Video, Daktronics, Dynamax (Feb 06)
Barco sports perimeter LED display optimized for TV broadcast
G-LEC supplies LED backdrop for Winter Olympics medals (Feb 06)
A giant 10 x 26 m screen has been assembled made up of multiple frames holding plastic tubes containing LED pixels.
LED screens provide backdrop for Brit Awards (Feb 06)
San Siro stadium installs Odeco LiveAd LED display (Feb 06)
Odeco has supplied a 234 m LED perimeter system containing more than 2.2 million LEDs in the San Siro stadium in Milan.
Displays: ANC Sports updates The Q with LED screens (Feb 06)
Displays: LEDs feature in Super Bowl show (Feb 06)
Barco is supplying an LED stage for the Super Bowl, while Daktronics' displays feature at this and other sporting venues.
Applelec lights world, Daktronics chosen by Bisons (Jan 06)
LEDs from Applelec are illuminating a giant world map, while Daktronics has supplied more sports arena LED displays.
CT Germany and Barco supply LED displays to NAIAS (Jan 06)
Innovative displays using LEDs were much in evidence on the exhibition stands at the Detroit motor show.
Power Projector develops LED light engine for projection (Jan 06)
A UK-based optical design company has developed a novel, high-efficiency light engine for projection applications.
Displays: Lighthouse certification, Daktronics, Dynamax (Jan 06)
Lighthouse has received ISO 14001 certification for its factory in China, Daktronics will upgrade the Colorado Rockies scoreboard with more LEDs and Dynamax has installed a retail LED display.
Displays: More LEDs in Times Square, Shenzhen & Beaumont (Jan 06)
Daktronics has installed an LED sign for Prudential in Times Square, while a new LED screen in China will be visible from 8 km away.
Barco to install LED displays in Victory Park, Dallas (Dec 05)
Victory Media Network has awarded Barco a $18 million contract to install over 46,000 Barco LED modules.
New Dragon package aimed at display backlights (Dec 05)
Osram Opto has announced the Argus, a new addition to the Golden Dragon family aimed at display applications.
Displays: Billboard Video, new Daktronics installations (Dec 05)
Billboard Video has been purchased by a Californian businessman, Daktronics has installed several new displays.
Barco LED screen forms unique underfloor art installation (Dec 05)
Barco has supplied LED display modules for an art installation in a London theatre.
Lighthouse LED screens help unveil Olympic mascots (Nov 05)
Lighthouse has provided integrated LED displays at a ceremony to launch the official mascots for the Beijing Olympics.
Daktronics shows strong sales growth, provides screens for Bobcats
Daktronics' revenue has increased to $75.8 million, and the company has installed a scoreboard system in Charlotte containing more than 6 million LEDs.
Displays: Barco and Daktronics install LED screens
Barco has provided a unique backdrop for the Sky News television studio, while Daktronics has installed an LED scoreboard at a Melbourne racecourse.
LED contour lighting lends drama to garage forecourts
TIR Systems has supplied curved LED lighting sections for a garage forecourt canopy in Northern Ireland.
Permlight PZ offers ultra-low cost white LED signage
Permlight's new PZ series of white LED linear signage products is near the cost of high-output white neon, while consuming one-eighth of the power.
LED displays take to the skies on a blimp
HiTech Electronic Displays has installed an LED display measuring 30 feet high by 70 feet wide on an airship.
Displays: Barco wins award, Daktronics supplies Virgin
Barco has won a prestigious industry award, Daktronics has supplied a display for the Hollywood Virgn Megastore and HSL Productions has supplied Soft-LED drape to the X-Factor TV program.
Osram Opto, LCD makers demonstrate LED backlights
Osram Opto has equipped a demo laptop with LED backlighting, while Taiwanese LCD makers are also positive about this technology.
Daktronics to build giant LED video display at Dolphins Stadium
Daktronics is to build an LED video display which will hold the title of the world's largest high-definition screen – for a short time.
Top LCD maker focuses research on LED backlights
LCD panel manufacturer AU Optronics is already supplying screens with LED backlights, and expects future growth in demand.
Displays: Daktronics reports results, OnScreen demos prototype
Daktronics' net income has dropped despite strong sales growth, while OnSCreen has shown a prototype of its RediAlert LED display.
Displays: new contracts for Lighthouse and Daktronics
Lighthouse has a new supply agreement with Sony and an order for a Samsung sign in London, while Daktronics will supply displays for Blue Man Group.
Lighthouse LED screens feature at Monaco Grand Prix
As well as entertaining racegoers at this year's Grand Prix race in Monaco, Lighthouse LED screens have been used in several projects in France.
TIR wins LED signage order for UK cinema chain
Car manufacturers promote themselves with LED displays
BMW has used "transparent" G-LEC displays in its Berlin showroom, while Pontiac has added to the collection of LED displays in Times Square
Lighthouse LED screen makes optimum use of real estate
A Dutch real estate agent has employed the power of LED display technology to sell more properties.
Daktronics selects TI's drivers for LED displays
Daktronics has chosen power management technology from Texas Instruments for its ProStar VideoPlus LED displays.
Cree targets displays with LED backlight, brighter chips
Cree has unveiled a high-efficiency LED backlight, as well as increasing the brightness of some of its top-end blue and green chips.
Samsung showcases LED backlights, first 40-inch OLED
Samsung has developed a 40-inch OLED display as well as advanced RGB LED backlights for small and large LCD panels.
Osram Opto showcases world's largest LED backlight
BillBoard builds curved display, Onscreen wins order
Lighthouse screens for Sanremo festival, Hong Kong Sevens
As well as providing coverage for rugby fans, Lighthouse LED screens have been used in an innovative piece of set design for the Sanremo festival.
Barco designs LED curtain for U2 Vertigo Tour
Audiences at concerts on U2's latest tour are enjoying a spectacular LED backdrop created by Belgian display manufacturer Barco.
Daktronics provides LED billboards to Clear Channel Outdoor
A project to install seven large electronic billboards in Cleveland demonstrates the flexibility of using LED displays for advertising.
Toshiba unveils world's first bendable LED video wall
A UK company has taken delivery of the first 6 mm pitch LED video wall to offer curvability.
Giant high-definition LED display for Turner Field
The Diamond Vision LED screen at the home of the Atlanta Braves is said to be the world's largest outdoor high definition display
Daktronics to expand display system for Kuwait Stock Exchange
LED signs inform airline passengers
LED displays installed in Amsterdam's Schiphol Airport offer targeted advertising opportunities while keeping passengers informed.
NEC to introduce high-end LCD with LED backlight
NEC LCD Technologies plans to start shipping samples of a 21.3-inch LCD using with RGB LEDs to provide the back-light.
OnScreen launches see-through advertising displays
Daktronics displays to feature in more baseball parks
TIR's revenues fall as BP contract ends
Daktronics to provide display system for Toronto stadium
JVR builds giant video screen with 13 million LEDs
Alberta offers rebates for switching to LED exit signs
World's first HDTV LCD with LED backlights
Agilent introduces optical feedback system for LCD backlights
Commercial and sports stadia sales boost Daktronics' results
Barco installs high-resolution LED screen at the Toronto Eaton Centre
Daktronics unveils ProTour modular LED display system
Toyoda Gosei exhibits LED-backlit LCD monitor
Sony introduces first televisions to feature LED backlights
NEC-Mitsubishi Electronics Display launches its first LED-backlit LCD monitor
Selected Products
Lighthouse unveils R4 fanless 4-mm-pitch LED display (Jun 06)
Daktronics GalaxyPro uses LEDs for video messaging (May 06)
Lighthouse announces new 12mm LED fascia product, relocates US office (Apr 06)
Lighthouse announces new 12mm LED fascia product, relocates US office (Apr 06)
Euro Display's unparalleled growth; Olympic presence marks company's year in review (Mar 06)
Barco sports perimeter LED display optimized for TV broadcast (Feb 06)
Goldeneye lights up brighter LED projection source (Jan 06)
Lighthouse Technologies reports successful year for LED screens (Dec 05)
Agilent's 5 mm oval AlInGaP lamps for outdoor signs and signals
Micro Lamps offers chip-on-board product for channel letters, signage
Micro Lamps offers chip-on-board product for channel letters, signage
Para Light adds SMD family of compact LED numeric displays
Barco breaks the mould with new innovative LED display products
Everbrite unveils new, improved LUMIDIGIT® price display system
CI Displays offers enhanced control, life with LED backlights
Neo-Neon introduces LEDNEON-FLEX: the killer of glass neon
Applelec carries Permlight El Blanco White LED system to replace neon
Design LED develops thin and flexible LED backlight
Carmanah unveils energy efficient edge-lit LED stop sign
Barco launches LED display on wheels
Optek's super-flux square LEDs provide color for displays
BivarOpto introduces thermally enhanced RGB PLCC-4 LED
TIR launches enhanced LightScript signage letters
Traff's Domino Sign system lights up the way
Edison Opto announces 32-inch LED backlight for TFT LCD-TV
Optek offers oval high-brightness visible LEDs
Para Light adds white E-power LED strips with RGB technology
Lighthouse to unveil portable PopVision LED screen
BivarOpto 1.0-inch blue seven-segment display
Exposed neon appearance in robust GELcore LED system
CAOGroup releases channel lettering illumination systems.
Fanless 10 mm LED video screens from Lighthouse
Lighthouse offers enhanced resolution LED panels
Para Light adds series of dot matrix displays
GELcore unveils 1-Watt white Tetra LED system