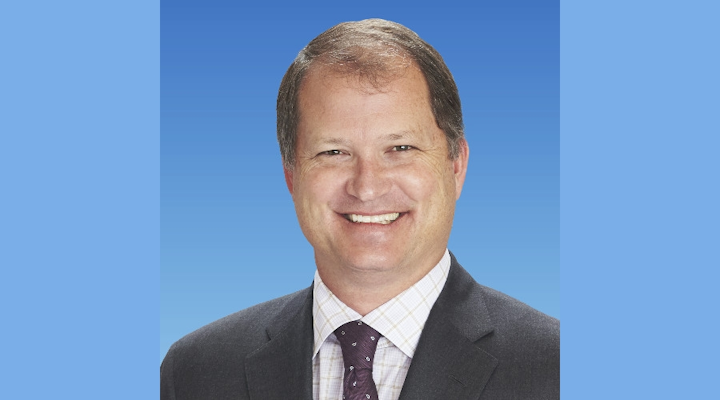 Acuity Brands has announced that Neil Ashe will step in as president and CEO, replacing longtime CEO Vernon Nagel, who will move to a newly-created role of executive chairman. The company also announced Q1 2020 financial results that included a significant drop in net sales.
Acuity's Nagel is one of the longest-tenured CEOs in the lighting sector, having served as Acuity CEO for more than 16 years. Indeed, Nagel has been at the helm through the entire lighting-industry transition to LED sources. Moreover, he has led Acuity through dozens of acquisitions, both of important luminaire manufacturers and of control and smart building players. Notable acquisitions include Juno for its industry-leading downlight products. The company also acquired connected and smart lighting technologies such as N-Light, ROAM, location services, and more. And Nagel led the company through an internal buildup of the Atrius Internet-of-Things (IoT) organization.
Ashe comes to Acuity after major successful contributions to Walmart, CBS Interactive, and CNET Networks, leading IT, content, IoT, and online business activities. "I'm honored to be the next CEO of Acuity Brands and I'm pleased to partner with and succeed Vern. I've had the pleasure of leading transformations at some of the most important Internet, media, and commerce companies," said Ashe. "What they all have in common is a commitment to customers, an ability and willingness to innovate and change, and a dynamic and talented group of associates who are passionate about building great businesses."
Still, the timing of the change is a bit curious with Acuity deeply invested in a digital lighting future yet still searching for broad success in that area. "It has been a privilege and an honor for me to lead the great associates of Acuity Brands for the last 15 years," said Nagel. "We successfully navigated one of the greatest technology transformations faced by any industry with the advent of digital lighting, and over that time period more than doubled our sales, tripled our operating margins, became the clear industry leader, and saw an eight-fold increase in shareholder value. Today our platform is strong, and we see exciting new opportunities in the years to come. With Neil's leadership skills and background, Acuity Brands in uniquely positioned to exploit these opportunities."
But Nagel is stepping aside as the first chinks in Acuity's armor have appeared. Up through a year ago, Acuity appeared oblivious to the negative business cycles impacting many SSL player due to price erosion, tariffs, and more. The 2020 Q1 results, however, reveal that Acuity is not immune to market dynamics.
Acuity results
Operating profit for the first quarter was down 11.3 % relative to the same period in 2019. Net sales for Q1 were $835M (million), more than 10% down from the same quarter the prior year.
"While we expected our first quarter net sales to be down compared with the prior year, the decline was greater than previously forecasted due to weaker than expected market demand, which we estimate declined in the low-to-mid single-digit range, with the decline in large projects even greater," said Nagel. "We experienced lower activity of large projects in various key areas such as commercial, renovation, and infrastructure. We previously announced our net sales would decline in the first quarter primarily due to the pull forward of orders by customers in advance of announced price increases in the prior-year period as well as our recent efforts to reduce our exposure to products whose profitability has been most negatively impacted by tariffs."
Acuity, however, is poised for a positive move. The company has maintained margins. And there is still work to be completed in integrating acquisitions. Nagel said the company expects the market to remain a challenge through much of 2020 until global trade issues are solved — possibly in the second half of 2020.
Other executive changes
Acuity has been through quite a few other management changes of late. Former Atrius boss Greg Carter left the company back in the late summer. And just before that move, Acuity had appointed Richard Reece as president. We aren't sure how the latest move will impact Reece's duties.
The new year also seems to have triggered executive moves at other companies. Signify reaffirmed Eric Rondolat as CEO but named a new CFO and a new executive to run the Philips Hue Lamps business. And the website Edison Report has written that Chris Stockton has moved from the Hubbell Commercial & Industrial (C&I) business to become CEO of Nordeon. Tom Benton will take over the Hubbell C&I business as vice president and general manager.
Interested in the evolution of corporate strategy and external economic factors on the SSL sector? Join us at Strategies in Light, where one of the business talks providing insights into the LED and lighting market future will be presented by Edison Report's Randy Reid. There will be much more to learn in San Diego, from Feb. 11‒13, 2020.