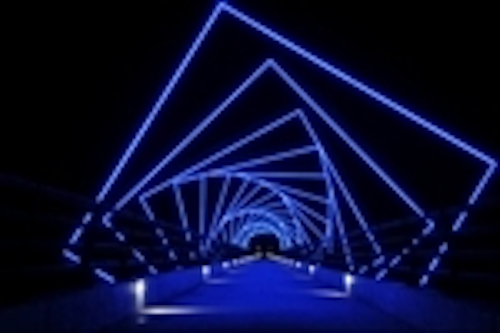 An interesting LED installation has been installed along the High Trestle Trail Bridge footbridge over the Des Moines river in Iowa.
The design firm, RDG Planning & Design, selected LED fixtures from iLight Technologies Inc. (Chicago, IL) based on their durability and reliability.
"We've used iLight products on several other projects, so we have confidence in their reliability," said David Raver, lighting studio director at RDG Planning & Design.
iLight Technologies has also provided the lighting for architectural designs at Microsoft's office in Cambridge, MA and a rapid transit station in Eagan, MN.
In this project, RDG Planning & Design was engaged to develop the artistic elements, conceptual design and lighting design related to the 41 steel frames that stand 13 stories high over the bridge. Within the 18 frames located directly over the water, specially constructed channels house Plexineon Blue Series fixtures from iLight.
LEDs were chosen because of their ability to create a dramatic effect, while providing high reliability and durability.
From the start, iLight worked with the firm to ensure smooth installation, including supplying detailed, custom drawings. The product - a total of 976 linear ft (~300m) -was supplied in palletized boxes.
"It was a smooth process," he says. "We were able to put all of the cribs up in a week's time."
The final result is a new state icon that's quickly become a destination for families, hikers and cyclists alike. The "wow" factor can be appreciated both while crossing the bridge on foot or by bicycle, and when viewing the bridge from a distance, especially after darkness falls.