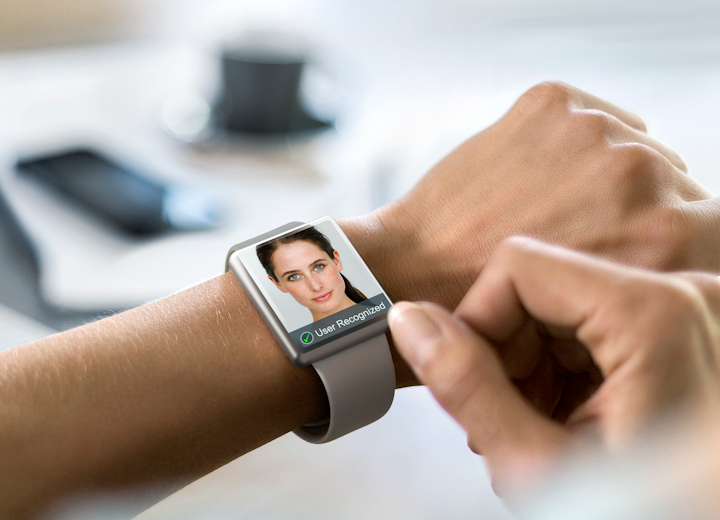 Keeping with its new emphasis on "high-tech photonics" over general illumination, Osram has introduced two new infrared LEDs — which Osram calls IREDs — intended for use as facial recognition chips that unlock smartwatches.
The Munich company said that its new 850-nm SFH 4170S and 940-nm SFH 4180S "require about 50% less space" than comparable products already on the market. Osram mounts the chips in its Oslon P1616 packaging, measuring 1.6×1.6×0.85 mm.
"In contrast to smartphones, where the screen can't seem to be big enough, smartwatches focus on being smaller in size," Osram noted.
Both chips operate at 1150 mW at 1 A, a power rating that Osram said works well for two-dimensional facial recognition, spotting features such as the length of the bridge of the nose, and the distance between eyes and between the corners of the mouth. The slightly larger SFH 4170S chip has the added benefit of avoiding the visible red glow effect that is unpopular in consumer applications, Osram noted.
The radiation intensity for both of the new IREDs is 280 mW/sr (milliwatts per steradian).
Facial identification is one of the many new photonic uses that Osram is targeting for its LED and laser chips.
"Biometric identification will become an increasingly important part of our lives in the future," said Arne Fleißner, product manager at Osram Opto Semiconductors. "With our two new IREDs, we are making space-saving integration into our customers' end devices much easier and are thus also helping to protect users' sensitive data."
Osram itself ceremoniously used its IRED facial recognition via a tablet computer in November 2017 to help CEO Olaf Berlien walk into the company's expensive new LED manufacturing plant in Kulim, Malaysia during the plant's ribbon-cutting. The company positions its larger Synios IREDs for tablets and other gadgets that are physically bigger than watches, although watch makers could choose Synios if they did not want the smaller chip, which presumably costs more than Synios. Osram declined to reveal pricing for the new LED chips, or the names of any customers, to LEDs Magazine.

Osram is also positioning LED and laser chips for use in fitness gadgets, health monitors, driverless cars and drones, virtual reality, and more.
CEO Berlien now describes Osram as a "high-tech photonics company," as Osram de-emphasizes the luminaire business — it recently sold its Siteco luminaire group.
The shift away from general illumination could also be coming at the cost of the company's Internet of Things (IoT) lighting business.
The transition has been financially difficult for Osram, so much so that it is now on the block. Shareholders are weighing offers from two prospective buyers. One of those offers, by Austrian sensor company ams, would jettison the IoT lighting business.
It is less clear what would happen to IoT lighting if a rival offer from Bain Capital and Carlyle Group prevails. Osram CEO Berlien opposes the higher €4.3 billion ($4.7B) ams offer, as do various employees representatives. Berlien has expressed his support for the €3.48B ($3.83B) Bain/Carlyle bid. His position clashes with Osram's supervisory board and executive board, both of which support the ams offer.
Ultimately shareholders will decide. An Oct. 1 deadline is approaching, although it could be extended.
MARK HALPER is a contributing editor for LEDs Magazine, and an energy, technology, and business journalist (markhalper@aol.com).