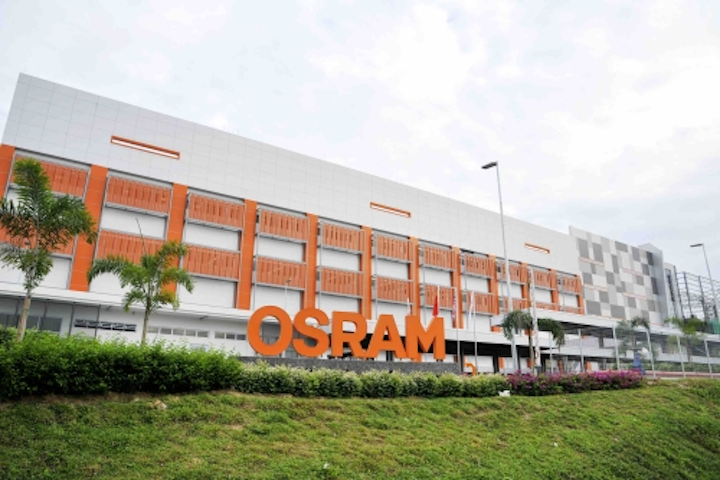 The German giant banks on global "digitization" that it says will require optical diodes serving as sensors and light sources in everything from humans to cars to general illumination. Massive factory starts on time and on budget.
KULIM, MALAYSIA—With its eyes bulging on an increasingly digitized world that it believes will embed LEDs for sensing and illuminating in everything from automobiles to fitness watches to — oh, yes — general lighting, Osram formally opened its brand new €370 million ($440 million) LED chip manufacturing plant here last week, the first phase of a general €1 billion factory expansion.
Interested in articles & announcements on LED manufacturing?
Corporate CEO Olaf Berlien, flanked by Osram Opto Semiconductors (OS) CEO Aldo Kamper and Malaysia's Minister of International Trade and Industries Mustapa Mohamed, dispensed with the clichéd ribbon cutting and instead unlocked the factory doors by staring at a tablet computer equipped with iris scanners based on Osram infrared LED technology — a gesture that encapsulated the global "digitization" that is driving Osram's revenue model.
"Our factory in Kulim is a symbol of the transformation of Osram into a high-tech company," declared Berlien, echoing a theme that he has repeated many times since taking the helm in January 2015 — that the company is embracing LED and information technology not only for illumination, but for ever-widening uses and is thus now a high-tech company even more than a lighting company.
Berlien and Kamper emphasized the many applications for LED chips as both sensors and light sources in a world increasingly obsessed by connecting things electronically. This Internet of Things (IoT) scenario includes a wide swath of LED chips as sensors: in fitness watches to detect heart rates and blood sugar; in vehicles to help steer autonomously, spot obstacles, and detect tired drivers by noting their facial expressions; in virtual reality glasses; in drones; in phones and tablets as iris scanners; and much more.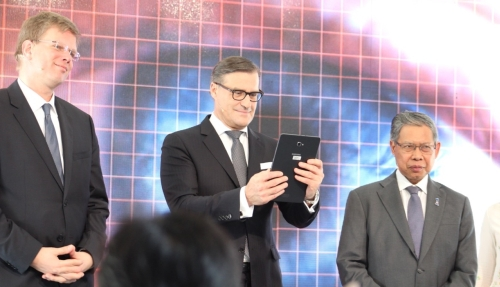 Open says my eye: Osram CEO Olaf Berlien peers at the infrared LED-equipped iris scanner on a tablet computer to gain entry to the new factory. Moments earlier, Osram OS boss Aldo Kamper (l) had done the same, and moments later, so did Malaysian international trade minister Mustapa Mohamed. The screen behind them parted, opening the way to the plant. (Photo credit: Mark Halper.)
On top of that, in Osram's view LEDs will continue to serve as valuable long-lasting, energy-efficient light sources for general illumination and for automobile headlamps, and to support the smart lighting functions for those categories, such as tunable human-centric lighting that adjusts color temperatures and spectral power to suit people's circadian health, and car headlamps that adjust their settings according to road conditions and that minimize glare for other motorists.
With the horizon rapidly broadening, Osram has high hopes for Osram OS, one of three operational divisions — the others are Lighting Solutions and Systems (LSS), and Specialty Lighting (SP, basically, automotive) — and the one which makes and provides chips to other Osram groups and to the general market.
"Looking ahead, we see ongoing demand and double-digit growth for this business segment," said Berlien. "On the one hand, rising demand comes from the new markets of visualization and sensing. On the other we hand, we see strong demand for our premium LEDs from the automotive sector. At the same time, we see tremendous growth potential in the general lighting market." (Editor's note: For the record, Sapphire Award Illumineer of the Year winning engineering expert Alexander Wilm of Osram OS voiced similar sentiments several months back from a development prospect perspective.)
When Osram released results for the fourth quarter, ending Sept. 30, earlier this month it stated that Osram OS "is on its way to becoming the largest business unit of Osram," and noted that OS and Specialty Lighting drove fiscal year 2017's 8.1% revenue growth to €4.1 billion ($4.9 billion), while Lighting remained "challenging." For the quarter, OS revenue jumped 19.4% and SP by 13.4%, while LSS declined by 6%. (Osram exited the low-tech bulb business earlier this year by selling its LEDvance group to a Chinese consortium).
Thus, Munich-based Osram has plowed ahead with building and opening the sprawling 1-million-ft2 Kulim chip factory — Osram likened it to about 10 soccer fields — a mere year and a half after breaking ground, and with eager administrative fast tracking from the Malaysian government. Office and other production space totals another 500,000 ft2.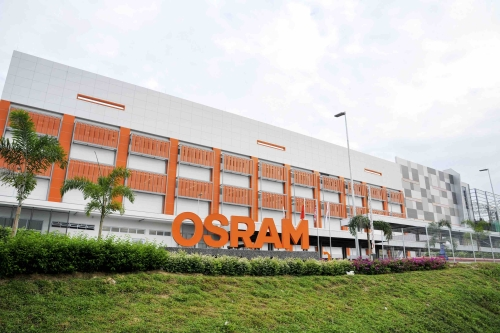 Osram opens $440M Malaysian LED manufacturing plant amid world's widening clamor for LED chips
Chips ahoy: Osram's new plant in Kulim, Malaysia is believed to be the world's largest LED factory using 6-in. wafers. Osram is also using it for the epitaxy process, which until now it had retained in Germany. (Photo credit: Osram.)
The new facility is Osram's second current plant in Malaysia, where it has had production of some sort in the nearby state of Penang since 1978, and has been operating wafer plants since 2009. Osram first started production in Malaysia in Malacca in 1972.
The Kulim plant is possibly the largest in the world to crank out LEDs from 6-in. wafers, a step up from the earlier generation 4-in. size, and a diameter that lowers overall costs through economies of scale. It's not Osram's first foray into the 6-in. size, but it is Osram's biggest 6-in. factory.
The factory is making blue emitters. While some companies believe that the future of LEDs is in violet emitters, Kamper told LEDs Magazine that "the jury is still out on that."
The Kulim site also marks the first time that Osram has transferred the important epitaxy stage of production outside of Germany. In fact, according to Kamper, it is the first time any major LED chip maker has permitted epitaxy outside of its home country. Epitaxy is the vital early portion of chip fabrication, and until now, Osram has carried it out only at its Regensburg, Germany plant.
"Our LED chip plant in Kulim is the world's most modern factory for LED chips on 6-in. wafers," said Kamper.
World firsts come at a financial cost, and for Osram, the bill at Kulim so far has been €370 million, an amount that Berlien noted was "on budget."
Osram is contemplating two additional expansions throughout its LED manufacturing locations that would bring the total investment up to around €1 billion ($1.19 billion). In addition to Kulim, Penang, and Regensburg, the locations also include Schwabmünchen, Germany; Wuxi, China near Shanghai; and Exeter, NH. Kamper told LEDs that the company will decide on phase 2 sometime in 2018.
Berlien noted that Malaysia is a preferred site because its legal system does a good job of protecting intellectual property — unlike some other countries — and because the country offers a skilled and affordable labor force. The widespread use of the English language also helps. (Malaya, as it was called, had been a British territory. It gained independence in 1957).
Malaysia is home to many western manufacturing plants, although in the last few years some, such as Seagate and Western Digital, have relocated facilities to neighboring Thailand.
"Malaysia cannot compete with some countries, we acknowledge that," said trade and industries minister Mustapa. But he said government loans have helped create 300,000 jobs in the last four years. He also noted that a number of German companies, including Osram, Bosch, BMW, and Infineon, have recently decided to expand their presence in Malaysia.
Osram plans to employ around 1500 people at Kulim, which will make chips through a combination of manual labor and robotics. The current headcount is 600, Osram told LEDs. The LED manufacturing plant started production on Oct. 23, a month prior to last week's ceremonial opening.
"Our investment in Kulim also attests to the technology shift and our transition to becoming a high-tech corporation," Berlien, said, repeating the high-tech mantra yet again. "At the beginning of this decade, conventional lighting still accounted for 80% of Osram's business. Today, two-thirds of our sales are based on optical semiconductors."
In other words: The eyes — and all the other things that can benefit from sensing and illumination in a brave new IoT world — have it.
MARK HALPER is a contributing editor for LEDs Magazine, and an energy, technology, and business journalist (markhalper@aol.com).
*Updated Nov. 28, 2017 at 2:45pm for location details.
*Updated Nov. 29, 2017 at 11:55am for headcount clarification.