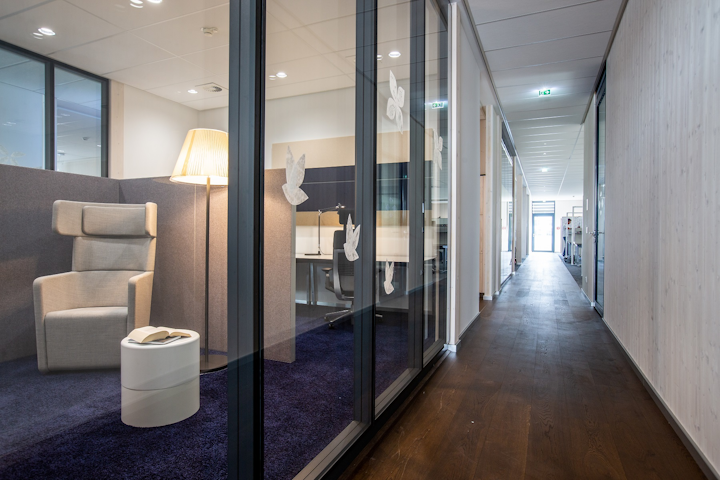 Regular readers of LEDs Magazine might recall that last week we reported on a modern smart lighting installation at a Roche office in Germany, in which sensors connected to some 130 lights are taking note of comings and goings, thus providing management with insights on how to better use space.
It turns out that the deployment is even more newfangled than we realized: it uses Power over Ethernet (PoE), the technology that runs both data and electricity over the same low-voltage cable. The provider, Signify, made no mention of this notable development in a press release announcing the Roche project, which makes use of Signify's Interact Office suite of lights and sensors connected to the cloud for data analysis.
We had originally written that the lighting controls and data conduit were DALI. By all appearances, that seemed to be the case. Signify told LEDs last week that the workhorse sensor in the installation is the company's infrared Actilume Gen2 multisensor. The company describes that product on its website as a DALI device.
Before we published our original story, we had in fact asked Signify to confirm that the installation was indeed DALI. We had not heard back by press time, so we made the leap of faith that it was. Surely Signify would have shouted about PoE if it were involved.
So much for faith. Signify has now clarified that the Roche installation uses PoE, and that there is no DALI at play. The Actilume sensor has been retooled for PoE in this case.
So why didn't Signify mention PoE in the first place? After all, a few years ago, PoE was going to take the lighting world by storm, yet the public announcements of actual deployments have been few. The last announcement we recall from Signify was a year-and-a-half ago at a new office building in Copenhagen, when Signify was still called Philips Lighting.
Any additional example might be considered newsworthy. But Signify doesn't quite see it that way.
"The thing initially with Power over Ethernet is too much of the story was about the technology," Signify director of office, education, and municipal buildings Derek Wright explained to LEDs in a phone call on July 11. "Now with Interact, Interact Office in particular, we're trying to turn it around to talk more about the benefits. It's all very well putting a whole load of IT in the ceiling, but unless you're getting benefit from it, then why do it?"
It's hard to argue with the potential benefits. In addition to helping with facilities management, the Interact system provides indoor navigation and feeds a touchscreen kiosk that provides floorplans and other information. The idea is to ultimately connect to smartphones as well.
While the Roche trial is small at about 5400 ft2, it is intended as a proof of concept that could lead to much wider deployment by the pharmaceutical giant, including PoE connections. Future installations might embed the sensors in the lights. In the trial, the freestanding sensors are wired outside of the lights.
In the overall market for such smart lighting projects, PoE will vie against other technologies, such as wired powerline communications from companies like enModus, and wireless technologies including Zigbee, Bluetooth, Wirepas, and many others. Sometimes those technologies will work together.
At the moment, there is no wireless at the Roche smart lighting pilot, although wireless could eventually enter the picture should Roche expand the concept into other locations. Signify's wireless technology of choice is Zigbee mesh, which Wright described as far more scaleable in its standard form than Bluetooth Mesh, which he said requires proprietary tweaking.
Bluetooth Mesh proponents have noted that it has taken longer than expected to gain momentum following publication of the specification two years ago.
Meanwhile, the small PoE trial continues at Roche, which has deployed it as part of a major retrofit at the building in Grenzach-Wyhlen, using both LED downlights and free-standing lights. PoE typically makes sense at new buildings — such as the Copenhagen site — or in a major renovation. Otherwise, the cost of rewiring can be prohibitive. At new sites, PoE not only cuts down on wiring as it provides an all-in-one conduit for electricity and data, but it also potentially eliminates the need to use expensive electrical contractors.
We're still scratching our heads over Signify leaving out PoE from its original Roche announcement.
"In hindsight, it might have been good to have mentioned "it's delivered by Power over Ethernet,'" Wright acknowledged. Still, he emphasized that it's the benefit, not the technology, that matters the most.
We're now left wondering how many more PoE lighting deployments are flying under the radar. We will try to have a look. Feel free to contact us if you know of any.
MARK HALPER is a contributing editor for LEDs Magazine, and an energy, technology, and business journalist (markhalper@aol.com).