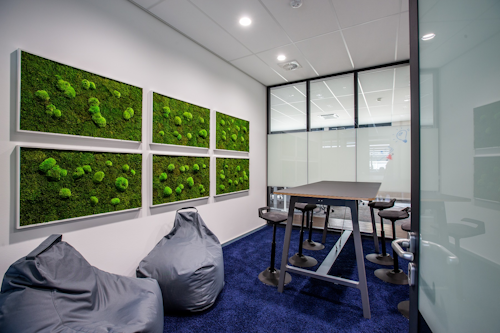 Swiss pharmaceutical giant Roche is experimenting with sensor-connected LED office lighting in which the sensors take note of how employees are using space, and help facility managers decide how best to utilize the area.
In a one-off implementation at a facility in Grenzach-Wyhlen, Germany, Roche has been using a Signify system covering about 5400 ft2 on one floor of offices and meeting rooms.
Roche is illuminating the space with around 100 downlights and 26 free-standing lights controlled by DALI (digital addressable lighting interface) technology, to which it has attached two different types of Signify's Philips brand sensors: 29 infrared "multisensors" which detect movement and daylight, and 13 "people counters."
The sensors are wired into Roche's IT network and connected to Signify's Interact Office software, which analyzes the data.
"The key driver for us behind the smart lighting solution is tracking the space occupancy," Roche digital real estate manager Tobias Bächtold told LEDs Magazine. "Based on these data, the real estate and facility management get insight into the usage of the provided area. This can result in the optimization of the provided spaces (area, equipment, quality, collaboration etc.) or the operational processes such as cleaning. The return on our investment comes from these use cases."
The company also uses the Internet of Things (IoT) system to display a map at a central computer kiosk in order to help visitors pinpoint specific locations on the floor.
While such a map isn't a crucial feature in the relatively small area, the Grenzach-Wyhlen site is serving as a testing ground for possible deployment across larger Roche locations in Europe, where interactive maps could be beneficial. Roche also intends to eventually make these maps available to mobile phones rather than just to a computerized kiosk.
Signify IoT technology is being trialed at an office for Swiss pharma gaint Roche.
Employees could also use the system to sign up for desks in hotdesk offices. But the centerpiece of the systems will continue to be space analysis.
"Understanding how our buildings are being used is key for Roche today and in the future," Bächtold said. "The data collected via IoT sensors and the lighting system using Interact Office software gives us tremendous insights and best granularity in terms of occupancy, desk level accuracy and people counting in meeting rooms."
The project started in December 2017, so Roche is not rushing into further deployments, but seems to be strongly considering them.
Bächtold told LEDs that Roche has been piloting the technology "to gain knowhow and experience about smart or connected lighting solutions that would help us [in] deciding on new technology also for our bigger investment projects running on various sites of Roche in Europe."
It's not clear whether new deployments would make use of wireless technologies such as Bluetooth or Zigbee, which can transmit sensor data to an Internet gateway rather than using DALI. Future deployments could also involve Signify luminaires with built-in sensors and wireless communication chips.
MARK HALPER is a contributing editor for LEDs Magazine, and an energy, technology, and business journalist (markhalper@aol.com).