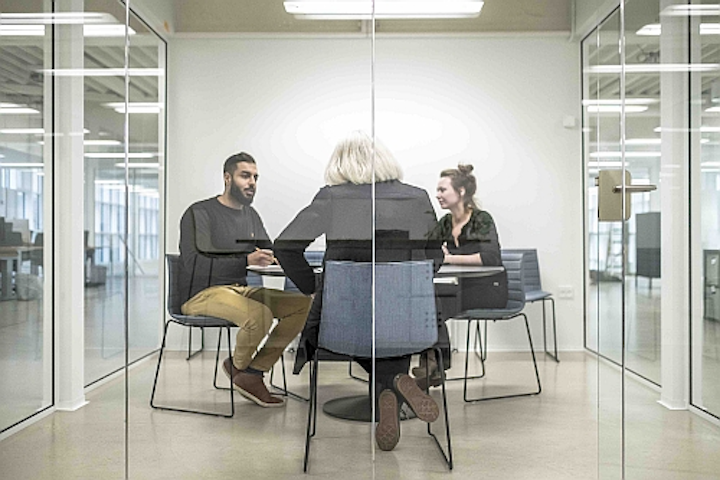 Working with Cisco, Philips Lighting heralds a new Copenhagen office building as a Nordic first.
As we've pointed out before, with all the talk about wireless LED lighting networks such as Bluetooth Mesh, it's easy to forget that wires can also turn lights into intelligent data systems. Philips Lighting has served up another reminder of the possibility, announcing a 400-luminaire "smart office" installation in Denmark using Power over Ethernet (PoE).
Interested in articles & announcements on connected lighting and PoE?
The two-story building in the Copenhagen municipality of Albertslund comes straight out of the PoE textbook, as it is a new build. Smart lighting economics says that PoE makes more sense when buildings are first constructed than in a retrofit, which would entail costly ripping out of existing infrastructure, and where wireless can be the more prudent way to go.
Power over Ethernet carries low-voltage electricity — which is all that LEDs require — over the same Ethernet cable that transports data around a company's computer networks. As such, it eliminates many of the costs associated with conventional electrical wiring.
The Ethernet cables also transport data to the luminaires, which can serve a multitude of purposes in addition to lighting control.
In Albertslund, Philips has equipped the 27,000-ft2 offices of Gate 21 with occupancy sensors that will help detect how space is used, helping facility managers to figure out how to rearrange offices, conference rooms, lobbies, and the like, and when to adjust other facility systems such as heating and cooling. The sensors also detect lighting levels and energy consumption information, which they feed back to the building operators.
While the thrust of the system is wired, it also includes wireless controls. Users equipped with smartphone apps can adjust sections of lighting. The app sends the instructions to a router wired to the Ethernet system.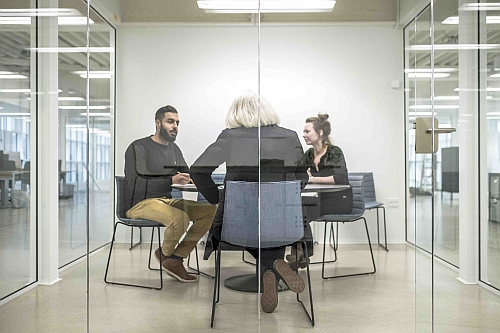 PoE resurfaces, at Danish office building
Occupied: Sensors in the PoE luminaires are taking note that three people are in the conference room. This information will help facility managers run the municipally-owned building in Albertslund more efficiently. (Photo credit: Philips Lighting.)
Philips estimates that its 400 SmartBalance and PowerBalance luminaires cover about 20,000 ft2 of building space, which is owned by Albertslund municipality. Albertslund owns the data, Philips said, responding to a query from LEDs Magazine.
The company declined to reveal the cost and price. It installed networking gear from Cisco Systems and worked with Danish systems integrator TDC Erhverv.
"The new connected lighting system provides us with an infrastructure fit for the digital age," said Niels Carsten Bluhme, director of city, environment, culture, and employment at Albertslund Municipality. "The municipality expects that the results will be promising enough to broaden the use of such technology to other municipality buildings — with the initial focus on buildings used for administration, healthcare, and learning. Environments where lighting can be adjusted by staff to meet their needs and have sensor-based functions are becoming increasingly important."
One thing that the new facility will not provide, at least initially, is the ability to adjust the color temperature of lights, which is part of the growing movement to human-centric lighting, also known as circadian lighting.
After grabbing headlines a couple of years ago as Cisco signed up scores of lighting partners including Philips to its Digital Ceiling (now called Digital Building) program, PoE has taken something of a backseat to wireless technologies, especially with the emergence of the Bluetooth Mesh standard certification last summer. Some critics of PoE question whether electrical losses over Ethernet cable will prevent the technology from scaling up on large projects. The US Department of Energy recently released a report addressing the losses.
Philips heralded the Albertslund installation as "the first Power-over-Ethernet connected lighting system in the Nordics."
The venture has something of a demonstration feel about it. Gate 21, the user, is a collaborative group of municipalities, companies, and researchers dedicated to developing and showcasing green technology development. And building owner Albertslund itself has been boldly experimenting with smart lighting including streetlighting for over three years. As LEDs recently reported, Albertslund is one of the funders behind a trial of special lighting from Chromaviso for dementia sufferers at its Plejecentret Albertshøj care home.
Philips noted that it's also all part of the European Union-funded Lighting Metropolis initiative, which as Philips described "plans to make the whole of Greater Copenhagen a vibrant laboratory for connected lighting." Lighting Metropolis is a player in the Albertshøj dementia project. Philips described the new PoE building as one of Lighting Metropolis' "more than 25 other demonstration projects under development, from lighting for psychiatry to traffic lights and lighting for schools."
At the LuxLive exhibition in London last November, Steven L'Heureux, CEO of Iowa-based PoE lighting company Igor, said PoE is very much alive, and repeated the observation that it is particularly appropriate for new builds, while it is not necessarily the right choice for retrofits, especially small retrofits.
Philips PoE installations include the Edge office building in Amsterdam, a Marriott Hotel in Fort Worth, the Zurich offices of Swiss energy company Alpiq, and 14 floors of the Torre Europa skyscraper in Madrid, among others.
PoE is not the only wired means for turning lights into communication networks. Conventional wires can also carry data, a technology known as powerline communications (PLC). Last summer, British and Spanish shopping mall owner and operator Intu invested in Chepstow, Wales-based PLC vendor enModus.
MARK HALPERis a contributing editor for LEDs Magazine, and an energy, technology, and business journalist (markhalper@aol.com).