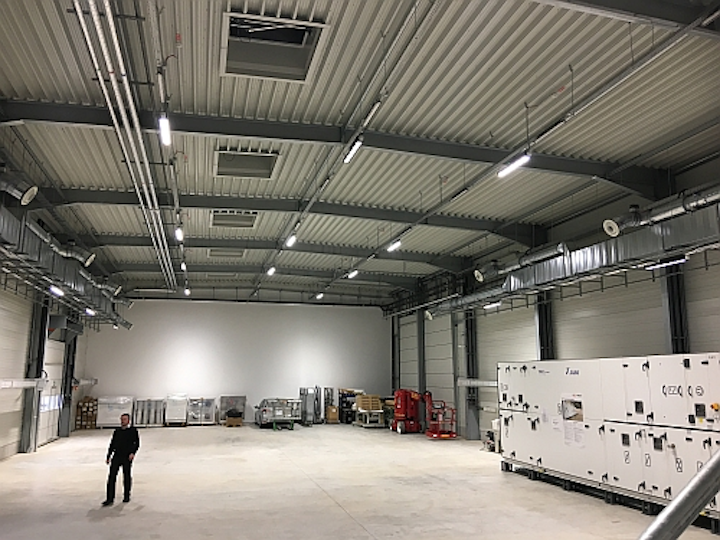 E.ON teams with PLC specialist enModus to offer the technology in Europe.
The idea of tapping existing electrical wiring to carry data for smart lighting and building schemes has picked up pace, as intelligent building specialist enModus teamed with German utility E.ON to implement the technology, known as powerline communications (PLC).
The agreement between Chepstow, Wales-based enModus, and E.ON's E.ON Connecting Energies GmbH has started with a trial deployment at the E.ON Research Centre, which is part of RWTH Aachen University in Germany.
There, lights fed with data and instructions via standard mains cables will be provide "connected lighting" — a phrase that denotes lighting connected to IT networks including the Internet.
One of the first functions at the Aachen site will be to track occupancy patterns within the building, a feature that smart lighting vendors say will help facility managers make better use of space as they learn more about how specific premises and offices are actually utilized or underutilized.
At the E.ON center, rudimentary heat mapping sensors embedded in luminaires will take note of occupancy and movement, and send the information back via PLC to the Internet for cloud data analysis. The lights can also be controlled centrally via the PLC system, which enModus calls Wattwave. EnModus did not immediately reveal the supplier of the LED luminaires.
Eventually the center will also add features to improve energy efficiency and human wellbeing, presumably changing the setting of brightness and frequencies to support different tasks and comfort requirements — as part of the trend toward human-centric lighting.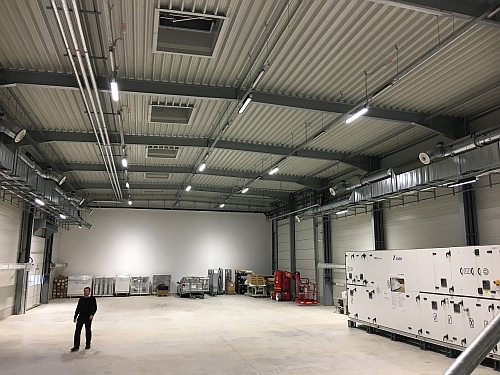 German utility E.ON backs smart lighting over powerline communications
There's intelligence in them thar lights at the E.ON research center in Aachen, delivered directly via electricity cables using enModus' Wattwave PLC technology.
enModus is also expected to begin outfitting PLC deployments with wireless technologies that will enable technologies such as Bluetooth and ZigBee to communicate with phones and gadgets on premises and thus provide an even richer set of functions. Those functions could include individual control of lights, or services that track assets in a building or that provide wayfinding. Last June, enModus hired a top wireless engineer, Jon Couch, from wireless lighting specialist Gooee as vice president of solutions, a move seen as a precursor of wireless initiatives at enModus.
PLC and an opposite wired technology — Power over Ethernet (PoE), in which electricity travels over Ethernet data cables — are both poised to help support smart lighting and building schemes, working alongside or sometimes competing against wireless technologies.
While PoE has received more attention and is considered relevant for new builds but less so for retrofits, PLC has been working its way into the mix. For instance, Osram has deployed it for a smart lighting deployment at an Edeka supermarket in Berlin.
EnModus' own deployments have included a truck manufacturing plant in Motherwell, Scotland, a warehouse for fashion accessory company Claire's,a Virgin Media technical center in the UK, and a shopping center in Watford, England.
"E.ON is the right partner for us to deliver energy savings to businesses in Europe," said enModus CEO Andy Heaton. "They have a vision of transforming yesterday's powerlines into tomorrow's smart energy networks and enModus has Wattwave, our patented powerline communications technology, to deliver that connectivity."
At E.ON, Garance Emmerich-Bundel, head of product management and engineering for E.ON Connecting Energies GmbH, noted that "the agreement with enModus gives us the opportunity to offer our customers new solutions that drive energy efficiency and reduced carbon emissions."
E.ON had 2017 revenue of €38 billion ($42B). It is due to report its 2018 results on Wednesday.
MARK HALPERis a contributing editor for LEDs Magazine, and an energy, technology, and business journalist (markhalper@aol.com).