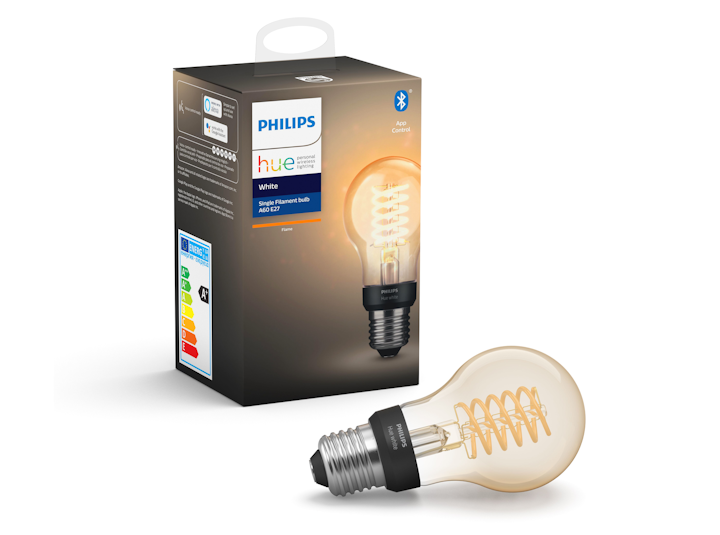 Signify, a pioneer of the home smart bulb back in 2012 with the launch of its Hue lamp, has now added retro style to the range, introducing filament LED bulbs in three different sizes.
The Philips Hue Filament bulbs do everything that Signify's "conventional" Philips Hue LED bulbs do, but provide the throwback filament look.
Users can remotely change brightness, color, and correlated color temperature (CCT) on the 7W LED bulbs, which come in three different sizes using the E26 screw-in fitting in the US and the E27 in Europe. Adjustable light levels top out at 530 and 550 lm in North America and Europe, respectively, and CCT softens to as low as 2100K.
"We're committed to making connected lighting more accessible and want to provide people with greater choice when it comes to the connectivity, control, ambience, and aesthetics of their lights," said Signify's Jasper Vervoort, business leader, home systems and luminaires.
In the common E27/A60 size (comparable to but slightly different from a US E26/A19), the new filament bulb in adjustable white lists at €19.95 in Europe, the same as the list price of a conventional adjustable Hue LED bulb of the same size and shape. The G93 and ST64 list at €29.95 and €24.95, respectively, in the filament version, which a spokesperson said is slightly more than the conventional, comparable Hue bulbs.
Signify — formerly known as Philips Lighting and still using the Philips brand — showed the new LED lamps at the IFA consumer electronics and home appliance exhibition in Berlin last week, where it also added other products to the Hue line. Those included a €19.95 portable button that users can place anywhere to control Hue lamps, and a €29.95 smart wall plug that lets users wirelessly control any bulb, even dumb ones. For example, using a Hue app and the smart plug, a user could wirelessly switch on and off an old incandescent or fluorescent bulb.
At last year's IFA show, the company extended its lineup with Hue luminaires designed to capture a more entertainment-oriented home user base.
Also on the 2019 product front, Signify added Bluetooth control to its battery-powered Hue Go hemispherical shaped luminaire, which is also controllable with a button on the luminaire.
Signify has long used Zigbee as the wireless technology for controlling Hue products via apps. It still does, but it introduced Bluetooth controls last June for other Hue products, and has now added Hue Go to the Bluetooth lineup.
Bluetooth eliminates the need for new users to purchase and install a bridge, a requirement believed to deter potential buyers because it adds cost and hassle. A bridge currently lists on the Home Depot website for around $60 in the US, or around $70 in a "starter kit" form that includes two bulbs.
A Signify spokesperson described the addition of Bluetooth last June as "a step to try to make smart lighting less of a hurdle and more mainstream."
Meanwhile, the new Hue Go also offers much longer battery life than earlier models, at around 76 hours compared to a few hours, the spokesperson said.
MARK HALPER is a contributing editor for LEDs Magazine, and an energy, technology, and business journalist (markhalper@aol.com).