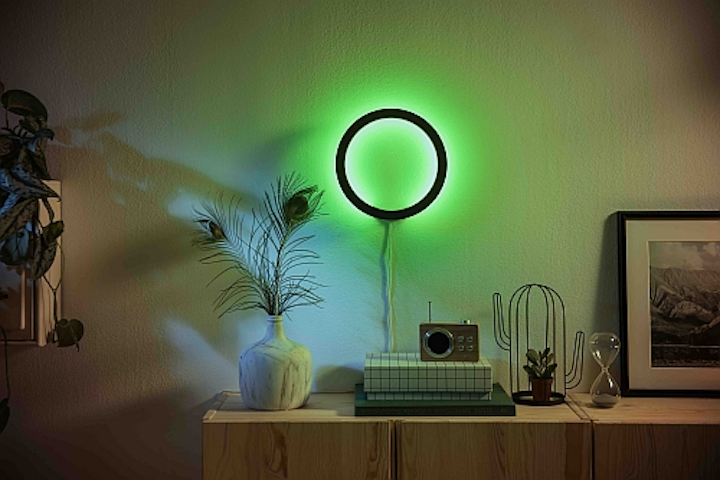 Many of them will connect to the Internet, so there's still a data play. But it's a reminder that the lighting industry is still tending to illumination, even as reaches for the IoT brass ring.
Now, something for readers who might be heartened to know that lighting companies are still providing, errr, lights, despite their obsession with becoming Internet and data firms: Signify is adding a number of snazzy models to its color-changing Hue home line, both for indoor and outdoor use.
Signify, the world's largest lighting company and until recently called Philips, will show some 21 new Hue products at the IFA consumer electronics and home appliance show in Berlin, which runs from Aug. 31 through Sept. 6.
Hue is Signify's brand of LED bulbs, strips, and luminaires designed to change color and CCT to suit different moods and occasions. Not that Hue is miles away from the "data and Internet" strategy that today defines the push by both Signify and the solid-state lighting (SSL) industry to equip the lighting infrastructure with chips and sensors that collect data transmitted via the Internet. After all, Hue lights tend to be controllable by Internet-connected apps, and thus have data-collecting implications.
But at a time when lighting companies are increasingly selling information technology, sometimes to the exclusion of selling lights — such as what Osram did with a Swiss retailer and what GE's Current group hopes to do in partnership with Nokia in Canada — and with companies like Osram divesting luminaire operations — Signify's Hue additions are a reminder that lighting is not altogether off the menu.
Of the 19 new Hue LED lights, one is aimed squarely at the home entertainment and gaming community, two are intended for outdoor use, and the others are targeted at living rooms, dining rooms, kitchens, and bathrooms.
For home entertainment, Signify has introduced a light bar called the Philips Hue Play (Signify still uses "Philips" for product branding), which can be positioned on its end, on its side, or wall-mounted to provide changeable ambient light that Signify says can suit whatever film, game, or media is showing on a screen. Hue Play provides up to 16 million colors when counting all the different digital combinations. The company unveiled it this week at the Gamescon gaming show in Cologne, Germany, in partnership with gaming giant Razer, and will show it next week at IFA.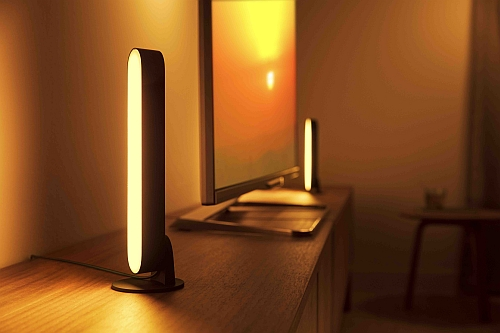 The Hue Play bar can be positioned in various locations for playing video games and watching films. (Photo credits: All photos, Signify.)
Gaming is an important part of Signify's Hue efforts. Early this year, it teamed with Razer to integrate prompts into computer games that change room lighting in sync with game action, for what is being called "immersive lighting," while providing similar capabilities for Windows and Apple games. It's not clear how popular those features have been, but Hue Play can also respond to prompts from within games.
Also for indoors, Signify introduced a hanging horizontal bar, described as a pendant, which is designed for dining room use in which the many downward light points can be individually controlled. The light, called Ensis, also provides indirect lighting from its top for ambience. Similarly, the new hanging Flourish lamp with a diffused glass shade, also in table-lamp form, provides controllable ambience aimed at the dining room. Both are available in white and color.
With the living room in mind, Signify introduced a thin pole of a floor lamp called Philips Hue Signe — also available as a table lamp — designed for positioning near a television. The company also added two living-room wall lamps: the circular Hue Sana and the linear, minimalist Hue Liane.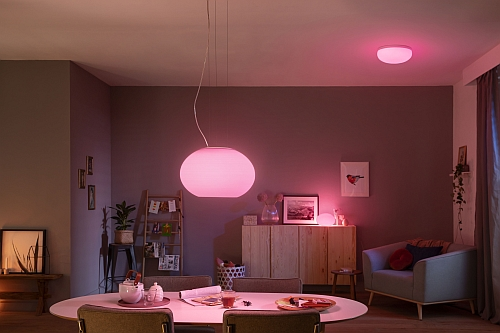 The Flourish glass-shade ceiling lamp (top) and circular Sana wall lamp (bottom) offer tunable colors and shades of white.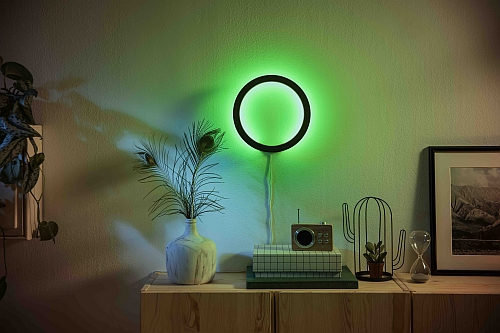 Signify still sells lights! Unveils some 20 new Hue models
The new living- and dining-room lights all deliver varying colors as well as color temperatures. Rounding out Signify's indoor Hue additions are a couple of variable-white models. A line of ceiling panel lights called the Hue Aurelle is aimed at kitchen use. It has four preset light recipes — relax, energize, concentrate, and read. There are four models in different shapes and sizes.
Likewise, the new Hue Adore line of bathroom lights, has the same white presets. The line consists of seven different models: a mirror light, a single spotlight, a double spotlight, a triple spotlight, a ceiling triple spotlight, a ceiling light, and a lighted vanity mirror.
Moving outdoors, and in keeping with today's Internet of Things (IoT) theme, Signify added a white GU10 LED spotlight that syncs via geo-location with smartphones so that it automatically switches on before a user arrives home. Signify also added a new outdoor Hue lightstrip providing both variable white and color light, available in 2- and 5-m formats.
The tall, slender Signe casts adjustable ambient light and is intended for near the television.
Signify has been marketing the line for several years for indoor use, but it began making Hue products available for outdoor use only this summer.
While Hue marks an innovative way of tapping SSL's controllability to deliver individually-tailored lighting preferences, it appears to be a drag on corporate earnings. Signify handles Hue through its Home group, where in the second quarter that ended June 30 EBITA margin fell to a negative 27.9% from an already negative 6%, and the group lost €29 million on an income from operations (EBIT) basis, down from the €7 million in income it reported in the same quarter a year ago.
Some of the new products will be available in both North America (US and Canada) and Europe: Hue Play, Hue Signe, and Hue Flourish. Most of the Hue Adore bathroom line is available in both markets except for the vanity mirror, which is for North America.
The outdoor products are for Europe, as is the Hue Ensis, Hue Sana, Hue Liane, and Hue Aurelle.
Prices are: €69.95–€129.95 for Hue Play; €399.99 for Ensis; €129.99–€349.99 for the Flourish range; €169.99–€269.99 for the Signe lamps; €169.99 for Sana; €169.99 for Liane; €79.99–€249.99 for Adore; €19.95–€34.95 for the GU10 spot; and €89.95–€159.99 for the lightstrips. Signify did not list a price for the Aurelle ceiling panels.
MARK HALPER is a contributing editor for LEDs Magazine, and an energy, technology, and business journalist (markhalper@aol.com).