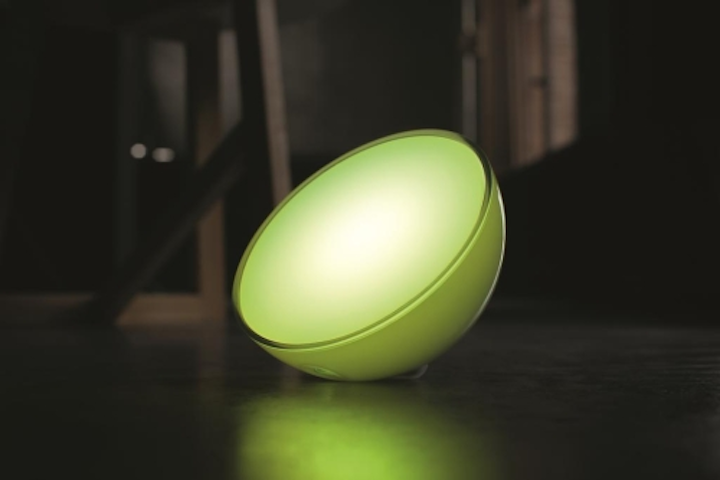 Bowl-shaped luminaire integrates a dedicated RGB light engine along with a rechargeable battery to enable users of the Hue systems to move a tunable SSL light source around with them.
Philips Lighting has announced the LED-based Hue Go product offering users the chance to move a color-tunable solid-state lighting (SSL) product around a home for the first time. The Hue Go is battery powered and includes the requisite ZigBee wireless link for smartphone control along with a somewhat-limited manual-control button on the product.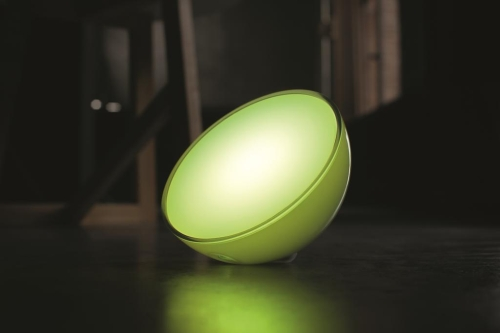 Philips Lighting adds battery-powered Hue tunable LED product
Philips continues to build out the Hue family after launching the original color-tunable LED Hue retrofit lamp back in late 2012. The company subsequently has introduced a number of Hue-branded products including traditional fixtures and products designed to project white or colored light, but most have still relied on the Hue lamps family as a light source. The exception has been the Hue LED strips.

Hue Go, however, represents a new approach to product design with a Hue-compatible luminaire. The development team integrated the LEDs inside the bowl that measures 120 mm in diameter and stands 70 mm high. We assume that the design uses a modular light engine that combines the same mix of red, lime-green, and blue LEDs used in Hue lamps. The phosphor-converted lime-green LED is of particular importance because it offers better efficiency than monochromatic green LEDs and the chromaticity characteristics of that LED are vital to the ability of Hue products to deliver warm-white light at 80 CRI.
The battery-based design is another unique aspect of Hue Go, allowing customers to take their tunable LED product to the patio or backyard or into the bedroom for use as a gentle alarm clock that slowly raises the light level at the specified time. Philips says that the Go takes an hour and a half to charge and can operate for three hours continuously on a full charge. Clearly, it will be used mostly as a product connected to wall power, but still the portability will be a valuable added feature.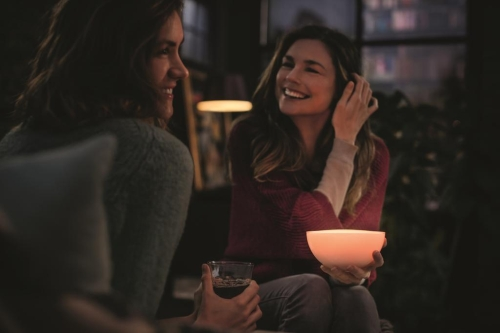 The portable angle also led Philips engineers to add limited control capabilities to the Go product. Control is via a simple pushbutton. Users can cycle the Go through to preprogrammed white-light settings and five dynamic color presentations without using a smartphone or tablet linked to ZigBee via the Hue Bridge.
Hue Go produces 240–300 lm depending on CCT over the range of 2000–4000K. It can deliver the same 16 million colors that prior Hue tunable LED products offer. Moreover, Go will work with all Hue apps developed by Philips and third parties.
Philips has made Go available immediately in Europe. The published specifications indicate that the DC power supply, used to power or charge the product, is designed for 220–240V input and would not work with residential power systems in North America. Philips said a North American version is due in June. The European version is selling for EUR 99.95 (about $108). Buyers will need to have a Hue starter kit or other ZigBee bridge to access the Go with a smartphone.