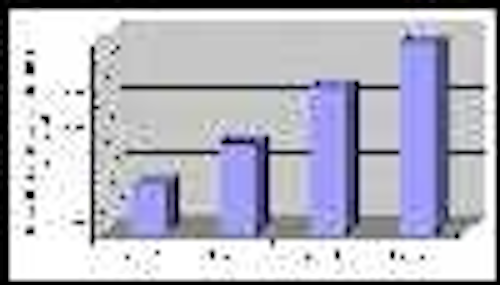 The LED industry in Taiwan started in 1975. In the beginning, companies such as Lite-On Technology, Ledtech Electronics, Bright LED, Everlight, and Kingbright engaged in the production of packaged devices.
Later on, many LED epiwafer and chip manufacturers were also involved in production. By June 2004, there were already 21 companies in Taiwan manufacturing GaN epiwafers for blue and green LEDs, and they all have started mass production.
Benefiting from the market expansion of cellular phones requiring blue LEDs for screens and keypads, and the white-light illumination market, the production value of LED packaging (lamps and displays, including visible and infrared) reached 28.44 billion NT dollars (around $840 million) in 2003 and had a growth rate of 22.6%, compared with 2002.
The fact that Everlight Electronics and Lite-On Technology licensed technology from Osram Opto Semiconductors in Germany for white light LED patents will eventually lead to market expansion. Accordingly, the total production value of LEDs is estimated to reach 35.3 billion NT dollars (just over $1 billion, 24% growth) in 2004.
In addition, the monthly production of blue LED chips exceeded 415 million pieces in June 2003 (see graph), making Taiwan the number one producer in the world for the first time. By March 2004, the monthly production of blue chips had reached 873 million pieces, representing 42% of the global market.
The Taiwan government passed a law on December 13, 2001 to allow Taiwanese manufacturers to set up factories to produce LED epiwafers, chips and related products in mainland China. We can foresee that, in consideration of reduced manufacturing costs and the potential market demands, the supply chain of the LED industry between both sides of the Taiwan Strait will be even more closely connected, and the technology flow and business cooperation opportunities will also increase.
In particular, construction incorporating "green" technology, such as LED displays and illuminations, and the application of solar energy, that are related to the ongoing construction for the 2008 Olympic games in Beijing, is a new LED market opportunity expected by Chinese on both sides of the Strait.