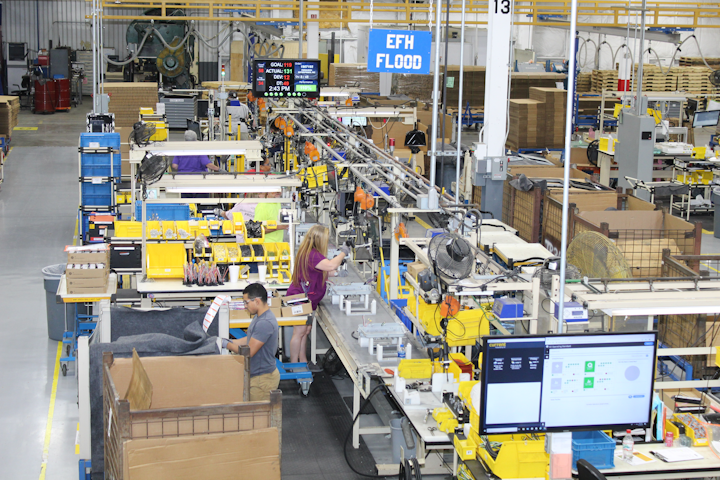 Current, powered by GE held a two-day, outdoor-lighting-focused event at its manufacturing facility in Hendersonville, NC back in June with a program focused on product development, manufacturing, and advanced outdoor applications in the connected smart lighting era. The event was mostly focused at customers from organizations including municipalities and utilities, but a few editors were also able to attend the presentations and take a factory tour. The visit provided unusually candid access to executives and a chance to grasp the challenges that solid-state lighting (SSL) manufacturers face given the conflicting market expectations of lower pricing for constantly-improving LED-based outdoor luminaires. 
After RJ Darling, general manager for roadway and intelligent cities at Current, welcomed the crowd and made introductions, the program immediately launched into the obstacles faced by an outdoor lighting manufacturer — especially one focused on building premium-level products. Indeed, Teresa Bair, product general manager for outdoor, couched her presentation around the rhetorical question as to whether such SSL luminaires were commodity products.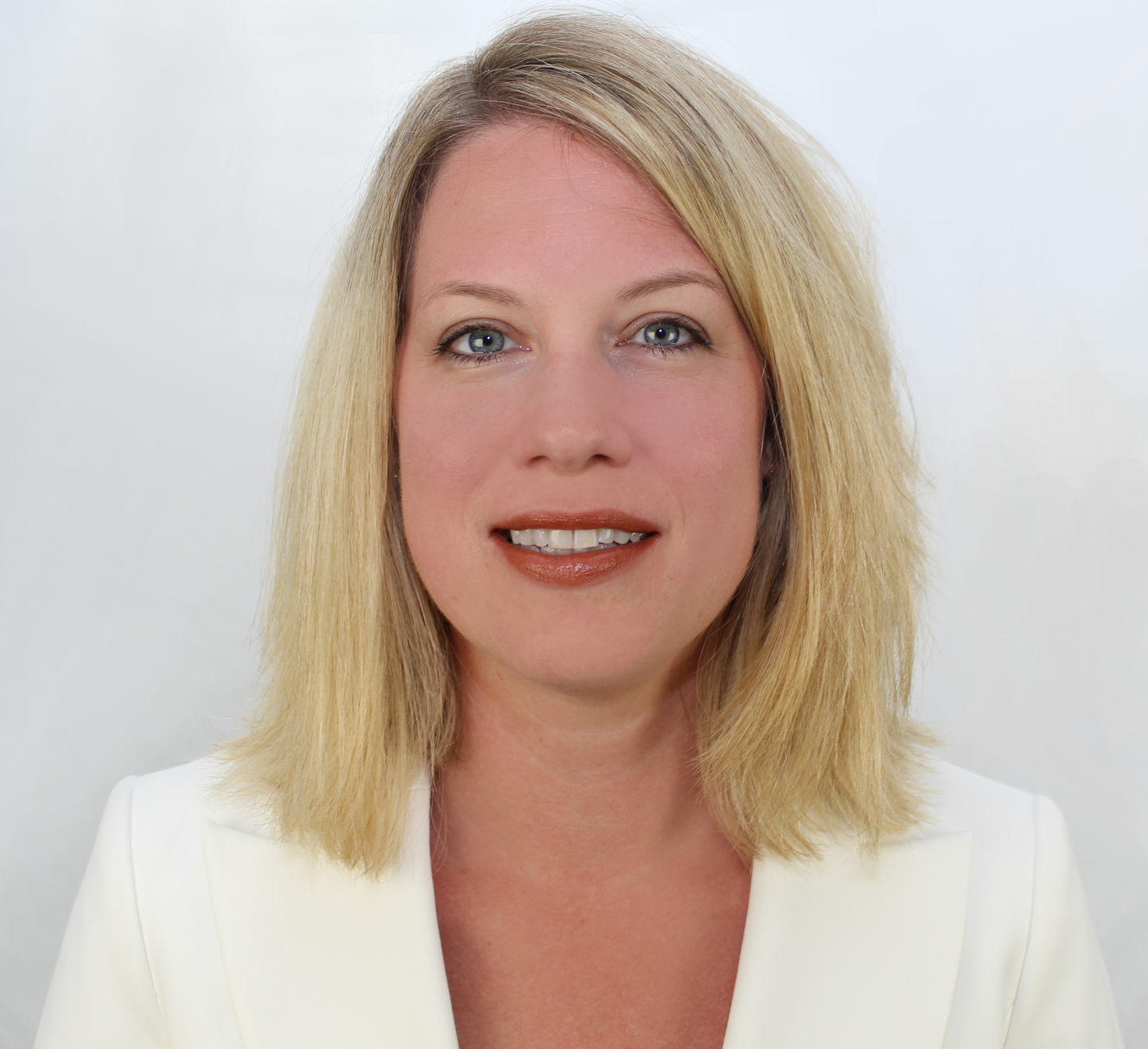 Current's Teresa Bair discussed component shortages, tariffs concerns, and SSL complexity as challenges that lighting manufacturers face in the LED era.

Bair provided a quick update on the SSL transition in the outdoor space. Current makes all of its outdoor luminaires for the North American market in Hendersonville, and Bair said 95% of the products manufactured there are LED based. A lot has changed in six years, as she said 82% of the products manufactured in 2013 were high-intensity discharge (HID) lights.
While the installed base of outdoor lighting is still heavily HID, almost no one is buying new HID fixtures. About the justification for LED-based products, Bair said, "It's not a cost problem like it was seven or ten years ago." We all know SSL prices have dropped and Bair said HID prices have actually increased with less demand and a supply chain that is becoming constrained.
Logistics and pricing
The falling SSL prices are both a blessing and a curse, according to Bair. Customers expect lower prices each year, yet developing and manufacturing reliable outdoor products remains a complex challenge. Moreover, there are many logistics issues that manufacturers face.
Current is somewhat unique in that virtually all the outdoor products it sells in North America qualify as American made. So the company's pricing is not directly impacted by the tariffs of the Trump Administration. Current is affected indirectly as some of the components it uses are impacted by tariffs and therefore have escalated in price. Specifically, Bair mentioned products such as surge protectors, terminal blocks, and others. She said the first two rounds of tariffs resulted in bill-of-materials cost increases in the 3–6% range. As tariffs have been increased on electronic components in List 3, the impact on cost will escalate.
Still, Bair said it was the threat of Mexican tariffs that was more disconcerting. Current had recognized the potential impact of China tariffs early on and rushed to move its contract manufacturing of drivers and some other subsystems to Mexico. The company does manufacture some of those products in Hendersonville, but most come from contract manufacturing. As this article goes to press, the Trump-threatened Mexican tariffs are on hold, but Bair warned, "If this happens it will rock our industry."
Meanwhile, other supply chain factors are creating a larger issue. Specifically, there is a shortage of MOSFETs — power-switching transistors used in LED drivers. Today, drivers are the most expensive element of most luminaires. MOSFET availability has made that situation worse due to consolidation among suppliers and other applications that need the components. Specifically, Bair said 5G cellular infrastructure, electric vehicles, and other high-profile applications are more attractive to MOSFET suppliers because many such applications demand premium-priced products.
SSL system complexity
Adding to the supply chain issues, the complexity of the SSL product impacts both development and manufacturing costs in a way that is not consistent with a commodity market. Outdoor products must operate in harsh environments and lifetimes of 15 years or more are expected.
The impact to development cost starts with qualifying LEDs. While Current says that it appreciates standards such as LM-80 for characterizing LED performance, and TM-21 for projecting lumen maintenance, the company claims it has to perform far more complex testing to ensure quality light over long lifetimes. After we asked a question about LM-80, Bair had Gary Steinberg, systems manager for LED luminaires, discuss the internal qualification process. He said the company tests LEDs at current-drive and temperature levels that are far beyond what is on packaged LED spec sheets. He said Current feels that it has to stress the components in qualification since there is simply no way to test products for thousands of hours in the fast-paced semiconductor world.
As an aside, mid-power LEDs were considered inferior to high-power LEDs for many years. We wrote on numerous occasions about what was a fact at the time. We have since documented advances in mid-power LEDs. And Current is using mid-power LEDs in most of its outdoor products with chip-scale package (CSP) LEDs gaining in new designs.
The final product design element that Bair addressed was materials. Much of the industry is using plastic housings and polycarbonate or acrylic optics in outdoor lighting products. Current continues to use cast aluminum housings and flat glass optics. The company said the designs are more durable. Moreover, the company mentioned research by Dr. Ron Gibbons at the Virginia Tech Transportation Institute (VTTI) on light loss or dirt depreciation. Flat-glass optics generally suffer from 10% light loss over ten years while the plastic alternatives average 34% loss in the timeframe due both to dirt and to yellowing in the optic material. Current further said its optical design approach based on a light engine directing the LEDs into reflectors, with no point sources visible, delivers higher overall performance in terms of light uniformity and low glare relative to the more common designs that expose the LEDs under individual lenses.
Unfortunately for Current, and all SSL manufacturers, customers won't stop asking for lower prices anytime soon. But Bair and other Current executives that supported her presentation did an excellent job of explaining why no one should rightly consider outdoor lighting products to be commodity products.
Manufacturing strategies
The presentations next turned to the factory and inventory, manufacturing, and shipping strategies and innovation, followed by a factory tour. Before we get into those details, let's first consider the challenge. SSL manufacturers, like most manufacturers of volume products, would much prefer to make as few different models or SKUs as possible with each in the highest volume possible. Such a goal is not very realistic in lighting, although in the indoor space companies have come up with ways to minimize SKUs. For example, tunable CCT in a luminaire might mean a company can stock one SKU rather than four. And programmable drivers enable customization of final product configuration at the end of a production line.
Current, however, simply accepts that in the outdoor space there are going to be thousands of SKUs. Just consider color of the housing. The standard color is a gray. But when we toured the plant, the company was running luminaires with a brown finish. A few months back, we published a feature article on a San Diego, CA smart-city project involving Current luminaires, and those post-top enclosures were painted what Current calls "San Diego blue." During the tour, a member of the plant management team said the colors requested vary widely including Clemson University (Clemson, SC) ordering cobra-head luminaires in the university's orange color scheme.
Then, of course, outdoor lighting includes the invariable requirement to support multiple IES (Illuminating Engineering Society) beam patterns. There is a list of options for different connectivity and control scenarios. Even different levels of surge and circuit protection can be specified. Basically, every order coming in the door represents an almost custom luminaire.
The logistics are further complicated by the magnitude of orders. Some may be lots of thousands of luminaires whereas as others may number only in double digits. Current sought to develop a factory that could handle the varied demand with each order getting fair attention.
Lean factory
Current touts the Hendersonville factory as a lean manufacturing facility — one with a systematic approach that minimizes waste and optimizes workflow. The lean theme is apparent, from how materials are pulled from inventory to how production lines operate to the shipping dock. We will hit the highlights here.
The Hendersonville operation attempts to provide equivalent service to a customer that orders 25 luminaires to one needing a few hundred to a large customer with volume in the thousands. It would be easy for a manufacturer to prioritize the largest orders. But Current pointed out that a small order could be a pilot for what turns into a huge order. Moreover, medium orders cumulatively equal much larger orders.
Current operates three configurations of assembly lines in the factory. All are served by just-in-time delivery of raw materials from inventory and an interactive computer-assisted manufacturing system to guide the manufacturing process and enable employees a way to communicate with managers when issues arise. The smallest lines have a single operator responsible for complete assembly of luminaires. The largest lines rely on seven operators to handle serial production. The medium lines rely on four to five operators with each capable of multiple different tasks.
Light engines and LEDs
Perhaps the most interesting element of the factory tour was the light engine production area. That came at the end of the tour, but of course the light engines are fed back into inventory management for delivery into luminaire assembly.
The Hendersonville plant has multiple automated printed-circuit board (PCB) assembly lines both for light engine production and for the driver manufacturing line. Whereas many of the drivers are manufactured in contract facilities, 100% of the light engines are made right in Hendersonville.
Immediately we wondered, why not have the light engines manufactured offshore? It would have to be cheaper, right? But consider the issue of SKUs and also the fact that Current never knows whether orders for street lights or parking lighting or pedestrian-area luminaires are going to hit the inbox. Current's Steinberg said the company would have to order light engines from an overseas contract manufacturer months before they would be needed, and if that forecast weren't accurate the inventory might not even be used.
The Hendersonville light-engine manufacturing operation is as agile as the luminaire manufacturing lines. The company is able to utilize its investment in LED inventory in real time based on orders coming through the front door with light engine inventory delivered to the luminaire manufacturing lines on demand.
Shipping and handling
Without question, the Current factory story is deeper than we could cover here. But clearly the company has been able to supply many large projects based on the lean system. The aforementioned San Diego project alone has consumed some 4000 LED luminaires in the last year or two. We will close, however, with a shipping and handling angle at the loading dock in Hendersonville because that story also involves a technology we write about regularly in connected lighting and Internet of Things (IoT) stories.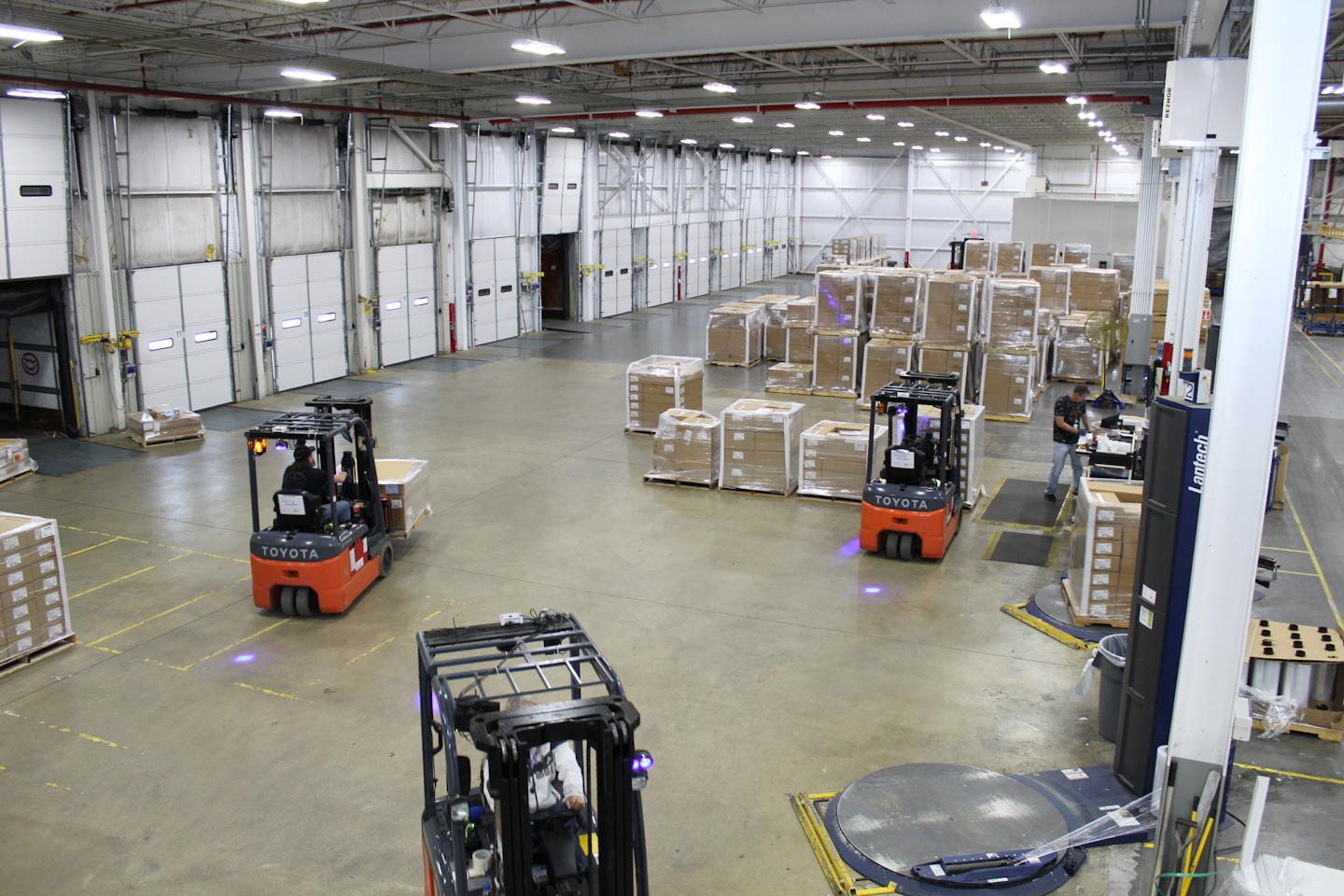 In the shipping area of its outdoor lighting factory, Current uses visible light communications (VLC) for indoor position determination for forklifts and therefore finished goods.

Indoor wayfinding or location services is one application we've written about repeatedly relative to connected lighting. Retailer Target, for example, uses connected lighting to guide shoppers around its large stores and to deliver incentives based on where a customer is inside a store. But indoor positioning applications will range from museums to corporate offices to the factory floor.
The forklifts in the Hendersonville factory utilize visible light communications (VLC) equipment mounted on the roof of each vehicle. Combined with modulated light delivering data from the connected luminaires installed in the factory, the VLC system on each forklift always knows its precise location.
In the shipping area, boxed luminaires are stacked on pallets and shrink-wrapped for shipment. Anytime a forklift engages with a pallet, a driver shoots the barcode with a handheld scanner. The system tracks exactly where a pallet is moved right up until the moment the pallet is loaded onto a truck. The system knows which truck a pallet was loaded onto and the order of pallets loaded. The process affords a great example of the potential of the IoT and connected lighting.
We saw more interesting presentations at the Current event including some intriguing smart city applications. We will report on those in future articles. Indeed, we went to the event with the thought that the smart city presentations would be the most compelling content. And it was thought-provoking for sure. But it was just very educational to get a first-hand look at the obstacles a lighting manufacturer faces in development, manufacturing, and supply. Moreover, the outdoor sector especially ramps the challenges and demands faced by a manufacturer.