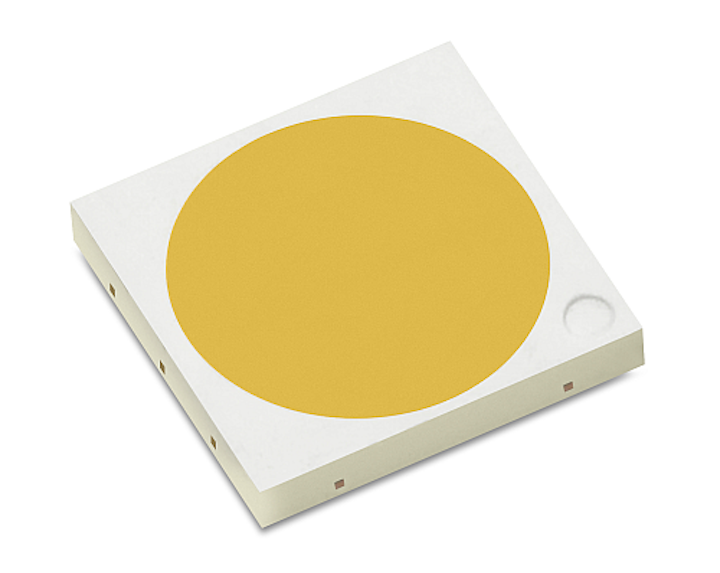 Lumileds now offers a packaged LED with mid-power looks but high-power performance, targeting outdoor and industrial applications, while LG Innotek said it had utilized a flip-chip LED architecture in a mid-power package for premium lighting applications.
It took a few weeks of the New Year to pass, but LED manufacturers are starting to ramp new product activity in advance of our Strategies in Light show that will take place Feb. 13–15. Lumileds, for example, has announced a new 5×5-mm packaged LED that would appear to be a mid-power design, yet the 2W product has high-power specifications and targets outdoor and industrial solid-state lighting (SSL) applications that are typically served by high-power LEDs. And LG Innotek is bringing the flip-chip LED architecture that has been popular in high-power LEDs to what appear to be mid-power packages, targeting what the company terms premium lighting applications.
Interested in articles & announcements on packaged LED technology?
In Session 5, "Choosing the right white light," at Strategies in Light, Focal Point product development specialist Matthew Blakely will explain the SSL industry shift toward color preference and light quality over maximizing efficacy. Get details on this and more at strategiesinlight.com and register to attend.
Of course, the obfuscation of the line partitioning the mid- and high-power sectors began several years ago. Traditional mid-power architectures have been driven to higher power levels via improved packaging techniques. Two years ago, for example, Lumileds introduced LEDs that used a silicon molded compound (SMC) package that greatly improved mid-power LED reliability at higher power levels. In that same story covering the Lumileds LED, we also covered the Osram Opto Semiconductors Duris P 10 LED launch that featured a high-power flip-chip LED architecture, with a traditional-looking substrate and primary optic, yet the substrate is made of plastic. Last year at LightFair International, Osram extended that LED family with the Duris P 9 that can operate at 5W levels and targets outdoor applications.
Lumileds 5050
The new Lumileds Luxeon 5050 packaged LED looks the part of a mid-power component with a flat emitting surface, with the emitter apparently placed in a reflective plastic cavity. The company did not detail the package material used or the architecture of the LED. Still, the specs are clearly a match for the target high-lumen-output applications.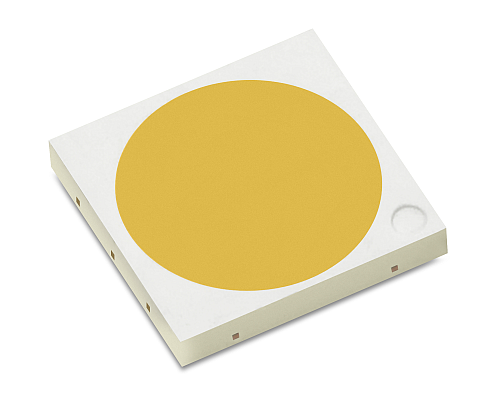 Packaged LED news: Lumileds launches 5050, LG brings flip chip to mid power
Lumileds has added the new Luxeon 5050 mid-power packaged LED to its lineup for high-output industrial and outdoor SSL designs.
At 2W, the Lumileds LED delivers 350 lm and achieves efficacy of 175 lm/W. That performance is for a 4000K-CCT LED with 70 CRI that's operating at 85°C. That cool CCT and moderate color performance is typical of the lighting used in the target applications, although Lumileds will offer the products with CCT as low as 2700K and CRI as high as 90.
Meanwhile, Lumileds said the new LED will enable luminaire manufacturers to develop products that meet the Premium Level of the DLC (DesignLights Consortium) V4.1 specification. Attaining such a level on the qualified products list ensures that end customers get maximum utility rebates on SSL projects and realize greater energy savings over the life of a project. Lumileds said the performance is enabled by a very low thermal resistance of 2 K/W.
LG Innotek flip chip
Moving to LG Innotek, the company announced 3030 (3×3 mm) and 5630 (5.6×3 mm) LEDs based on a flip-chip design. Most mid-power LEDs utilize what is often called a vertical LED architecture that results in electrodes being located on the top (emitting) side of the structure and that requires bond wires to connect with the package solder pads (electrical contacts).
In the flip-chip architecture, the surface adjacent to the growth substrate becomes the light-emitting surface and the electrodes are on the bottom surface for a simpler and more reliable connection to the package substrate. LG Innotek has previously said that it used the vertical approach to reach high efficacy levels in mid- and high-power LEDs.
The recent LG announcement revealed 220-lm/W 5630 products and 215-lm/W 3030 products. LG also said it applied for 65 new technology patents as part of the two-year development process. Moreover, it said it has already tested the architecture for more than 6000 hours, although the company did not specifically say that such lengthy tests were done on specific models of LEDs that would qualify as LM-80 tested.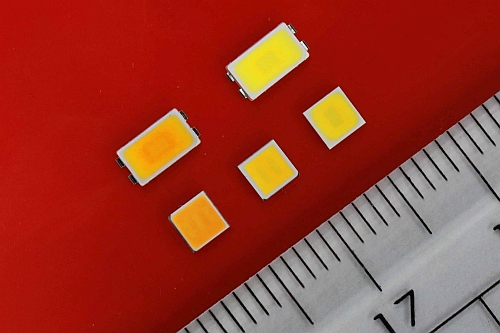 LG Innotek's latest 3030 and 5630 packaged LED offerings use flip-chip architecture for imrpoved substrate connections, the company claims.
The LG release did make other claims about high-temperature resistance that's needed because a component is exposed to flowing solder in product assembly process. It further questioned the ability of flip-chip products from other manufacturers to withstand such temperatures and not suffer performance degradation. But we have seen no indication in the market that other flip-chip LEDs have created such a problem for luminaire developers.
According to LG, the flip-chip architecture also simplified the process of the company offering high-voltage LEDs in the two families. For example, the 3030 portfolio includes 3V, 6V, 9V, and 12V versions. Higher-voltage LEDs can improve efficacy at the system level because of the smaller drop from line voltage to the LED drive voltage.
Without question, there are other flip-chip-based, mid-power LEDs on the market in commercial volumes. Samsung, for one, began shipping such products in 2014.