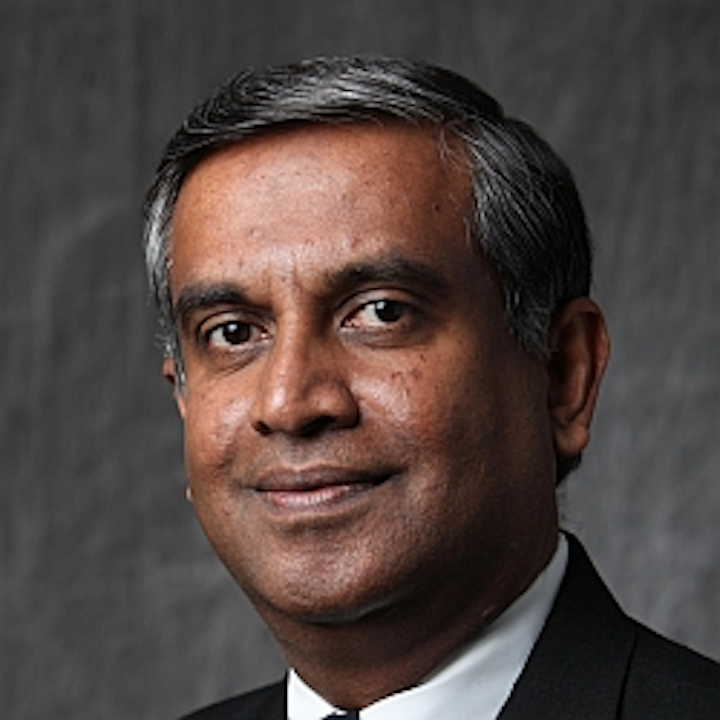 The knowledge available to attendees at Strategies in Light comes from representative thought leaders across the entire LED and solid-state lighting (SSL) supply chain. Not only have we touched on keynote speakers who are prepared to explore topics in LED performance metrics and design experience, but we have also featured presentation highlights on the state of the packaged LED market, business and investment opportunity, and the regulatory environment. Our latest program spotlight focuses on a topic of great interest from the research & development angle in manufacturing techniques for SSL — the intriguing possibilities of 3-D printing. Also known as additive manufacturing, 3-D printing has seen broader use in recent years across biomedical and other device industries and in prototyping for custom manufacturing.
Dr. Nadarajah Narendran of the Lighting Research Center (LRC) has spent some time working in this field of research and, having presented on the topic of 3-D printing at the last Strategies in Light event, is a more-than-qualified moderator for this year's panel discussion. Participants will include Hugo da Silva, DSM; Srinivas Garimella, Eaton; Dustin Kloempken, Hewlett-Packard; Willem Sillevis Smitt, Lumileds; and Aaron Smith, Finelite.
Join us at Strategies in Light for the full panel perspective, from materials supply to equipment requirements to SSL product development, and read on for Narendrans's observations on the capacity of 3-D printing to penetrate LED and SSL manufacturing.
LEDs Magazine: Last year prior to Strategies in Light, you and Dr. Indika Perera authored a piece for us, framing the potential value proposition of 3-D printing — or additive manufacturing — and then you presented some of the results you achieved in the lab at the LRC. What have you personally seen accomplished in the past year that supports the timing of this panel discussion?
Nadarajah Narendran: As we had discussed a year ago, our vision is to enable on-demand, on-time manufacturing of lighting fixtures onsite. This can offer greater value to the building construction industries and allow for built environments with better aesthetics. In the past year, we have visited with and shared this vision with several stakeholders, including architects, 3-D printing machine and materials manufacturers, and lighting fixture and LED light engine manufacturers, and we have found significant interest in this concept. Some even have made significant progress toward supporting the needs of 3-D printed light fixtures. However, there seem to be many questions from these stakeholders with regards to what are the specific needs in terms of printing and material properties, and target price in order to realize this vision.
At the LRC, we want to broaden the dialogue and begin an industry-wide discussion to chart out a path toward progress. Where we are today is very similar to the early stages of LEDs and wanting to transform the lighting industry. Strategies in Light, under the leadership of Dr. Robert Steele, was the first to create a forum for LEDs to transform the lighting industry by involving stakeholders. Today, LEDs are rapidly displacing traditional light sources. That is the reason why we planned this panel discussion to take place at SIL.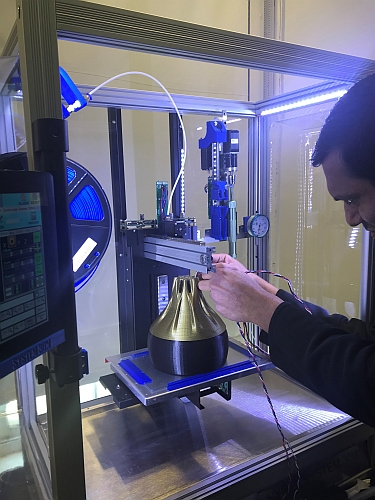 3-D printing an LED pendant at Rensselaer's Lighting Research Center. (Photo credit: LRC.)
LEDs: So we've looked at the advances and the knowledge that can propel this technique into the commercial design process. What limitations should the SSL industry expect to encounter with 3-D printing, if any? Or, perhaps, can you foresee instances in which additive manufacturing would not be appropriate?
NN: Even though some of the components required for lighting fixtures can be prototyped or manufactured by 3-D printing, it certainly is not at a point where lighting fixtures of high quality can be manufactured. For us to 3-D print high-quality light fixtures, we need the ability to create thermomechanical, optical, and electrical components. These needs require research and development in order to create suitable 3-D printing platforms and materials that can cater to the functional and aesthetic needs of the components and systems. Therefore, the LED lighting fixture manufacturers will have to explore and identify what works and what doesn't and assess the cost effectiveness. With broader stakeholder participation, this process should become easier in the future.
LEDs: Not to put you on the spot, but your role and the achievements of the combined LRC efforts in the SSL R&D space have been noted by industry insiders. Would you consider your part in researching the opportunities for applying 3-D printing to lighting to be at a close, or is there more to be learned before commercial use can really take off?
NN: I definitely think there is much more to be learned before we will see broad commercial use of 3-D printing for light fixtures. Right now, 3-D printing of luminaires is rare, mostly because more information is needed on whether printing materials can meet the thermal, electrical, and optical requirements for lighting. There is also a need for education across all parties, so that 3-D industry folks know more about the lighting industry's requirements and vice versa. The current circumstances are very similar to those of 20 years ago, when LEDs were first being used for lighting and the semiconductor and lighting industries knew nothing about each other's needs. At the LRC, we are certainly continuing to investigate how 3-D printing can be successfully employed for lighting on a mass customization level and hope to develop more collaborations in the coming year.
Get know our expert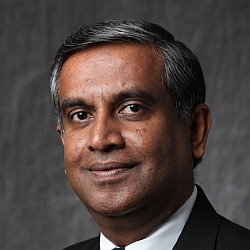 STRATEGIES IN LIGHT SPOTLIGHT — Beyond the 'cool' factor, 3-D printing set to enable SSL customizationNADARAJAH NARENDRAN, PhD, is a professor and director of research at Rensselaer's Lighting Research Center. His research focuses on LED performance, packaging, and lighting application, including 3-D printing of lighting components and connected lighting systems. He leads ASSIST, an international organization dedicated to overcoming the technological hurdles facing LED lighting, and is an IES Fellow.