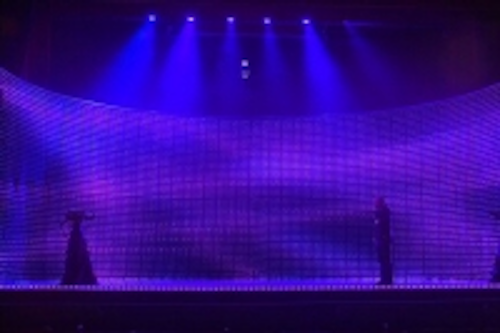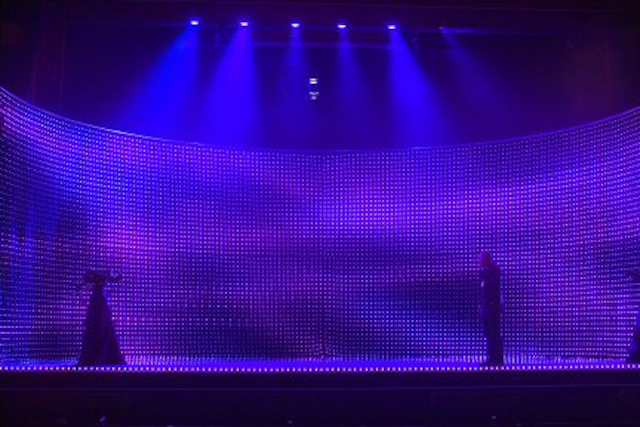 Date Announced: 23 May 2006
XL Video supplied a 20 by 4.8 metre landscape curved SoftLED backdrop and Catalyst digital media server control system for Irish comedian Dara O'Briain's DVD shoot at the Theatre Royal, Drury Lane, London for Open Mike Productions.
Series Producer Alex Hardcastle specifically wanted a simple 'screen effect' with no text or recognizable images, just abstract effect and colours. He wanted about 8 or 10 different colour states that could slowly morph throughout the show, matching his cues for the two acts and encore.
SoftLED was suggested as the ideal solution, and the deal was set up by XL's Al Green who says, "Open Mike specifically wanted controllable, changing colour states with different intensities across the screen, as opposed to solid colours.
XL achieved the basic brief that the audience should be concentrating on O'Briain's dialogue and banter, rather than on what was going on behind him, also providing a complementary and attractive background rather than a 'black hole'.
Another reason for using SoftLED was to create a modern take on the retro 'multi lightbulb' backdrop effect which has become iconic to classic comedy TV recordings in the past.
XL also supplied Simon Pugsley to programme and operate the Catalyst using a Hog PC system, and SoftLED technician Icarus Wilson-Wright.
Time was tight. Everything was rigged the same day - for rehearsals in the afternoon and the recorded show that evening, so the SoftLED's easy rigging capabilities were also a great advantage.
It took them approximately 2 hours to attach and line up the cloth sections to a series of wooden scenic supports, which formed a gentle curve around the back of the stage. Then it was 10 minutes to plug up and about 2 hours programming time, resulting in a versatile set of completely unique content and looks for the show.
Al Green states, "A combination of Open Mike's understanding of how SoftLed/Catalyst works on camera in theatre, XL's pilot content – rendered in Final Cut Pro from video footage of wind-blown silk - and source material from the Catalyst's onboard library created the elusive result we sought. It was well-conceived video designed to be subtle, complementary and abstract".
"Open Mike wanted a classical but flexible comedy/cabaret-style look, and the Soft-LED/Catalyst was an ideal and versatile way of producing it" adds Pugsley.
Contact
XL Video UK Tel. +44 (0)8702 202623
E-mail:info@xlvideo.tv
Web Site:http://www.xlvideo.tv