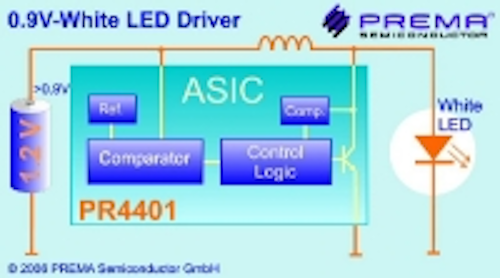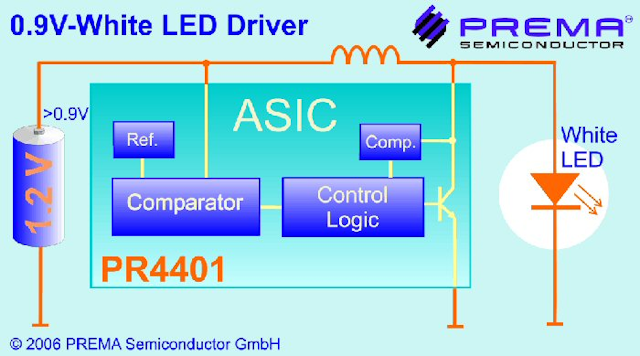 Date Announced: 28 Apr 2006
Prema presents analog and mixed-signal-ASICs and ASSPs for
low power and high voltage applications
PREMA Semiconductor is exhibiting for the first time at this year's PCIM Europe in Nuremberg from 30 May to 01 June 2006.
Our location is Hall 12, Booth 12-345.
The German semiconductor manufacturer PREMA Semiconductor GmbH offers in-house production of analog and mixed-signal ASICs for medium and high quantities. The applied ModuS U6 process allows to realize ICs with supply voltages from 0.9V up to 100V.
Further on, PREMA now offers ASSPs for several applications. At this year´s PCIM the new LED drivers will be demonstrated. One example is the new 0.9V-driver PR4401 that supplies up to three white LEDs out of one 1.5V battery cell. Because only one external component is required, it is particularly suited for small-sized applications such as LED torches or LCD backlighting.
Another ASSP is the PR4004, that allows to operate a 40-channel LED display with an external microcontroller. The constant current driver PR4130 controls up to three LEDs in series and even if one or two LEDs are disconnected or short circuited, the current and the brightness remain constant. Due to the supply voltage of around 12V the PR4130 is well suited for automotive applications such as drivers for the third high mounted stop light. All data sheets can be downloaded from our web site http://www.prema.com/Application/applications.html
PREMA´s application team is looking forward to meeting interested visitors at our booth on the fairgrounds to discuss ASIC projects and the new ASSPs during the PCIM Europe 2006, daily from 09:00 to 17:00 h.
General information about PREMA Semiconductor GmbH, Mainz
PREMA offers solutions for analog and mixed-signal ASICs
- with supply voltages from 0.9V up to 100V
- for the ultra low power range up to medium power
- development, design, production and test, all in one hand
ASICs from PREMA can be found
- in low noise audio electronics
- in battery management of household devices
- in mobile phones and moving sensors
- in bar code readers and sensors (light and magnetic field)
We cordially invite you to visit us at the booth No. 12-345 or to have a look at our website: www.prema.com for more information about us and our services.
Contact
PREMA Semiconductor GmbH, Robert-Bosch-Str. 6, D-55129 Mainz, Germany Dipl.-Ing. Anne Stroot Application and Project Management Phone.:+49-6131-5062-202
E-mail:anne.stroot@prema.com
Web Site:http://www.prema.com