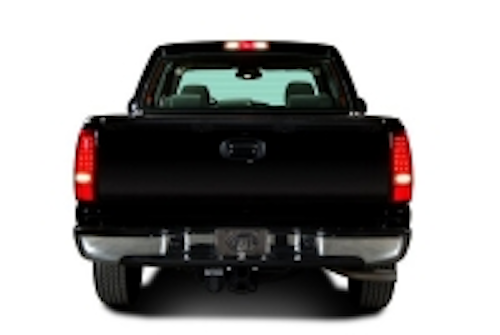 Date Announced: 03 Jan 2006
PEACHTREE CITY, Ga. – Hella Inc. will market new tail lamp kits for the automotive aftermarket featuring a combination of its innovative CELIS® (Central Lighting Systems) and LED technology.
Initially designed for new-model luxury passenger cars such as BMW, Hella's CELIS® LED rear lamps use light strips with acrylic light guides to produce brilliant light strips or rings.
Aftermarket kits – featuring two tail lamps and the CHMSL (center-high mount stop lamp) – initially will be available for 2003 and later models of the Chevrolet Silverado (pictured) and 2004 and later models of the Ford F-150 pickup truck.
Similar kits for various other sport-utility vehicles and passenger cars will be introduced in 2006. The system is designed to "plug and play," so consumers can easily install the kits themselves. Kit prices start at $400.
"Hella's CELIS® LED tail lamps will be manufactured with OEM quality and performance standards, making them unique in the market," says John Remakis, marketing manager for Hella's North American aftermarket operations. "We are introducing them on the highly successful Silverado and the F-150, aiming to meet the desires of pickup truck customers who want to personalize their vehicles."
The Hella CELIS® LED tail lamps provide aftermarket customers with several advantages, including a stylized appearance, added safety, lower power usage and substantially longer life than traditional incandescent lights.
"They look cool," notes Remakis, "but they also add a degree of safety because LED lights come on quicker and brighter than traditional lamps, giving drivers behind you an extra margin of warning that you are stopping or slowing."
Contact
John Remakis Hella Inc. Phone: +1.770.631.7517
E-mail:john.remakis@hinc.hella.com
Web Site:http://www.hella.com