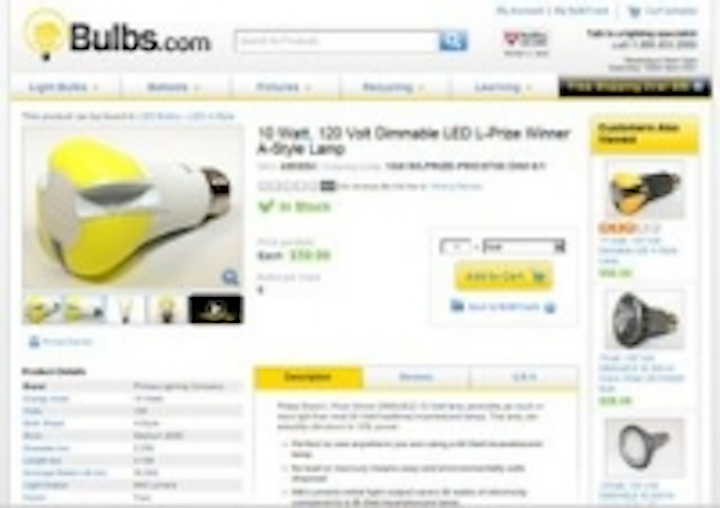 Date Announced: 12 Mar 2012
The Award Winning -- Leading Online Distributor of light bulbs now carries the ultra energy-efficient Philips L Prize light bulb for residential and commercial use.
WORCESTER, Mass. -- Bulbs.com, one of the nation's largest Philips Lighting distributors, now sells the new award winning Philips 10-watt LED light bulb that is designed to replace most standard 60-watt incandescent light bulbs in virtually any application.
"LED products are very common in the marketplace now, but not all bulbs are created equal," says Bulbs.com CEO Mike Connors. "At Bulbs.com we sell only reliable, quality-tested products from reputable manufacturers like Philips. This bulb is a particularly strong addition to our LED line."
Philips spent years developing and testing this long-lasting bulb that will last up to 27 years if used on average for 3 hours a day.
"We are recommending these bulbs to our customers because they contain no mercury or lead, produce instant-on, even light and use considerably less energy when compared with other incandescent and halogen bulbs," says Connors.
The Philips 10 watt LED bulb is currently the only winner of the prestigious L Prize - a US Department of Energy sponsored competition designed to spur development of ultra-efficient solid-state lighting products to replace the common 60-watt incandescent light bulb. The winning bulb was required to produce more than 900 lumens and also have a 25,000-hour life.
"This bulb is pretty amazing," says VP of Merchandising Chris Weber. "It is really hard to believe that you can get the equivalent of 940 lumens of warm, ambient light from a bulb that only uses 10 watts," says Weber. "But Philips has done it and we can't wait to get this bulb into the hands of our customers."
The Philips L Prize bulb is designed to save up to 80% in energy costs, has a rated life of 30,000 hours and is assembled in the USA. Learn more about the US Department of Energy L Prize at http://www.lightingprize.org.
About Bulbs.com
Bulbs.com, headquartered in Worcester, Mass., is a leading online incandescent, fluorescent and LED lighting supplier. Established in August 1999, Bulbs.com provides lighting products to a growing list of nearly 125,000 commercial customers operating 300,000 locations in the hospitality, retail, property-management, healthcare, manufacturing and municipal sectors.
Contact
Bulbs.com
Web Site:Bulbs.com