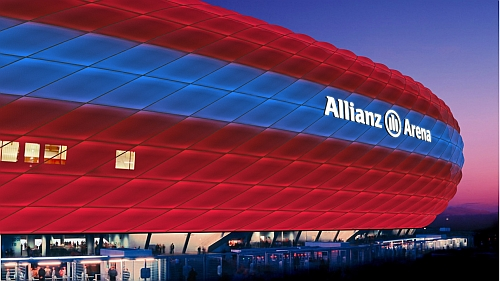 Iconic stadium façade will provide largest animated LED light show in Europe
Munich, Germany -- Royal Philips (NYSE: PHG; AEX: PHIA), the global leader in lighting, FC Bayern Munich, the German soccer champions, and their home stadium Allianz Arena, have announced a partnership that will make the stadium the first in Germany and the largest in Europe to feature dynamic animated light shows made possible by energy efficient connected LED lighting. As part of a three-year agreement, Philips will also become a sponsor of the Allianz Arena and the official lighting partner for FC Bayern Munich.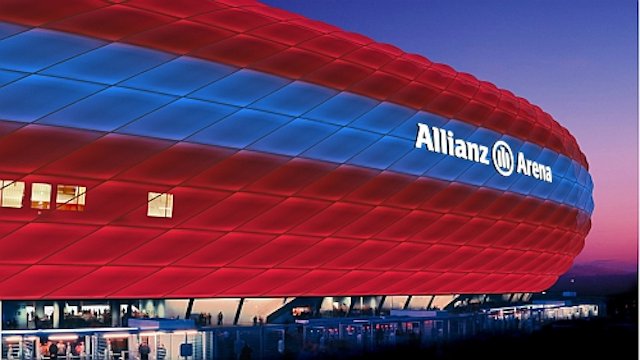 Philips partners with FC Bayern Munich for live LED lighting shows at Allianz Arena
The 71,137 capacity stadium has a façade comprising the world's largest membrane outer shell which stands 35 meters tall and covers roughly 29,000 square meters This will be a gigantic canvas for colored lighting patterns and even animations, giving fans and visitors a unique and unforgettable stadium experience. In the future 380,000 LEDs within 8,000 Philips ColorGraze fixtures will allow the arena to showcase more than just static images. The new LED system will also be 60% more energy efficient than conventional lighting.
"We will expand the palette from three to 16 million colors. There will be plenty of light scenarios possible, with which the Allianz Arena will be able to create unique moods," said Roger Karner, Managing Director of Philips Lighting in Germany, Austria, and Switzerland. The partners already developed first design studies and will continue to develop them together with the relevant government departments. This latest innovation from Philips is part of a fully connected lighting network. Every single point of light can be precisely controlled in real-time. Color gradients and animated interplays of color can even be created from within the 1,056 illuminated segments that make up the facade.
"The new lighting from Philips will allow visitors and TV viewers to feel the full emotion and dynamism of the match from their very first glance," said Karl-Heinz Rummenigge, CEO of FC Bayern München AG.
"FC Bayern welcomes Philips, the global player for stadium lighting, to the team," said Executive Board member Andreas Jung. "Together we will play to win in the world's most attractive arena."
The two top global brands Philips and FC Bayern Munich will also work closely together in terms of brand communication. "Philips and FC Bayern will bring the fascination of light to life, not only by live-events with the fans inside of the arena. Together with the FC Bayern Munich we will develop creative communication concepts for all channels," said Thomas Schönen, Head of Brand & Communications for Philips in Germany, Austria, and Switzerland.
Clear vote for sustainability in sports
By using controllable Philips LEDs, the stadium will lower the amount of energy it consumes from lighting by around 60%. This amounts to an annual saving of about 362 tons of CO2 . In addition, the long-life of LEDs means less maintenance is required. The LED solution underlines the partner's support for sustainability in sports and for the region as a whole.
Philips will assume responsibility for comprehensive servicing, from professional lighting designs and project planning through programming and start-up to maintenance.
Philips is the world leader in LED and sports lighting. Last month the company launched Philips ArenaVison LED – the first LED pitch lighting system to guarantee flicker-free super-slow motion for HDTV – meeting the stringent broadcast criteria of UEFA and FIFA. In Brazil, nine out of the twelve stadiums which will be used this summer for the soccer tournament will be lit by Philips.
About Royal Philips:
Royal Philips (NYSE: PHG, AEX: PHIA) is a diversified health and well-being company, focused on improving people's lives through meaningful innovation in the areas of Healthcare, Consumer Lifestyle and Lighting. Headquartered in the Netherlands, Philips posted 2013 sales of EUR 23.3 billion and employs approximately 112,000 employees with sales and services in more than 100 countries. The company is a leader in cardiac care, acute care and home healthcare, energy efficient lighting solutions and new lighting applications, as well as male shaving and grooming and oral healthcare. News from Philips is located at www.philips.com/newscenter.
Contact:

Oliver Klug - Communication Philips D/A/CH
+49 (0)40 2899 2128
E-mail:
Web site: