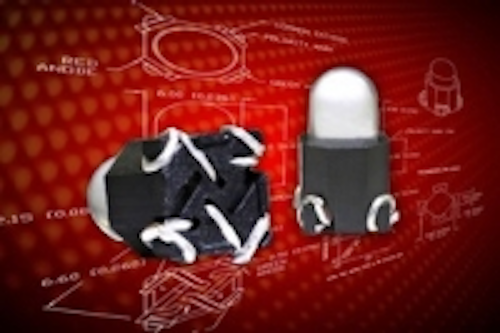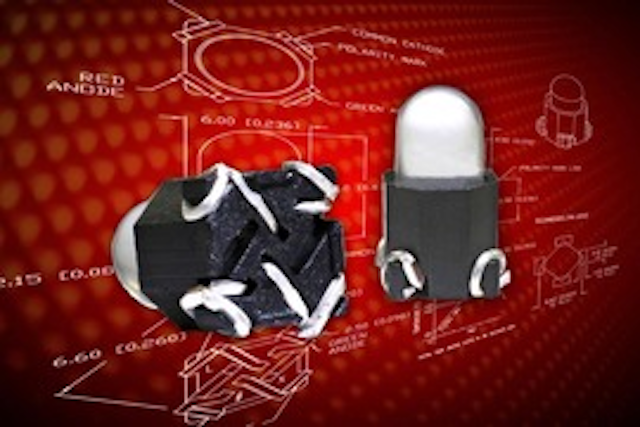 Date Announced: 30 Jul 2008
PALATINE, IL – Lumex announces a new line of surface-mount devices that represent the first commercial technology to combine the convenience of surface-mount technology (SMT) with the features and capabilities of through-hole, leaded T-5mm epoxy lens LEDs.
The patent-pending OctoLEDs™ devices are the result of a design breakthrough at a time when most assemblies are moving toward SMT technology. "The OctoLED design is a direct replacement to standard 5mm through-hole LEDs," explains Jeff Oliveros, Director of Engineering at Lumex. "OctoLEDs are ideal for any situation where there is a need to transition from through-hole to SMT technology, without sacrificing the light emission features of epoxy lenses."
The new OctoLEDs deliver brightness levels of up to 7,000mcd (dependent on color) – a market first from any conventional SMT LED driven by the common If of 20mA.
Lumex OctoLEDs (Series Number SML-H1505xxx-TR) can be used anywhere the convenience of surface mounting is required, with the high brightness, color and viewing angle choices of standard T-5mm LEDs. Such applications include front panel, PCB multi-LED and industrial control or fault indicators. Additional applications include circuit fault and large scale muti-color light bars, large display edge illumination, dot matrix moving sign displays and other dot matrix arrays where each LED needs to be individually-addressable.
OctoLEDs have an off-the-board height of 11mm (0.43 inches) and occupy a circuit board footprint which is 6mm x 6mm (0.24 inches x 0.24 inches). They are available on standard 24mm tape for automatic insertion.
Lumex OctoLEDs are available in the full range of colors including red, yellow, green, blue, or white. Bi-color as well as RGB versions are also offered. The LEDs are available with a variety of lens finishes, opening the door to different viewing angle options (angle will vary dependent upon lens type).
The new units can withstand soldering temperatures of up to 10 seconds at 255º C. A gradual temperature rise of 2º per second reaching 150º C is recommended. Lumex OctoLEDs are RoHS compliant.
Samples of these devices in standard colors are available from stock, with production quantities in 8 - 12 weeks. Pricing is dependent on color specified and quantity ordered, and is approximately $0.30 per unit in production quantities.
About Lumex
Lumex, an ITW company, is a leading designer, manufacturer and distributor of opto- and photo-electronic components, devices and displays. These products are used mostly in the man-to-machine interface, and in some cases, for the detection of motion, short-range signaling, and fiber communications. Lumex now offers thousands of items, with an emphasis on both application-specific and customer-specific parts for the North American, Asian and European markets.
The company is headquartered in Palatine, Illinois and Chu Dung, Hsin Chu County, Taiwan, ROC, with a Sales and Operations center near Frankfurt, Germany. Manufacturing facilities are located in Illinois, Taiwan and China with distributors throughout North America, Europe and the Pacific Rim. Since its inception in 1980, Lumex was established as a global organization offering application-specific solutions – but with the manufacturing efficiencies normally associated only with volume operations. Lumex received its initial ISO 9001 registration in 1996.
Contact
Lumex Contact Information For additional information or engineering assistance: In North America, contact Lumex's Sales Department, 290 E. Helen Rd., Palatine, IL 60067 USA. Phone: 1-800-278-5666. FAX: 1-847-359-8904. E-mail: lmxsales@lumex.com Web: www.lumex.com. In Europe, contact Lumex's European Sales and Operations Center at Robert-Bosch-Str. 1, D-61267 Neu Anspach, Germany. Phone: +49-6081-964-380. Fax: +49-6081-964-381. E-mail: lumex-europe@lumex.com. Web (in Europe) www.lumex-europe.com. In Asia, contact Lumex's Asian Pacific Headquarters at 3F, No. 972, Sec. 4, Chung Hsing Rd., Chu Dung, Hsin Chu County, Taiwan, ROC. Phone: +886-3-582-1124. FAX: +886-3-582-1154. Web (in Chinese): www.lumex.com.tw
E-mail:dianel1135@lumex.com
Web Site:www.lumex.com