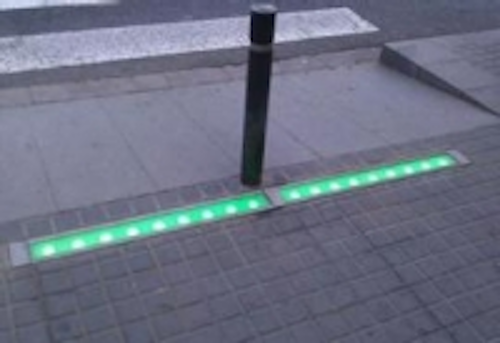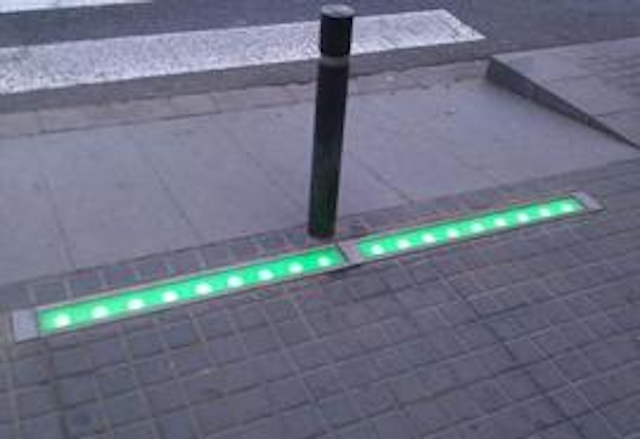 Date Announced: 12 Apr 2011
With the help of "Light Line", a warning light installed in the pavement, crossing the road becomes safer for pedestrians: in parallel to the switch function for the
LED traffic light
, "Light Line" uses a red or green signal to show whether the street can be crossed without danger or not. The warning light was developed by DSTA, a Spanish company that designs and manufacture LED solutions for traffic, lighting and transports. The signals in the various colors are provided by light emitting diodes from OSRAM Opto Semiconductors.
Particularly at less busy traffic periods, pedestrians often step onto a road crossing when the traffic light has already switched to red. This does not always have a happy ending. To reduce the resulting number of accidents, DSTA, the Spanish producer of light systems, has developed a solution with its "Light Line", signalling to the pedestrian directly at his or her feet, additionally to the normal traffic light, whether it is possible to cross without danger. The warning light is integrated into the pavement and functions on a synchronous basis with the traffic light switch system: if the traffic light switches to red, the "Light Line" also switches to red and warns the pedestrian. As soon as the traffic light is showing green again, the "Light Line" also turns green. The double light signal is intended to bring about a higher level of attentiveness among pedestrians, prompting them not to cross the road when the signal is red, even if no vehicles are to be seen at that moment. To get a rapid and reliable light signal, DSTA is opting for red and green Golden Dragon LEDs from OSRAM Opto Semiconductors. These provide operate times in the nanosecond range; thus there are no delays in switching over and there is a gain in safety for the pedestrians.
Greater safety at the path of protection
Golden Dragon LEDs from OSRAM Opto Semiconductors can make avail of all their strengths in the innovative Light-Line solution: LEDs are very robust, defying jolts, wind and weather, as well as accumulations of dirt on the pavement. Thanks to the small construction size of the modules, it is possible to have very flat designs for the luminaires, a factor which also offers the opportunity of a problem-free retrofit installation. The decisive factor for DSTA was the low level of maintenance workload required by the LED: depending on environmental conditions, Golden Dragon LEDs have an average operating lifetime of up to 100,000 hours. This keeps maintenance costs very low and traffic is scarcely influenced as a result. Thanks to its low power requirement, in providing a high quality of light, the product is also a particularly efficient solution.
First test installations of the "Light Line" are in place in the Spanish cities of Burgos and Terrasa; further projects are to be launched in the near future. "Cost efficiency is an important factor, which is why more and more municipalities are opting for this LED system when it comes to pedestrian safety", observes Ramón Fernández Morales, Business Development Manager at DSTA. "Golden Dragon LEDs are particularly economical and are the optimum solution for us, thanks to their energy efficiency and their low maintenance requirement."
ABOUT OSRAM OPTO SEMICONDUCTORS
OSRAM is part of the Industry sector of Siemens and one of the two leading lighting manufacturers in the world. Its subsidiary, OSRAM Opto Semiconductors GmbH in Regensburg (Germany), offers its customers solutions based on semiconductor technology for lighting, sensor and visualization applications. OSRAM Opto Semiconductors has production sites in Regensburg (Germany) and Penang (Malaysia). Its headquarters for North America is in Sunnyvale (USA), and for Asia in Hong Kong. OSRAM Opto Semiconductors also has sales offices throughout the world. For more information go to
www.osram-os.com
.
Contact
Marion Reichl Tel. +49 941 850 1693 Fax +49 941 850 444 1693
E-mail:marion.reichl@osram-os.com