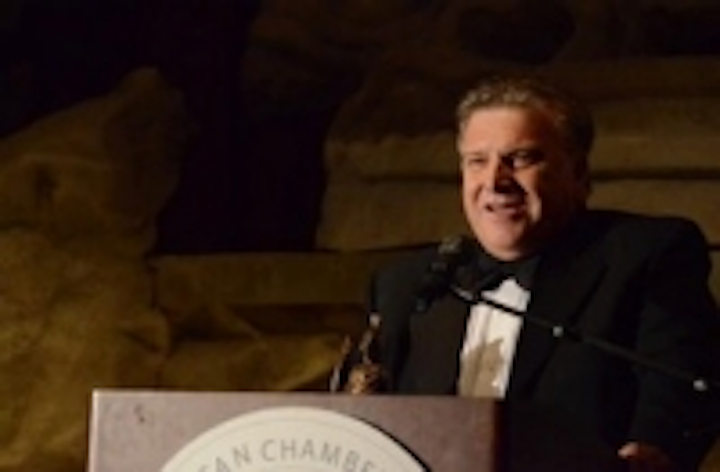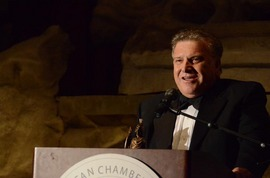 Date Announced: 18 Oct 2011
The Italian American Chamber of Commerce Midwest Bestows Award to LED Light Pioneer
Naperville, IL - PolyBrite International, Inc., developer of energy efficient Borealis® LED lamps and light systems, announced today that Carl Scianna, President & CEO, was honored with the Midwest Lifetime Achievement Award by The Italian American Chamber of Commerce (IACC). The award was presented at the 104th Gala and Awards Dinner held on October 1, 2011 in Chicago IL.
The 2011 Lifetime Achievement award was presented to Mr. Scianna for his professional accomplishments and his inspiring progress as an inventor, an innovator and a pioneer in numerous fields including the printing, computer, plastics and electric industries. His accomplishments have resulted in products that are used daily by millions of people worldwide.
"I am honored and humbled to have been selected to receive this highly esteemed award," said Carl Scianna, President and CEO of PolyBrite International. Mr. Scianna further added, "I am appreciative of IACC recognizing my work in this way, and it is an honor to interact with such a group of dedicated and distinguished colleagues and professionals."
Mr. Scianna has a successful history of innovation and invention and has been recognized by Strathmore's Who's Who Worldwide. His many accomplishments include, developing a patented UV finish for plastics that provides unique chemical and scratch resistant properties and is utilized throughout the world in the automotive, furniture, and medical industries. This UV finish was recently adopted by Hallmark for use in creating "Greeting Card mouse pads."
Mr. Scianna was one of the key wireless experts, being responsible for the design and development of the noise-reduction device for In-Flight Phone Corp. In addition, he also designed the electronic membrane switches and keypads for In-Flight Phone.
Earlier in his career, Mr. Scianna was an owner of Panel Engineering where he was instrumental in developing components for Dolphin computer, the first high-powered computer in the market. Mr. Scianna also served as General Manager at Carl Gorr Printing Co. providing consulting services to General Electric, during which he developed a special ink that can be used with a polycarbonate material called Lexan. This application is currently used in many products, including automobiles, household appliances, and signs. Mr. Scianna also invented the micro-shell technology for Bell Helmets. This technology is used in every bicycle helmet made today.
Carl Scianna and his numerous patents and innovations have improved the quality of life for countless millions of people across the globe. As President & CEO of Polybrite International, Mr. Scianna is a modern day Thomas Edison and leads the charge in LED technology, pioneering its developments that serve as the cornerstone of PolyBrite's product lines. This revolutionary, patented LED technology has resulted in a lighting industry breakthrough with LED light bulbs that consume up to 90% less energy than traditional lighting, are environmentally friendly, and provide at least 50,000 hours of operation.
For the past century, the IACC has recognized the accomplishments of influential business leaders and government officials from the Midwest and Italy at an annual elegant black-tie gala to honor top Italian and Italian-American business professionals. More than 500 successful businessmen and women, delegates and representatives from both Italy and the United States attend this important event for the state, as Italy is Illinois' ninth most important trading partner. Other recipients of IACC awards include such distinguished individuals as Patrick Quinn, Governor of Illinois, Sergio Marchionne, CEO of Fiat S.p.A. and Chrysler Group LLC, and Academy Award-winning actor Ernest Borgnine.
Based in Chicago IL, The Italian American Chamber of Commerce - Midwest (IACC) is a business association founded in 1907 to provide services to the Italian business community and to American businesses oriented to the Italian market or products. The Chamber's primary goals are promoting the member activities as well as promoting trade relations between Italy and the United States, with a particular focus on the Midwest region of the United States.
An IACC video presentation for the 104th Gala and Awards Dinner honoring Carl Scianna's achievements can be viewed at http://www.youtube.com/watch?v=S1GEzqFWIqw. To schedule an interview with Carl Scianna, please contact Tula Kareotes at 630-717-6700, or send your request by email to tula@polybrite.com. For more information regarding PolyBrite's energy efficient LED products please call 630-717-6700 or visit www.polybrite.com.
About PolyBrite International: PolyBrite International, Inc. has established itself as an innovative global LED lighting technology company since 1995. PolyBrite designs, engineers, and maintains complete control in manufacturing solid-state lighting products, creating LED lamps, Street Lighting, Panel and Tube Lighting and complete Signage lighting systems under its Borealis Lighting brand. The Borealis brand of products utilizes PolyBrite's proprietary technology bringing the energy efficiency, environmental sustainability and economic advantages of LED technology to the marketplace. More information on PolyBrite's Borealis brand of products is available on the Internet at www.polybrite.com or www.borealislighting.com or by calling 1-800-320-3801.
Contact
Tula Kareotes, Marketing Coordinator PolyBrite International, Inc 630-717-6700
E-mail:tula@polybrite.com
Web Site:www.polybrite.com