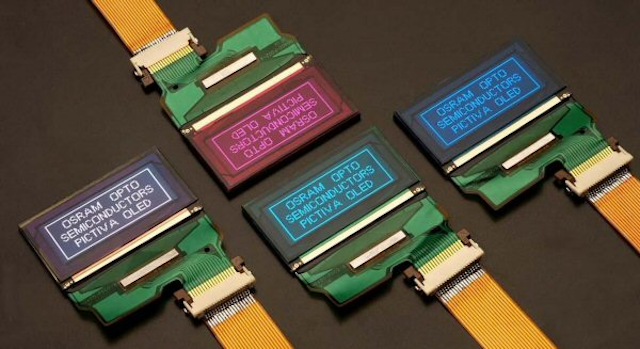 Date Announced: 27 Apr 2005
With OLED displays in additional colors and sizes, Osram Opto Semiconductors expands its product portfolio and stimulates the quickly growing market for organic LEDs (OLEDs). The new formats and colors are specially tailored for use in mobile devices such as MP3 players and mobile phones with sub displays.
With a resolution of 96 x 36 pixels and a one inch diagonal display size, the Pictiva displays in the new colors of Galaxy-White and Glacier-Blue are perfectly suited for the customary sub displays in mobile phones. Additionally, the new 1.2 inch format with 128 x 48 pixels offers an ideal solution for MP3 players. Seven brilliant display colors permit more flexibility in the design of small devices. Lime-Green, Jungle-Green, Tiger-Orange, Scarlet-Red, Elegance-Yellow, Clarity-Orange and Light-Green also appeal to the younger crowd.
The multitude of colors is also available for the already introduced 0.9-, 1.2- and 1.6- inch displays with 80 x 48, 96 x 64 and 128 x 64 pixels. The previous color spectrum, consisting of Elegance-Yellow, Clarity-Orange and Light-Green, has been extended to seven colors including Lime-Green, Jungle-Green, Tiger-Orange and Scarlet-Red.
The Pictiva family incorporates polymer based displays which are very thin, light and video capable and provide a wide viewing angle of 160°. With custom display sizes, the displays also provide an ideal solution for mobile medical equipment and industrial devices.
Contact
Osram Opto Semiconductors
E-mail:info@leds.iop.org
Web Site:http://www.osram-os.com