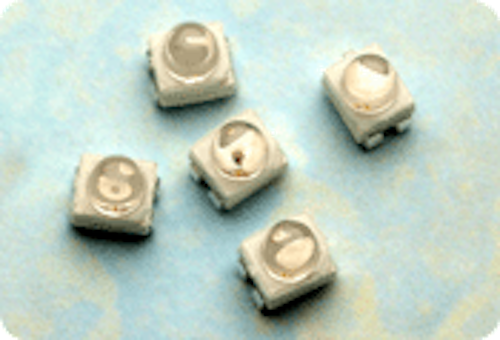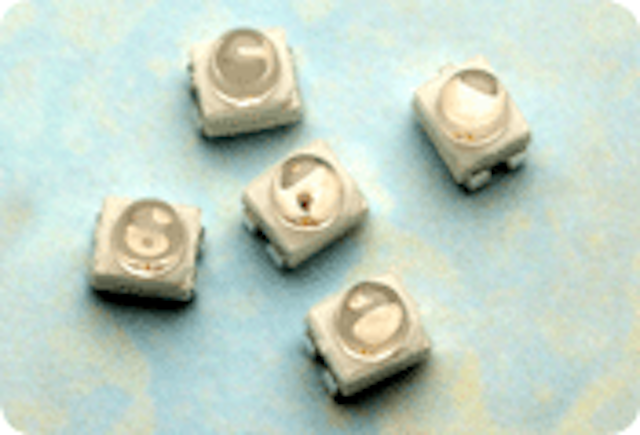 Date Announced: 11 Nov 2005
Agilent Technologies Inc. (NYSE:A) today introduced high-brightness red, red-orange, orange, amber, green and blue light-emitting diodes (LEDs) in the industry-standard Power PLCC-4 surface-mount (SMT) form factor, which incorporate integral lenses to produce a 30-degree viewing angle. All Agilent Power PLCC-4 LEDs are offered with the industry's shortest lead time of four weeks.
The Agilent HSMx-A43xx series LEDs are targeted at automotive lighting, outdoor electronic signs and signals, and other applications requiring highly reliable light sources. They complement Agilent's previously introduced Power PLCC-4 LEDs, with 120-degree, ultra-wide viewing angles.
The 30-degree viewing angle allows Agilent's SMT LEDs to meet many design requirements for interior automotive applications, such as door lighting and instrument clusters, as well as exterior automotive applications, such as turn signal lamps, brake lights and side markers.
These LEDs are also an excellent choice for applications in the electronic signs and signals field, such as traffic lights, marker lights and signboards.
"We are pleased to expand our family of high-brightness, reliable PLCC-4 LEDs to offer our customers the choice of a super-wide 120-degree or a focused 30-degree viewing angle in a wide range of colors," said Cheng Kai Chong, worldwide marketing manager for the Optoelectronic Products Division in Agilent's Semiconductor Products Group.
"Our customers prefer the one-stop shopping we're able to provide, and they value Agilent's legendary quality and industry-best lead time."
Below is a sample of the available colors and minimum/maximum brightness levels for the HSMx-A43xx series LEDs:
AlInGaP Red: 1125-7150 mcd (@ 50 mA)
AlInGaP Red-Orange: 1125-11250 mcd (@ 50 mA)
AlInGaP Orange: 2240-7150 mcd (@ 50 mA)
AlInGaP Amber: 1400-7150 mcd (@ 50 mA)
InGaN Green: 1400-4500 mcd (@ 30 mA)
InGaN Blue: 285-900 mcd (@ 30 mA)
The PLCC-4 SMT LEDs are supplied in Agilent's reliable and optically efficient packages, and operate over a -40 C to +100 C temperature range to assure reliability in harsh automotive and outdoor environments. To facilitate easy pick-and-place assembly, the LEDs are packed in EIA-compliant tape and reel.
Every reel will be shipped in a single intensity and color bin (except for red) to provide the uniformity required by automotive lighting designers. These LEDs are compatible with both the infrared solder reflow and through-the-wave soldering processes.
Pricing for the Agilent 30-degree Power PLCC-4 LEDs begins at $0.15 each in high-volume quantities; specific price depends on color, brightness and binning options.
Contact
Agilent Semiconductor Products Group +1 800 235 0312
E-mail:semiconductorsupport@agilent.com
Web Site:http://www.agilent.com/view/led