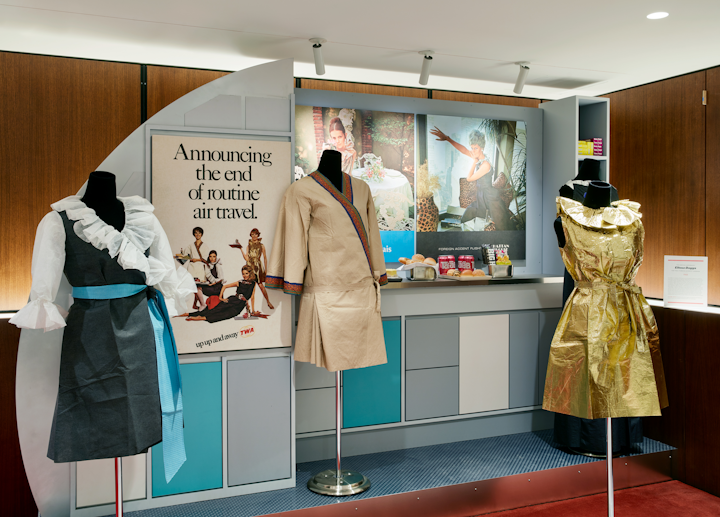 An iconic symbol of aviation grandeur, Eero Saarinen's landmark 1962 TWA Flight Center at JFK Airport has been transformed into the TWA Hotel, harnessing the allure and magic of a bygone era romanticized with LED technology.
With countless artifacts on display and fully curated museum-style exhibitions, the TWA Hotel transports us back to the '60s and instills within its visitors the glamour, optimism and energy once felt for air travel. To authentically capture the glamorous milieu of the Jet Age, accuracy in details became priority – including lighting and its color temperature. Lighting design firm Cooley Monato Studio incorporated USAI Lighting fixtures and LED lighting technology to replicate the original ambiance of the 1960s.
Pictured are the museum vignettes within the TWA Hotel's event center that were brought to life using the timeless and subtle BeveLED Mini fixtures with classic white light technology, which offers LED's ability to provide various beam spreads through small apertures with more uniform and more efficient light output. In an area devoted to TWA's history, memorabilia must be illuminated to appear as it did under the 1960s incandescent lights, while preserving and protecting these delicate artifacts. Unlike incandescent light, LED technology produces no appreciable damaging UV, helping to better conserve the memorabilia on display. To illuminate these iconic pieces in the most authentic way, the white, dimmable LED was set to 2700k to emulate a warmer, white glow similar to the era. USAI Lighting's classic white light LED technology provides the ability to reproduce the warmth and romance of mid-20th century lighting with the advanced LED technologies of modern day 21st century – providing visual authenticity and sustainability.
Contact:
USAI Lighting+1-845-565-8500
E-mail:
Web site: