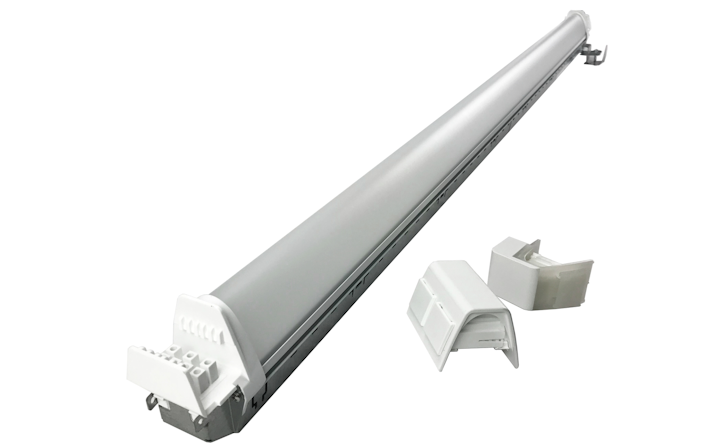 Blindfold test: Which company describes itself as "a design, source, and assemble lamp and lighting fixture business focused on retrofit applications"?
You're probably thinking it's some good old dyed-in-the-wool lighting outfit that hope's there is still money to be made in selling lamps and fixtures, even in an era when the industry is trying its hardest to morph into an IT play by turning the lighting infrastructure into an Internet of Things (IoT) data collection and analysis service.
You're probably not thinking "Current," the company that nearly four years ago ostensibly gave up the good old lamp business to focus on all those other newfangled software and networking things, and more.
Well, think again. The answer we're going for here is indeed Current. Yes, Current, the smart lighting company that GE jettisoned less than four months ago, selling it to New York City-based private equity firm American Industrial Partners. (Or, to use the company's full and rather clumsy name: Current, powered by GE. It's a name which still sticks for now, even after the GE sell-off).
New owners tend to refresh a company's sense of purpose, and AIP is no exception. With the word "industrial" seared into its own corporate identity, it has wasted no time in recasting a mission statement making it clear that Current sells what people might expect from any industrial company: tangible products. Something you can stub your toe on — in this case, lamps and fittings.
Not that AIP is forsaking the newfangled data chase and all the potentially lucrative services that the IoT entails, all of which pretty much define the lighting industry these days. No, the parent is not abandoning that side of the business. Mea culpa: We have been slightly disingenuous so far in this report, as we have held back the remainder of the new mission statement.
So, to come clean, here is the official new pithy overview in its entirety, as AIP states on its website: "Current, powered by GE is a design, source, and assemble, lamp and lighting fixture business focused on retrofit applications that pull through complementary digital sensors and software. The company is comprised of two main segments. The Professional segment manufactures LED retrofit kits, LED and conventional lamps, and LED fixtures for commercial, industrial, outdoor and roadway applications. The Digital Segment integrates sensors and controls to enable an open, cloud-based platform of apps for customer productivity and energy management in buildings & cities. Current also develops patent-protected proprietary phosphors with premium color quality and differentiated performance that are used in LED chips and fluorescent lamps."
Okay, okay. So there are sensors and software in the mix. Clouds and apps, too.
But we are struck not only by the opening emphasis on lamps and fixtures but also by AIP committing a full half of Current's operational segments to focusing on classic staples, which, depending on your point of view, are either time-honored or outmoded.
This is not the first time that LEDs Magazine has pointed out that Current has pulled way back on its original, overarching ambition. About four years ago, GE launched Current as a novel billion-dollar energy services firm that was going to tie together lights, solar panels, car batteries, chargers, storage devices, and so forth into a smart IT network that would help commercial energy managers cleverly monitor and manage their kilowatt hours.
It didn't work, and Current soon narrowed the focus onto smart lighting, in a quiet shift back to its knitting. As time went by, it started to become clear that products — not only LED lighting hardware, but fluorescent as well — were a solid part of the business plan, as we noted in March.
In retrospect, that renewed emphasis on products came about as AIP was closing its acquisition of Current, which it would complete a mere month later. So perhaps it reflected AIP's early influence.
The product theme is now firmly re-entrenched. When the new Current in May unveiled wares at the LightFair International exhibition in Philadelphia, it highlighted a raft of new fittings and lamp heads, which included sensors as well as programming software for apps. (You'll see the LUR Refit featured in an article on the post-show report from LFI in our July/August issue. Stay tuned.) The many products included a new Arize horticultural grow light for which Current has high hopes in the cannabis market, as evidenced by a distribution deal Currently subsequently struck with Hort Americas.
The product versus smart services theme is one with which many lighting companies are wrestling. Among the Big 3: Signify and Current continue to offer both, while Osram is exiting lamps and luminaires, except for horticultural products. It's all in an uncertain balance, reflected in the precarious financial state of the industry which has led Current and Osram to recently hand themselves over to private equity owners (Osram's sale to Bain Capital and Carlyle Group is pending).
At Current, AIP now has its own internally appointed CEO — albeit a temporary one — to help direct things on the re-honed industrial path. Back-to-the-future he goes.
MARK HALPER is a contributing editor for LEDs Magazine, and an energy, technology, and business journalist (markhalper@aol.com).