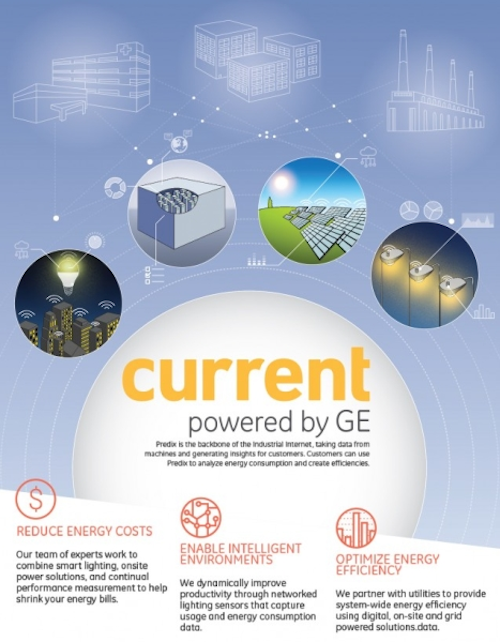 An energy-focused company, Current, Powered by GE, will now be the corporate home of commercial LED lighting with residential products still being sold under the GE Lighting brand.
GE has announced a new energy-centric company called Current, Powered by GE, that will become the corporate home of the company's commercially-targeted LED lighting products along with other energy centric products and technologies including solar, energy storage, onsite power generation, and electric vehicles. Maryrose Sylvester, who has served as president and CEO of GE Lighting, will lead the new Current organization.
Interested in more articles & announcements on lighting?

GE is positioning the move as creating a startup-like, entrepreneurial-driven enterprise within the walls of the GE corporate structure. But the announcement also notes that Current will begin life with more than $1 billion in revenue. For now, it appears as if GE has no plans to create a separate Current business entity, although the company has actively sought to divest other portions of its broad business portfolio such as financial services.
The GE announcement did not fully detail the fate of its lighting products portfolio, but only noted "LED" as being included among the solar, energy storage, and electric vehicle businesses that would comprise the new brand. We asked what LED included and a spokesperson said the LED-based lighting products targeted at commercial customers would now be part of the Current organization. LED-based replacement lamps targeted at residential customers will still be sold under the GE Lighting brand, according to the spokesperson.
Still, many organizational questions remain. Legacy GE Lighting products have not been mentioned, although the company had informed customers directly that it was discontinuing many legacy-lighting product lines long before the Current launch. The GE spokesperson said there will be further announcements on how internal departments such as engineering would be split or shared.
While energy is the overt tie to the businesses that will comprise Current, there is another technology tie lurking behind the scenes. GE has invested hugely in its Predix data gathering and analysis platform that can be applied in the different technology sectors. In a video interview at LightFair International this year, GE Lighting executive Jerry Duffy described how Predix can be used in networked street and area lighting applications where sensors including video cameras are deployed with the lighting.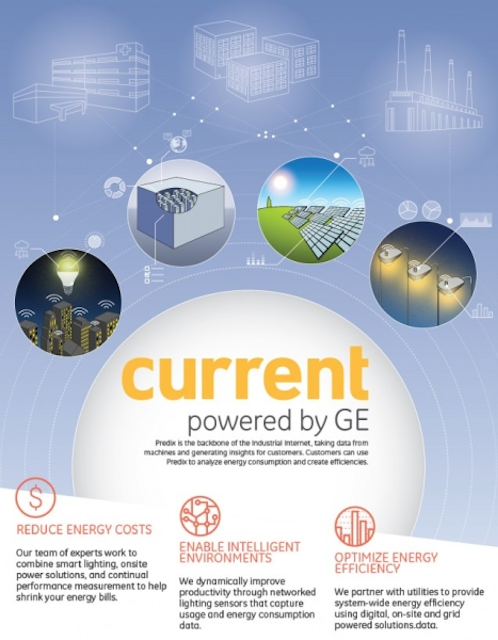 GE announces Current as new home of commercial LED lighting
"Currentcombines GE's products and services in energy efficiency, solar, storage, and onsite power with our digital and analytical capabilities to provide customers — hospitals, universities, retail stores, and cities — with more profitable energy solutions," said Jeff Immelt, chairman and CEO of GE. "The creation of a new company within GE reinforces our commitment to take energy to the next level, focusing on custom outcomes for our commercial and industrial customers, municipalities, and utility partners, and delivering a platform that can be upgraded as technology advancements are made."
More succinctly, the company said Predix will allow GE to offer services in which Predix can analyze power usage and detect patterns that enable the company to recommend new business practices and services to customers, reducing energy usage, optimizing the use of resources, and/or increasing revenue. Predix can also help utilities manage loads better.
Current is being aimed at some of GE's biggest customers that buy far more than lighting products from GE, but commercial LED lighting will be a core part of the offering. "Walgreens has a history of implementing environmentally sustainable technologies in our retail footprint," said Matt Harris, divisional vice president of facilities asset management for Walgreens. "For more than 25 years, we have worked with GE to bring improved lighting technologies to stores and most recently installed GE's environmentally-sustainable LED lighting products in some of our stores. It is important that we continue to find innovative, sustainable technology and explore ways to leverage software platforms like GE's Predix to assess our energy needs and increase efficiency. That is not only smart for our communities and planet but also makes good business sense."
Still, it's almost shocking that GE would relegate those two iconic initials to a clause at the end of the "Current, Powered by GE" name where the GE moniker will most likely disappear at some point. The new move is far different from Philips' recent moves, considered one of the big three in lighting alongside GE and Osram, in which Philips is proceeding to spinout its Philips Lighting business. The Current move is more in line with Eaton bringing Cooper Lighting under the energy-centric corporate brand recently, although the GE move involves a far bigger organization.