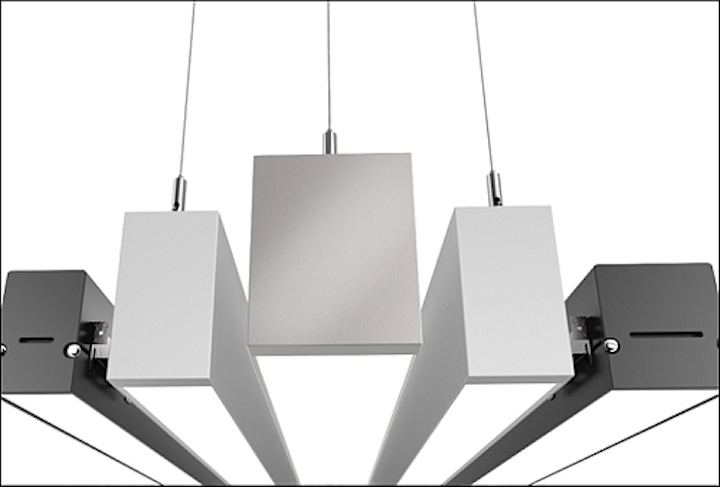 Whatever you call 'em — troffers, fixtures, luminaires — Current is happy to sell you one, even if you don't want all that newfangled digital energy management stuff. Meanwhile, acquisition by AIP still to close.
In another reminder from GE that its "Current, powered by GE" division can be as much about selling lights as it is about redefining the nature of the lighting business, Current has announced a line of new luminaires, lauding them for ease of installation.
Issuing a press release that could have come straight out of the not-long-gone good old days when lighting companies primarily sold light fixtures and lamps for a living, GE wrote a headline saying "Current by GE announces new LED fixtures" adding that the new line "does more than save energy." Current emphasized "ease of installation" in describing the features, which include embedded control sensors.
The announcement comes as Boston-based GE tries to finalize its sale of Current to New York-based American Industrial Partners, a transaction announced last November when the two companies said they expected to complete the deal by early 2019.
"Our proposed sale to American Industrial Partners is progressing as scheduled," a GE spokesperson told LEDs Magazine. "We'll make another announcement once it has officially closed." LEDs also asked AIP for an update but had not heard back by the time this story posted.
Current started life in October 2015 as a broad, overarching energy services company which GE heralded as an internal "billion dollar startup," in the heyday of former CEO Jeff Immelt's Industrial Internet of Things (IIoT) regime. With Current, GE had planned to tie together energy-related things such as LED lights, storage devices, electric car battery chargers, solar panels, and other onsite energy generators into an intelligent network that would help commercial users manage consumption.
But as LEDs has reported, the overarching scheme fizzled out amid GE's general problems, and GE has since scaled back Current's scope. While Current still very much offers energy management schemes and services, it does so with lighting as the framework.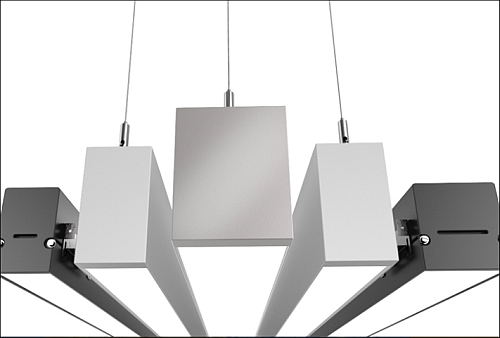 Current has announced a line of new LED luminaires
Sure, you can get digital services from Current. But you can also simply settle for lights, like these new LAL LED luminaires. (Photo credit: Current, powered by GE.)
The company's latest mission statement notes that "Current is the digital engine for intelligent environments," and explains that "Current blends advanced LED technology with networked sensors and software to make commercial buildings, retail stores, industrial facilities, and cities more energy efficient and productive. Backed by a broad ecosystem of technology partners, Current is helping businesses and cities unlock hidden value and realize the potential of their environment."
As LEDs has noted before, for all of the proffered energy intelligence and insights, Current is not above selling bulbs, tubes, and luminaires. In fact, Current's website has a "products" section replete with such offerings. It's a notable tack given that some lighting companies such as Osram are exiting the luminaire business. The industry in general is trying to morph into a provider of data-driven IoT services, using the lighting infrastructure to house chips and sensors that collect data and send it via the Internet for analysis.
Current's most recent announcement of a line of fixtures reaffirms that the company is still very much in the business of hawking lights.
GE underscored "ease of installation" in unveiling a set of 2×2-ft and 2×4-ft LED troffers, which it is calling the "RPL" line, and also in updating an existing line of long rectangular LED luminaires, called LAL. Both RPL and LAL are compatible with Current's line of Daintree lighting controls.
"Our goal when engineering these new indoor products is to offer features that deliver benefit from installation day through the life of the product," said Kevin Heffernan, Current general manager, channel. "We know that time is money when it comes to rip and replace, maintenance, and energy monitoring so we are packing it all into our products from the start."
Current described the RPL fixtures as "the company's first flat-panel retrofit kit with integrated lighting control sensors," and said it "was created for commercial offices to minimize installation time."
Current also hailed the installation benefits of a new outdoor roadway luminaire called the Compact Cobra Head. Current described it as delivering the same lumen output but in a smaller package than what the company had been offering.
"The result is a 30% lighter fixture (8 lb vs. 12.5 lb) that is easier to install and a cost-effective solution for walkways and neighborhood street lighting," Current said.
A year ago, GE agreed to sell its conventional lighting business — but not Current — in Europe and the Middle East to the former president of GE Hungary, Joerg Bauer, a sale that closed last April. That sale did not include North America's conventional lighting business, for which GE has been looking for a buyer, although it has also been moving conventional lighting and Current closer together.
MARK HALPERis a contributing editor for LEDs Magazine, and an energy, technology, and business journalist (markhalper@aol.com).
*Updated Mar. 4, 2019 for sale detail.