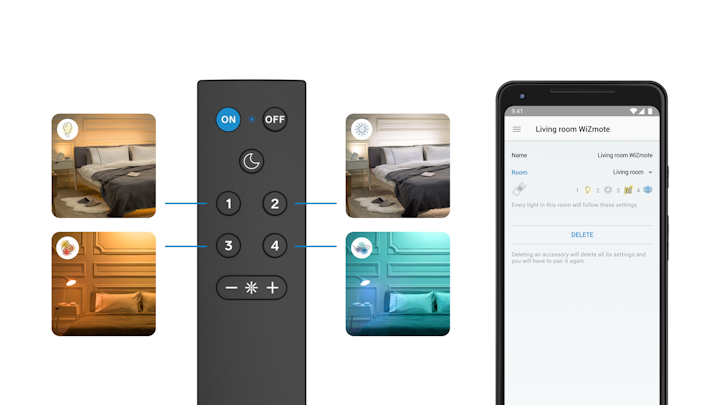 WiZ Connected has announced an expansion of its Wi-Fi-based connected LED-lighting platform at the CES event (formerly the Consumer Electronics Show) in Las Vegas, NV. The company previously had announced solid-state lighting (SSL) lamp products and a wireless-connected plug that can switch loads called the WiZ WiFi Smart Plug. Now the company is adding motion and ambient light sensors, an app that can manage a WiZ network and optimize energy savings, and a simple remote control that can allow even tech neophytes to easily manage room settings.
Generally, Wi-Fi has lagged other wireless networks such as Zigbee and Bluetooth Mesh in connected-SSL applications. Zigbee and Bluetooth utilize lower-cost ICs and radios and protocols that are much simpler than Internet Protocol (IP)-based Wi-Fi. Those attributes translate generally to lower cost for Zigbee and Bluetooth, although Wi-Fi enjoys a huge advantage in scale of deployment. Still, it's unlikely that commercial businesses will deploy Wi-Fi-based Internet-of-Things (IoT) applications connecting thousands of devices. But the WiZ implementation has been optimized for low power and might fit well into a residential application with a limited number of end nodes.
The WiZ Connected story was obviously strong enough to attract one of the stalwarts of the SSL sector when Signify acquired the company in the spring of 2019. WiZ continues to operate and sell products under its own brand thus far, although Signify has its own well-known residentially-targeted, connected-SSL brand in Philips Hue. Indeed, Hue essentially created the smart-home-lighting concept back in 2012 and has expanded ever since. The original Hue products were all Zigbee based and most remain so, although Signify has added Bluetooth as an option with some lamps.
WiZ points out that one advantage of Wi-Fi is that an installation requires no hub. That claim is not exactly true. The platform requires one or more Wi-Fi routers in a home, but the point is that the typical residential customer has already bought those routers for accessing the Internet or streaming content.
WiZ has not detailed the specifics of its low-energy Wi-Fi technology. There is no peer low-energy Wi-Fi standard to Bluetooth Low Energy. But the company has clearly reduced energy consumption. It says that the battery-powered remote control — called the WiZmote — will operate for two years on a set. Users can press buttons on the WiZmote to recall settings for a room that could be simply defined for ambience, or possibly for circadian or lighting for health and wellbeing properties. The remote costs only $15.
The motion and daylight sensors can be placed throughout a home — for instance, in hallways and bathrooms, or even in spaces such as a garage. When triggered, the sensors can cause a room to be preset to a configuration including, say, a circadian-centric preset.
"To accelerate the adoption of smart lighting, we propose affordable products that are simple to install and use. Our clients can control their lighting with smart functions right out of the box. This was the philosophy behind the development of our WiZmote and Motion Sensor," said WiZ Connected CEO Jean-Eudes Leroy. "We also believe in developing innovative, sustainable energy solutions in line with the Signify 'Brighter Lives, Better World' program fighting climate change. Our new power-consumption monitoring feature will help to optimize energy-efficiency scenarios in conjunction with schedules and sensors."
Indeed, the WiZ app will allow homeowners to easily track energy usage. The program can track the power used by every WiZ device. It can monitor energy on a room basis and for any time period desired. The app also allows the user to schedule events and dimming to minimize energy usage whenever possible.