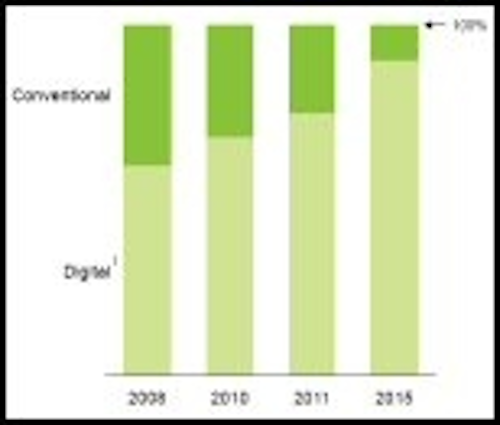 The same market dynamics that have caused a delay in the initial public offering (IPO) of Osram by Siemens are affecting the global LED and lighting industry.
Osram IPO delayed
Munich, Germany-based industrial company Siemens AG (SIE) has decided to delay the IPO of its Osram lighting unit, which had been planned for the fall of 2011. As we reported last month, the Osram IPO is likely not going forward at this time due to a slowdown in the solid-state lighting (SSL) industry and weakness in global equity markets.
Demand for LED and SSL products is less robust than many expected this year, as is the overall economy. An oversupply situation for LED-backlit TVs has reduced the market price for LEDs. There is also increasing price pressure on LED components and SSL luminaires caused by new players in Asia. These factors are all influencing the timing of the Osram IPO.
However, Siemens stated in a release last week that it is "firmly holding" to the planned sale. It didn't specify when that new opportunity might arrive, saying the timing of a listing depends on "the stabilization of market conditions."
"Preparations are on track and will be continued," Siemens said in the statement. "The parent company remains committed to retaining a minority stake in Osram AG as an anchor shareholder over the long term." Osram AG generated sales of EUR 4.68 billion ($6.42 billion) last year and its operating profit was EUR 569 million.
Philips Lighting slowdown
The industry slowdown is not only being felt by Osram. Royal Philips Electronics NV reported its second-quarter 2011 results on July 18. The company reduced its global lighting market growth forecast to 5-7% CAGR for the period from 2011 to 2015, compared with last year's estimate of 7-9% CAGR.
On September 13, Philips held a Capital Markets Day in London, UK, where executives provided an update on the Lighting and Consumer sectors of the company's business. The company said its results had been "impacted by slower market growth, operational issues, and investments for growth."
Philips' Lighting division reported comparable sales growth of 5% in the first half of 2011 relateive to the same period last year. Growth was driven by all business except Lumileds, Philips' in-house LED division, and Consumer Luminaires.
Growth was affected by sluggish consumer markets in Western Europe, and the continuing weakness of the construction market.
Philips said that the decline at Lumileds was "driven by the display business, and technology investments." However, LED-based sales overall increased in the first half of 2011 by 24% over 1H 2010.
In that series of presentations, Philips showed it will continue to invest in LEDs and controls to build growth. Its R&D funds are increasingly being assigned to "growth categories" in digital rather than conventional technology (see chart).
R&D funding will target areas such as technology breakthroughs in packaged LEDs; further incorporation of LEDs in lamps and luminaires (which Philips describes as "LEDification"); build up of the company's LED modules portfolio and expansion of its lighting-controls portfolio.
Aixtron issues revised 2011 guidance
Last week, Aixtron SE (FSE:AIXA; Nasdaq:AIXG), the Aachen, Germany-based maker of MOCVD equipment used to manufacture LEDs, issued a new 2011 revenue estimate of EUR 600-650 million and stated that its margin before interest and taxes would be 25-30%. Previously, the company had estimated revenue in the EUR 800-900 million range, with a margin of 35%. The management has also reduced its equipment order backlog by EUR 100 million.
The company has received requests from several customers, particularly in Asia, to defer system delivery requests into 2012. Aixtron has stated that recent discussions with customers have revealed an increasing concern about the short-term fragility of the economic recovery. These concerns, coupled with rapidly dropping end-market prices for LEDs, have caused delays in purchase order placements and deferred deliveries. Aixtron's Nasdaq stock price closed at $16.61 on Sept 16, down from its 52-week high of $45 reached in February.
In reaction to the Aixtron announcement, analysts also cut their ratings on Veeco Instruments (Nasdaq: VECO), a Plainview, NY-based manufacturer of MOCVD equipment and competitor to Aixtron. As a result, Veeco shares fell to $30.51 on Sept 16, down 47% from a recent high of $57.67 in May.
Epistar slower to install MOCVD tools
According to an article in Digitimes, Epistar will start operation of its LED joint venture, Epicrystal Corporation in Changzhou, China, on September 23. Taiwan-based Epistar holds a 60% stake in Epicrystal, with the remainder being owned by its customers. The Changzhou plant is one of three Epistar joint ventures in China, and the first to be inaugurated.
The new facility has the capacity to house 60 MOCVD reactors, but will initially be configured with only 10 reactors by the end of 2011 due to weak market conditions and a lack of demand growth.
The Digitimes article said that China-based LED firms have been slowing down the procurement of MOCVD equipment due to changes in government incentive programs. However, Epistar's plans may not be directly affected by these incentive changes because their expansion is based on previously-passed subsidies.