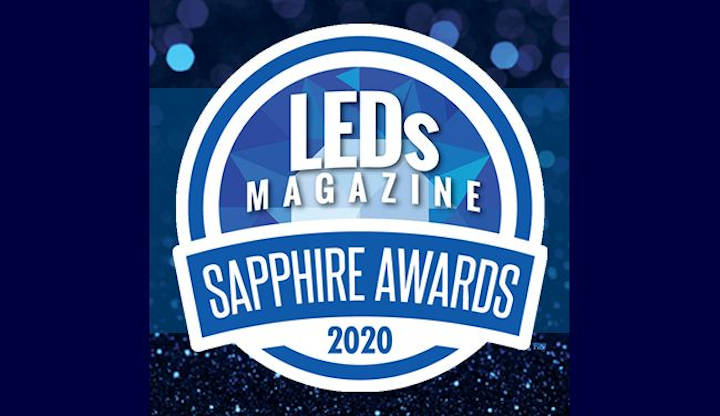 *** UPDATE: DEADLINE EXTENDED to OCT. 22, 2019 ***

It has come to our attention that we have been promoting two different deadlines for the 2020 LEDs Magazine Sapphire Awards submissions. You may have seen Sapphire Awards graphics with a deadline of Oct. 15, 2019 for entries but also an Oct. 1 deadline mentioned in our editorial content, including newsletters to which you may be subscribed.
Oct. 15 is indeed the ultimate, final, last gasp deadline. Typically, we wouldn't have revealed that for several more days because it's the super-secret extended deadline, but we have been talking about the Oct. 1 date for a while now, so I'm sure it is confusing to some of you. (I'm kidding about the secretive nature; it certainly isn't hidden from anyone that we normally extend the deadline past the promoted one.)
Get your entries started. All you have to do at the outset is create your login, fill out the contact information, and select a category for your submission. You can add your product description, supporting statement/essay, and photos later…but BY OCT. 15.
If you have questions about what is appropriate or required for the Sapphire Awards submissions, you can read about crafting your entry in one of our previous blogs. Focus on innovation. Does it need to reinvent the wheel? No. But it does need to show that the product delivers on the capabilities of LED and solid-state lighting (SSL) technology in components, electronics, controls, end products, and so on. More information is always better than brevity when it comes to these entries — but again, get it completed BY OCT. 15.
There is a great information page if you need a better understanding of the submission categories for products. Please note that before the judges proceed with their evaluations, our team does comb through the entries and look for any common threads that would require us to modify the categories slightly, and on occasion, products will be moved to categories where we feel they would fit better.
If you need inspiration on nominating someone for the Illumineer of the Year award, read one of our past features below on just a few of the recognized pioneers in the LED and SSL industry. And, finally, submit your Sapphire entry BY OCT. 15.
Alexander Wilm discusses LED evolution for SSL applications
Tanuj Mohan discusses the evolution of sensor-enabled SSL and the Building IoT
Tigran Galstian discusses dynamic SSL optics innovations and the Illumineer win
*Updated October 16, 2019 8:51 AM for extended deadline information.