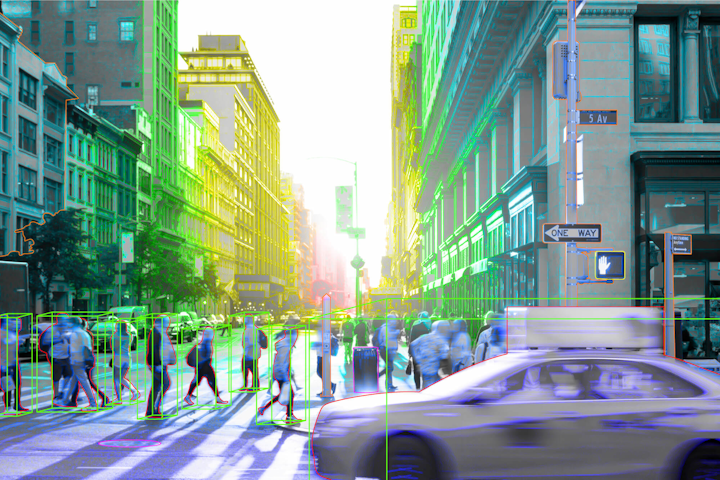 Osram might be in the midst of an uncertain ownership change, but it's conducting business as usual in that it continues to recast itself as a high-tech outfit. In its most recent example, it has invested in a Silicon Valley firm specializing in artificial intelligence (AI) for driverless cars.
The company's Fluxunit venture capital arm joined with other firms to place a combined $25 million round of Series A funding in Recogni, a San Jose, CA-based startup with operations in Osram's home city of Munich.
Recogni describes itself as "designers of a vision-oriented artificial intelligence platform for autonomous vehicles." Its mission includes helping to process data collected from optical and other sensors to help vehicles makes decisions in real time.
Such artificial intelligence today requires energy-intensive processing that has "hit the efficiency wall," Recogni claims, noting that is own focus is "on creating high-performance and low-power AI processing to help make autonomous vehicles a reality."
That makes sense to Osram.
"We truly believe in sensor fusion based on camera, radar, and lidar, but the computational requirements for processing the flood of data in real time and running perception algorithms on the edge remain one of the critical bottlenecks in autonomous driving today," said Fluxunit investment manager Sebastian Stamm.
Other participants in the $25M round included lead investor GreatPoint Ventures as well as Toyota AI Ventures, BMW i Ventures, French automobile technology company Faurecia, and DNS Capital.
While Fluxunit operates as an independent arm of Osram, its interest in sensing technology echoes a strong involvement by Osram in applying LED and laser chips for optical sensing purposes with a wide range of applications including facial recognition that helps lock and unlock gadgets and cars, and that can even detect things like tiredness in an automobile driver.
Osram also has high hopes for optical chips that serve as health monitors and drone navigators, and that underpin virtual reality systems.
It's all part of the company's transformation out of general lighting and into more high-tech photonics as well as Internet-connected lighting systems in which Osram uses the lighting infrastructure to collect and analyze data.
The transformation has been financially difficult, and Osram has put itself up for sale, hoping that an offer by Bain Capital and Carlyle Group successfully hits a Sept. 5 deadline.
Osram's interest in sensing technology has also drawn the interest of another possible suitor, Austrian sensor company ams.
Osram launched Fluxunit in September 2016 as an incubator for companies developing lighting-related technologies.
Its investments have included medical imaging firm iThera, and horticultural companies Motorleaf and Agrilution.
MARK HALPER is a contributing editor for LEDs Magazine, and an energy, technology, and business journalist (markhalper@aol.com).