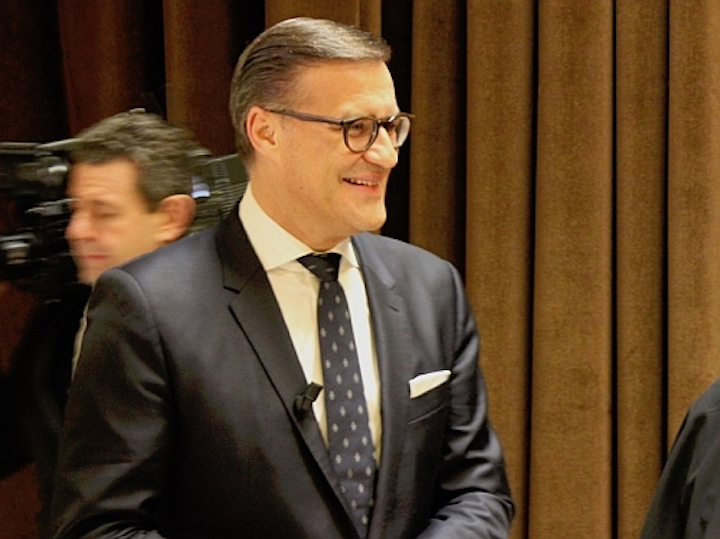 All the talk about digitally-connected IoT lighting still applies, but Olaf Berlien's messaging now focuses even more on optical chips. The language could have acquisition implications.
When Olaf Berlien took over as CEO in 2015, he immediately set about trying to rebrand Osram as a "high-tech company." He has stayed true to that mission, except now he has refined it by adding one word. Osram is first and foremost aiming to become a "high-tech photonics company."
While the tweaked messaging has popped up intermittently into Berlien's rhetoric over the last year or so, it is now clearly his preferred choice, judging by the speech he gave to shareholders in Munich last week at Osram's annual general meeting.
"Osram continues to transform, from a lighting company to a high-tech photonics company," he said, according to an English language transcription of his prepared remarks in advance of the speech he delivered in German.
Such is the importance of the new descriptor that Berlien titled his presentation "On the way to becoming a photonics company." And he repeated the reference to "high tech photonics" several times throughout the 16-page documents, giving it primacy at one point while enumerating the three main elements of what he calls Osram's "transformation" and noting that "first, we are evolving from a leading lighting supplier to a high-tech photonics company."
In doing so, Berlien is emphasizing the company's push to develop and make not just LEDs but also laser chips such as VCSELs that emit light in both the visible and invisible spectrum such as infrared.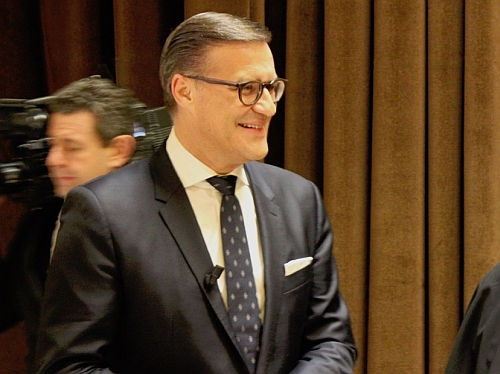 What's in a word? Osram CEO adds 'photonics' to his 'high-tech' spiel
With his company on the block, Osram CEO Olaf Berlien likes the photonics look more than ever. (Photo credit: Mark Halper.)
"Essentially, photonics means the emission, transmission, and detection of light," he said last week. "In the past, we more or less only used the emission part and visible light — to illuminate buildings or streets. In other words, light 'on' and 'off.' But with visible and invisible LED light, we can do much more than just illuminate. We can take full advantage of the potential of light. And thus open up new areas of application."
In Osram's vision, the many high-tech, newfangled uses for these components will include facial and iris recognition, vehicle navigation including cars and drones, biological detection of things like blood sugar and heart rate for fitness bands and other products, virtual reality, and more. It's the reason why Osram has invested heavily in a new chip factory in Kulim, Malaysia.
While a recent 47% first quarter EBITDA plunge has forced Osram to pare back its labor force at Kulim and other factories, including its flagship site in Regensburg, Germany, Berlien insisted that "Osram and its long-term strategy remain intact," adding that "we are confident that in the long term we will benefit from global megatrends such as digitization, urbanization, and connectivity."
Those "megatrends" still include Osram's push to turn the lighting infrastructure into an intelligent, Internet-connected network that gathers data and leads to more effective operations of building, streets, and cities — providing everything from retail analysis, customer engagement, and asset tracking to air quality detection, climate control, and much more.
"Connected lighting is just the beginning; the next and decisive step is to add intelligence to this digital ceiling," said Berlien, curiously using a phrase associated with IT networking company Cisco to describe Osram's efforts to connect office lights to the Internet. "Intelligence in relation to the data that our systems can collect. And which gives our customers valuable insights into their processes."
Osram is trying to reduce its reliance on the automotive industry, to which it sells headlights, brake lights, chips, and other products, and which currently accounts for about 50% of its revenues.
Osram also continues to part ways with its more traditional lighting business, having sold its Sylvania Lighting Solutions group; and it is in the process of selling its Siteco luminaire operations.
All the while, Osram itself is in negotiations to possibly sell the company into the private hands of equity companies Bain Capital and Carlyle Group.
With all the twisting and turning, and with many companies such as Cisco and Germany's Software AG on the prowl for data, analytics, and IoT acquisitions, it's easy to imagine that Osram might end up dishing out parts of the company to different places, with its photonics, digital systems, and automotive segments finding some combination of different homes.
MARK HALPERis a contributing editor for LEDs Magazine, and an energy, technology, and business journalist (markhalper@aol.com).