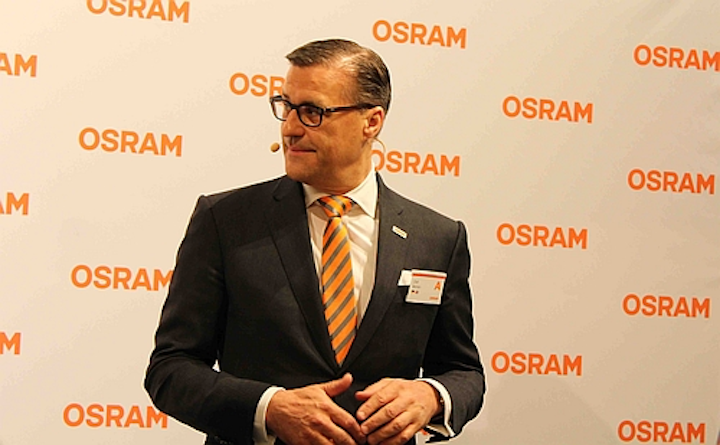 The new Fluxunit group will invest in startups and internal projects to help LED lighting tie into smart cities, buildings, and factories.
Hoping to strengthen its fledgling push into digitally connected smart buildings and cities, Osram has opened a business incubator to fund the development of technologies that tie into lighting systems.
Interested in smart buildings, smart lighting, and the IoT?
The new Fluxunit GmbH, which Osram described as a "business accelerator," will invest and collaborate with initiatives both inside and outside the company, including startups.
"Osram has set up a flexible company unit outside its established structures that will promote new and disruptive business ideas," the company said. "At the same time, Fluxunit will serve as the central point of contact for external and internal startups."
Fluxunit is based in Munich near Osram corporate headquarters but on separate premises so that it can "think and act on its own," Osram said. It noted that the new group "will promote the development and implementation of innovative ideas that extend beyond the traditional business of the lighting company."
The new incubator states on its website that "we search for startups worldwide, but are equally interested in teams from the Osram environment." It says it is focused on three areas: smart cities, smart buildings, and industrial applications.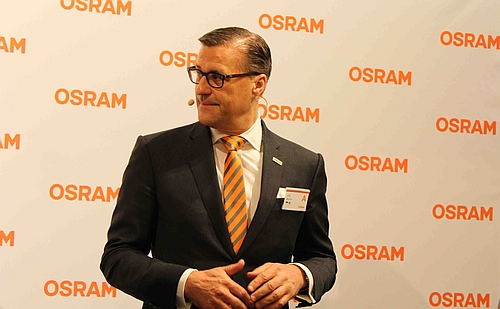 Osram launches business incubator to develop IoT technologies
Osram CEO Olaf Berlien will have to look sideways to see what's happening inside Fluxunit, which has set up shop on its own premises near Osram headquarters in Munich for a touch of independence as it invests in both Osram and non-Osram initiatives. (Source: Mark Halper.)
Like other large lighting companies swept up in the "beyond illumination" movement, Osram hopes to re-invent itself as a company that sells Internet-connected lighting services and lighting-based information technology systems, all as part of the Internet of Things (IoT).
Traditional companies like Osram, Philips, and GE are positioning LED luminaires and light sources as nodes in networks that, when combined with sensors, will collect information and data that will help run other systems.
In buildings, for instance, smart lighting systems can help adjust heating and cooling, can trigger security alerts, and can feed occupancy data to facilities managers to help them optimize room and property usage. In outdoor settings, smart street lighting could help monitor and improve traffic, parking, crime, air and noise pollution, shopping footfall, and much more.
Osram's transition away from lamps and towards IT and services has included the recent sell-off of its bulb operations, now called LEDvance, to a trio of Chinese companies.
In one ongoing smart lighting initiative, Osram is developing a lighting-based indoor navigation system. The technology, called Einstone, embeds Bluetooth beacons inside ceiling luminaires and sends signals to smartphones. It has many potential uses. Retailers could guide in-store shoppers to discounts, for instance.
Osram also recently showed a rudimentary energy monitoring prototype intended to help take real-time measurements of all electricity-consuming systems in a building, be they lighting, information systems, heating and cooling, or others.
Fluxunit will work closely with Osram's innovation and strategy department, Osram said. That presumably includes an Osram group called Innoventures, which has been developing Einstone.
For all of the general industry talk about IoT lighting and moving beyond illumination, it is still early days.
Osram itself suffered a setback in July when a security researcher revealed vulnerabilities that potentially allowed hackers to take control of Osram's Lightify smart bulbs for the home and office, as our sister publication Lux Review reported.
Recent industry-wide developments have indicated that more "traditional" LED advantages, such as energy savings and design continue to drive the market. Mass market retailer Target has also pointed out that IoT devices (such as LED lights) must do a better job of communicating with each other if the IoT market is to take off.
The beyond illumination campaign could use a jolt. Osram hopes that Fluxunit provides it.
MARK HALPERis a contributing editor for LEDs Magazine, and an energy, technology, and business journalist (markhalper@aol.com).