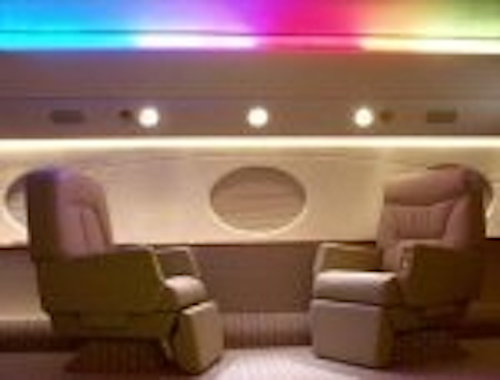 The aviation lighting market is experiencing a revolution, with conventional incandescent lighting being replaced by LED modules. Applications both civil and military, in-cabin and exterior, in the air and on the ground, are all being affected. The flexible nature of the design of LEDs modules means that introduction can be on a retrofit basis and not just on new aircraft designs.
Design & construction
High powered LED lighting modules generally comprise a matrix (or array) of surface mount LEDs soldered to a copper layer that is separated from a rigid aluminium substrate by an electrically isolating dielectric material. The result is a robust and durable assembly that has no moving parts. The electrical interconnections between LEDs in the matrix are made in printed and etched copper, a far more reliable method than using wires as in conventional designs. In LED modules the only point where there is a non-permanent connection or interface is the multi-way connector soldered to the edge of the circuit board that enables the lighting module to be plugged into the rest of the aircraft's wiring circuit.
The primary benefits of LED light in this type of application are that it provides versatile, reliable illumination with long life and low power consumption. It also gives a high degree of design freedom and helps to reduce cost of the finished assembly.
One of the main design hurdles to be overcome with an LED matrix design is the management of heat generated by the LEDs during normal operation. An insulated metal circuit board material, such as that manufactured by Universal Science, achieves this by transferring heat on the LED/copper side, to the aluminium base material via the thin, thermally efficient dielectric layer. The thickness of the dielectric is selected depending on the thermo-mechanical and electrical requirements of each application.
Designs can be realised in a number of shapes including discs, and rectangles. The flexible nature of the dielectric material means that 180 degree and 360 degree formed parts can be made; these can have either internal or external copper traces. The versatility of the material also means that it can be formed to match the sculptured curves found in passenger aircraft cabins.
LED modules versus incandescent lighting
LED modules offer significant benefits over established incandescent lighting in aircraft applications.
• Designability: Individual LEDs are very small – from sub-millimetre to just a few millimetres in size. A typical module design may have several hundred individual devices mounted on the substrate. The small size of the individual LEDs gives designers flexibility in terms of the layout pattern and the finished lighting effect that can be achieved. This is enhanced by the wide range of colours in which aviation standard compliant LEDs are available. LED modules are also extremely low profile – often thinner than 10mm - enabling them to fit into the smallest spaces in the aircraft cabin. A further important advantage is that LED modules give on average a 40% weight saving over the incandescent modules they are replacing, which improves fuel economy.
• Drivers: Incandescent lighting systems on aircraft usually require high-voltage inverters to correct the mismatch between the supply and the needs of the lighting elements. This not only adds weight, but can also create undesirable electrical noise that needs to be managed to ensure it does not adversely affect the performance of other electronics systems on the aircraft.
LED lighting modules are designed to operate directly from the aircraft's power and control wiring, thus eliminating the need for inverters and so avoiding noise issues and allowing designers to bank an important weight saving.
• Reliability: Reliability in an aircraft environment is of paramount importance. LEDs themselves have a life expectancy or mean time before failure (MTBF) of around 10,000 hours; this is several times longer than incandescent bulbs, and is very similar to the life of the aircraft itself. LED modules can provide genuine sealed for life solutions, eliminating the need to replace failed bulbs.
However, if LED modules are operated at temperatures towards the top of their operating range, then life figures will be significantly reduced. This underlines the need for good heat management.
The simple nature of an LED module design compared to an incandescent assembly translates into increased reliability. Incandescent assemblies have numerous terminated wires and connectors, plus fragile parts – all potential points of failure, especially in an operating environment that sees large swings in temperature and humidity plus vibration.
The robustness of LED modules results in a dramatic reduction in maintenance costs in applications where reliability is critical and where the location of the installation may prove difficult to access for replacement.
• Power consumption: The amount of electronics equipment found on passenger aircraft is always on the increase. In turn, this puts more demand on the aircraft's power sources, so any new product that offers power savings is very welcome.
LED modules deliver a power consumption saving of approximately 40% compared to the incandescent lamp module designs. Also, nearly 100% of the light emitted is forward directional, resulting in increased efficiency.
• Light versatility: LEDs can provide coloured light directly from source without the need for filters and coloured lenses required by white-emitting incandescent bulbs.
By combining large numbers of different coloured LEDs in a single module, different shades as well as completely different colours can be achieved by switching on and off different combinations within the matrix. This can allow the creation of mood lighting in an aircraft passenger cabin. Additionally, the brightness of LEDs can be accurately controlled anywhere between 0% and 100% of their maximum brightness.
• Retrofitting: Improved lighting efficiency, versatility, longevity and reliability coupled with power savings have created interest in LED lighting. Many manufacturers and operators will not be prepared to wait for new generations of aircraft to take advantage of these benefits, so the issue of retrofitting is important.
As previously mentioned, the nature of LED lighting modules is such that they are significantly smaller than those they are seeking to replace. Therefore, they can easily fit into the spaces within the aircraft that were originally allocated to incandescent lighting. From an electrical point of view, there is no requirement for any kind of buffering to align the needs of the LED module with the supply of the aircraft. Indeed, because the modules can be wired directly to the aircraft's supply without the need for inverters, the replacement scenario is more straightforward than the original solution.
A number of retrofitted LED modules are already in service with commercial airlines. One of the most notable is the cabin lighting upgrade being phased in on the Qantas Boeing 747-300 and 747-400 fleet. Qantas's aim is to improve the in-flight experience by setting the colour, brightness and effect of the lighting to reflect the time of day and phase of the flight.
In another application, following award of the relevant FAA approval to permit aftermarket installation, B/E Aerospace is now authorised to fit its LED interior lighting systems to Cessna Citation 500 business jets. The company has already provided LED lighting for installation on over 50 aircraft including Gulfstreams, Challengers, Falcons, Boeing business jets, Sabreliners and Merlins. B/E's LED reading lights are FAA-approved as direct replacement parts on Learjet 35 and 60 models, further illustrating the relative ease of retrofitting LED modules in place of conventional lighting.
Other aviation applications
The adoption of LED lighting in the aviation sector is not limited to passenger cabins. On the aircraft itself, there are important applications on the flight deck where many of the benefits described bring safety and operating improvements to the crew. The compact nature of LED module designs, plus the design freedom to produce complex shapes and profiles also makes them ideal for use on the aircraft's flight surfaces; here they can be incorporated without compromising aerodynamics or using up space that may be required for other systems. On the ground, modules can be employed for runway, taxiway and apron lighting.
Summary
Incandescent lighting has remained in aviation applications for a long time while other areas of aircraft technology have made huge strides forward. Now with the emergence of a technology that has exciting benefits both in terms of how it can be designed and the installed functionality it can deliver, it looks like this area of aircraft technology is about to make a significant leap forward.