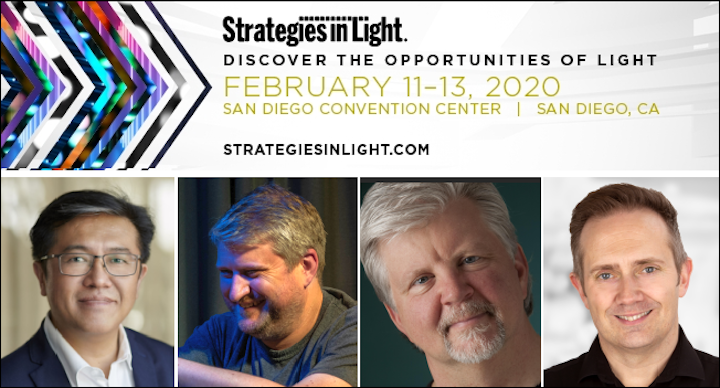 The 21st annual Strategies in Light conference will be held at the San Diego Convention Center on Feb. 11‒13, 2020. With the theme of "Discover the Opportunities of Light," this year's conference will continue the tradition of providing high-level speakers (more than 60) from all corners of the LED and lighting industries, panel sessions that will provide the audience with opportunities for extended Q&A, focused workshops that will provide in-depth information on special topics, an Investor Forum, an expansive exhibit area featuring products from throughout the LED lighting supply chain, and multiple networking opportunities.
The Strategies in Light 2020 conference agenda will consist of two plenary sessions with keynote speakers and three parallel conference tracks:
State of the LED and Lighting Industries
Advancements in LED Lighting Technology, Design and Manufacturing
Connected Lighting and the IoT
In addition, Strategies Unlimited will present its annual update and forecast of the LED and lighting markets. Last year's presentation forecasted that LED penetration into the lamps and luminaires market will reach 50% in 2022. The forecast and analysis by Strategies Unlimited is always highly anticipated as it brings to light the market forces pushing LED penetration forward or holding it back, as the case may be in some sectors.
This year's keynote speakers represent a wide spectrum of lighting industry participants, ranging from notable CEOs to highly respected lighting designers. They include:
Lawrence Lin, CEO, LEDvance
Thomas Paterson, director, Lux Populi
James Benya, principal illuminating engineer and lighting designer, Benya Burnett Consultancy
Neil Salt, managing director and co-founder, Gooee
Lawrence Lin became the CEO of LEDvance in 2018 after serving 20 years in the global LED lighting industry, including senior management roles in LEDvance's parent company, MLS. The subject of his keynote address will be "Natural Light for Natural Living with Full Spectrum LED Technology." He will discuss new LED advancements for full-spectrum lighting which delivers on the potential of positively influencing a person's health and wellbeing. Lin will share how there are new opportunities for full-spectrum LED light that can closely match natural light for an improved sleep/wake cycle and true, accurate colors without sacrificing lumen performance and efficacy.
Thomas Paterson is the director and founder of Lux Populi Mexico, an international lighting design firm with projects in over 20 countries. In his keynote presentation entitled "Psychology of Light," he will address the question of how we design light and lighting to create behavior, perception, and performance. What exactly is it that an end user can ask for from light? As the lighting industry becomes ever more capable of manipulating light through optics, control, and objects, we must ask ourselves, "To what end?"
James Benya is the principal illuminating engineer and lighting designer at Benya Burnett Consultancy. He is a registered professional engineer, a Fellow of the IES, and a Fellow of the IALD with more than 42 years of experience in architectural lighting design. In his keynote address, Benya will begin by looking back over the past 20 years of technical progress in the lighting industry, resulting in the fact that lighting is no longer a major energy user in new and retrofitted buildings. Expanding on his presentation's title of "Vision 2040: Where Will we Go from Here?" he will offer a visionary roadmap for continued growth in the lighting industry in ways not imaginable 20 years ago.
Neil Salt co-founded Gooee and serves as managing director. He is responsible for the implementation of Gooee's new execution strategy through partnerships with industry disruptors across multiple sectors. Gooee offers an IoT building intelligence platform that unifies building control, communication, sensing, and data analytics.
In addition to these keynote sessions, the three parallel conference sessions will address current topics of interest to the LED and lighting industries, including:
The Business of Lighting – The changing dynamics of the lighting industry: where the industry is going next
Advanced Luminaire Technology – New technologies that will impact the future market opportunities for lighting
Panel: Standards for Circadian Lighting – discussion of the emerging standards for circadian lighting and their pros and cons
Bringing Value to Connected Lighting – what are the opportunities for monetizing the features provided by connected lighting systems?
The Future of Market Transformation – what are the defining characteristics of the ongoing transformation of the lighting industry and how will they evolve?

Panel: What Can 3D Printing Offer the Lighting Fixture Industry Today? – expert views on the status of 3D printing in relation to luminaire manufacturing
Automotive Lighting – a new session offering insights into the use of LEDs in automotive lighting applications, such the use of micro-LED arrays in adaptive headlamps
These and many other exciting topics will be addressed by the expert speakers at Strategies in Light 2020. Join us in San Diego to benefit from the breadth of their expertise.
Get to know our expert

BOB STEELE is conference co-chair for Strategies in Light, a consultant to Strategies Unlimited, and an industry veteran. As a longtime member of the Strategies in Light advisory board, Steele has been instrumental in structuring the program to reflect the changes in technology and emerging applications that impact the LED and SSL supply chain. He has written regularly for industry publications and has given presentations at major conferences around the world. Steele received his PhD in physical chemistry from the University of California – Berkeley, and a BS in chemistry from the Massachusetts Institute of Technology (MIT).