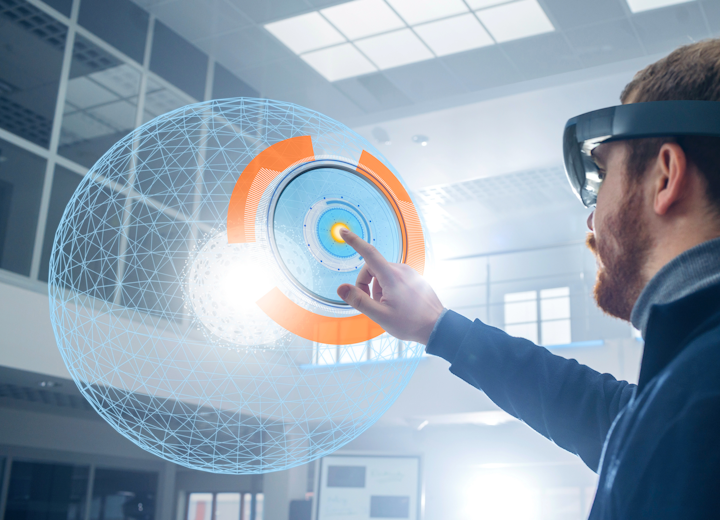 Keeping with its new normal, Osram has introduced two more LED chips for newfangled markets, this time releasing two infrared (IR) LEDs for use in virtual and augmented reality (VR/AR).
Osram said the Firefly SFH 4030 and SFH 4060 LEDs both help prevent feelings of discomfort and dizziness that people can suffer when using AR and VR glasses. The chips track eye movement, providing a "targeted point of reference, allowing users to safely immerse in other worlds," Osram said.
They are packaged in a system in which IR light illuminates the eye, a camera sensor measures the reflections, and software determines imaging adjustments after it measures the exact position of the eyes and viewing direction of the user, the company explained.
The SFH 4030 operates at 940 nm and avoids the "red glow" effect. The shorter-wavelength SFH4060 provides higher sensitivity at 850 nm, but red glow is more likely. (This is not the first time Osram has offered a 940-nm IR chip to help reduce red glow. It did the same for a facial recognition chip in early 2018.)
Both the 4030 and 4060 measure 1×0.325×0.55 mm, and include a black cap that Osram said makes the infrared LEDs (which the company calls IREDs) "invisible" when installed.
"Eye-tracking offers a very intuitive way of human-machine interaction for AR and VR applications, including displaying important information about the focused object," said Bianka Schnabel, product manager at Osram Opto Semiconductors, the company's chip division. "With the IREDs' two wavelength options and black package, we are broadening the options for our customers, and at the same time, making system integration easier."
The additions are the latest in a steady stream of specialty chips the Munich company has added as it rebrands itself as a "high-tech photonics" company, focused more on LED and laser chips than on general illumination including lighting in Internet of Things (IoT) schemes. Only a month ago, for example, Osram added two IREDs aimed at enabling facial recognition on smartwatches.
The shift could create synergies that would help Austrian sensor company ams acquire Osram, an acquisition that Osram's supervisory and management boards have backed. AMS is bidding for Osram shares via the public stock market. In its latest offer, it is seeking a minimum of 55% of the company. AMS has twice lowered that threshold, which it originally set at 70% when it first went to the market in early September and subsequently trimmed to 62.5% and now 55% as it eases terms in hopes of completing the deal.
AMS is offering €41 ($45.55) per share, an amount that values Osram at €4.58B ($5.09B) and which is 6.5% above its original offer of €38.50 ($42.78) per share, which trumped a €35 ($38.89) per share that Bain Capital and Carlyle Group had originally made and eventually withdrew. (Bain subsequently paired with Advent International in its efforts, but that team has also withdrawn from the sweepstakes at least for now).
Osram is on the block because it has suffered the financial difficulties that have bedeviled the lighting industry in general, which is struggling to find a sustainable business model now that long-lasting LED lamps and luminaires have gone mainstream and obliterated the century-old tack of selling bulbs and replacement bulbs.
The move into digital markets such as AR, VR, and others such as autonomous vehicles including cars and drones, fitness gadgets, health monitors, and more was a large reason why Osram opened a $440 million (€396M) chip plant in Kulim, Malaysia two years ago. The factory has been underutilized and has not escaped job losses, but Osram is continuing to press on in pursuit of new uses for its optical chips.
Suitor ams has said it would dump Osram's IoT lighting business, which Osram calls Lightelligence, should ams succeed in its takeover. Osram and other lighting companies are trying to use lights and the lighting infrastructure to help collect and monetize data about everything from building use to air quality to lighting conditions. But Osram's rhetoric has been recently emphasizing the chips over lighting. And ams has described IoT illumination as "non-core" to Osram operations.
Premstaetten-based ams supplies sensors to markets including smartphones — Apple is a big customer — and has itself been busy on the new product front. Two days ago it introduced an optical sensor designed to help smartphone cameras take cleaner pictures by eliminating the blemishes that can appear when a user snaps a scene illuminated by LED light. When LEDs flicker, they can cause image "artifacts."
The new ams TCS3408 color sensor "measures the color and brightness of ambient light as well as detecting photometric flicker, (which) enables a phone's camera-enhancement imaging system to eliminate flawed artifacts caused by artificial lighting environments," ams said.
The TCS3408 has three times the "flicker sensitivity" of its predecessor, the TCS3707, the company said.
AMS itself had been struggling financially amid a slowing smartphone market, but things picked up when earlier this month it reported that revenue for the third quarter ended Sept. 30 leapt over 40% to €579M ($643.3M) compared to €411.8M ($457.6M) in the same quarter a year ago, and net income surged nearly ninefold, to €141.9M ($166.6M) from €16M ($17.8M).
MARK HALPER is a contributing editor for LEDs Magazine, and an energy, technology, and business journalist (markhalper@aol.com).
*Editor's note: ams reports financials in USD while Osram reports in EUR; currency is provided in both EUR and USD for consistency. Currency is provided at the latest valuation as of time of publication.