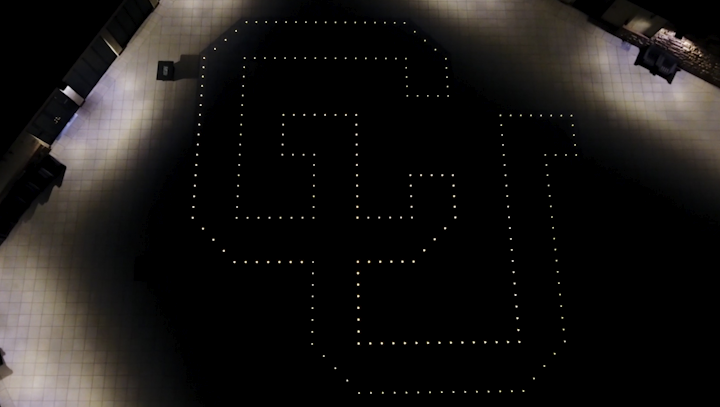 DEKOR® Lighting, a Denver-based company, partnered with Colorado University- Boulder (CU Boulder) to illuminate the massive logo that presides on the patio overlooking Folsom Field.
Folsom Field, home of the Colorado University Buffaloes, is one of the most recognizable spots in Boulder but the inlaid, stone "CU" that overlooks the field was lost in the dark as soon as the sun dipped behind Boulder's iconic Flatirons. DEKOR® had the perfect fix, Paverdots™.
The logo is located in a highly trafficked area, that hosts thousands of Buffalo football fans every year so the lighting that was to surround it needed to be durable and blend seamlessly into the surrounding rock. Paverdots™ were the clear choice. The bright lights are sturdy, easy to install, and rest within the stone to ensure that visitors will not miss a step.
With nothing but a drill, a little help from the Paverdots™ installation manual, and some teamwork, the DEKOR® crew brought the concrete Colorado University logo to life. They used a precise pattern to carefully outline the stone "CU" in glowing Paverdots™, making sure that the lights would not rise even an inch above the patios surface. Now, when the sun goes down, the Buffalo's logo glitters proudly against the dark outlines of the mountains.
To see the DEKOR team in action click here.
[ DEKOR® is a quality manufacturer and value leader in the LED Lighting Marketplace. They offer landscape lighting, hardscape lighting, interior lighting, and marine lighting products. DEKOR® products are innovative, reliable, and always made in the USA. ]