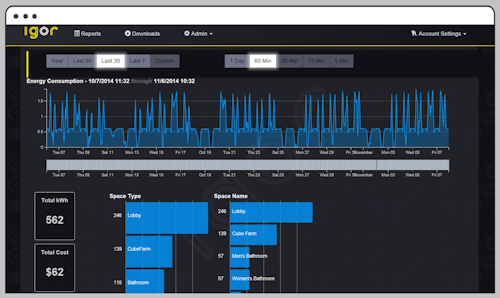 West Des Moines, IA –June 22, 2017 – Igor Inc., a leader of Power over Ethernet (PoE) smart building solutions, announced the release of its latest platform enhancements. These industry-leading updates include the ability to control human-centric tunable white lighting, support emergency lighting requirements, manage the easy integration of 3rd party applications via API events, and establishes even stronger API Security standards. Igor's rich set of new features clearly raises the bar and creates a new performance benchmark in smart building control solutions.

Igor's software release includes a centralized cutting-edge control system to manage Tunable White Lighting. To have a white-tunable environment means that the lights are adjustable on a scale of warm, neutral, and cool lighting. The ability to adjust the Kelvin color level of capable lighting fixtures benefits occupant's physical and mental health by utilizing the same color lighting found outdoors or in an optimal environment for the activity being targeted. Using the right balance of warm and cool lighting, building owners can help boost productivity, optimize shopping environments, and improve patient outcomes and recoveries. Few companies have achieved the ability to program tunable white light with the same depth and precision as Igor.

The Emergency Lighting Support functionality is a patented solution for PoE emergency lighting to support lights connected to our Uninterruptible Power Supply (UPS). Using our patented technology, administrators can designate emergency lights within the Igor Gateway that are served by a UPS. In the event of a power failure, the emergency lights will be prompted to turn onto a predetermined low-power level within seconds. Even if the light was off or at full brightness prior to the power failure, the designated emergency lights are programmed to resort to their safe level at the time of power disruption.

API (Application Program Interface) Events are a powerful new feature added to the Igor Gateway Software. This feature empowers third-party developers to create applications to address highly specific digital ceiling requirements. The possibilities of the API Events range from personal use to large-scale notifications. For example, a user could indicate that they want to be notified by email or SMS whenever a motion sensor in a specific area of the building is triggered during any given timeframe. When that event is triggered - such as movement in an area of the building that should not be in use - the notification is sent to the designated recipient. This addition to the Igor Gateway Software creates the ability for any third-party developer or user to create dynamic real-time events to meet critical business needs.

As with all Igor Release updates, API Security is strengthened and updated. This security update utilizes tokens to authenticate application identity within the system to prevent against malicious users or applications attempting to gain control of the Gateway without authorization.

Learn more or request a demo to see how Igor can make your building intelligent with their easy-to-use PoE technology.