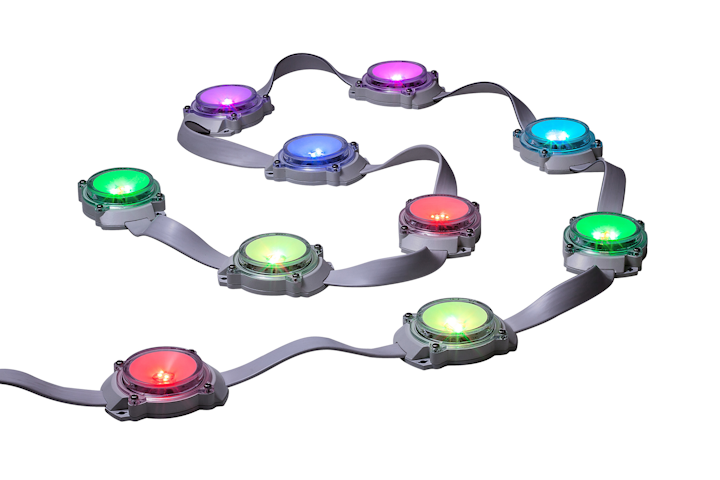 The Dot XLQ-8 RGBW allows replay of stunning color effects, complex lighting patterns, video content, live streams and more, with precise color effects using more than 16.7 million colors. As each node is individually autoaddressed and controlled via DMX or E:pix, this innovative lighting solution is ideal for applications requiring flexible installation and intelligent control as well as high brightness and efficacy. The Dot XLQ-8 has double the lumens per watt and triple the luminous flux of its predecessor, making it an ideal solution for elaborate lighting designs and environments.
The system supports DMX, with RDM and direct Ethernet communication, for system configuration, programming and convenient monitoring of the installation. White algorithms automatically generate four colors (RGBW) per node from a standard three-channel RGB video signal, providing greater display brightness and quality over conventional RGB video nodes.
"We take pride in helping lighting designers and architects create unique, vibrant lighting environments that deliver a truly memorable experience," said Dwight Kitchen, General Manager of Traxon North America for Osram Lighting Solutions. "Our latest RGBW media dot solution is flexible, highly customizable and supports remote device management, a key differentiator from other LED nodes on the market."
Mounted on a flexible string, the Dot XLQ-8 accommodates a variety of irregular shapes and surfaces, making it compatible with virtually any type of lighting configuration in a variety of applications, including architectural, hospitality, retail and entertainment industries. UV-resistant and designed to withstand the elements, it is a reliable solution for both indoor and outdoor installations. With the sustainability benefits inherent in LEDs, Dot XLQ-8 RGBW also delivers energy efficiency, reduced maintenance and electricity costs, durability, and long source life.
The new Dot XLQ-8 RGBW delivers flexibility, ease of control and remote device management for stunning full-color lighting in applications of all sizes. For more information about the latest in media and facade lighting innovations, please visit Traxon Technologies, an Osram brand.
ABOUT OSRAM SYLVANIA
OSRAM SYLVANIA is part of OSRAM Americas, a group of OSRAM companies located in North and South America. As a leader in lighting solutions and services specializing in innovative design and energy-saving technology, the company sells products under the brand names OSRAM, Traxon, ENCELIUM and SYLVANIA. The portfolio ranges from high-tech applications based on semiconductor technology, such as infrared or laser lighting, to smart and connected lighting solutions in buildings and cities. The OSRAM SYLVANIA and OSRAM Americas regional headquarters is located in Wilmington, Massachusetts. For more information, visit www.osram-americas.com or follow us on Facebook and Twitter.
ABOUT OSRAM
OSRAM, based in Munich, is a leading global lighting manufacturer with a history of more than 100 years. Its product portfolio includes high-tech solutions based on semiconductor technology, including infrared and laser lighting. The products are used in highly-diverse applications ranging from virtual reality, autonomous driving and mobile phones to smart and connected lighting solutions in buildings and in cities. In automotive lighting, the company is the global market and technology leader. Based on continuing operations In the fiscal year ending September 30, 2016, OSRAM had nearly 25,000 employees worldwide and generated revenue of almost €3.8 billion. The company is listed on the stock exchanges in Frankfurt and Munich (ISIN: DE000LED4000; WKN: LED400; trading symbol: OSR). Additional information can be found at www.osram.com.
OSRAM is a registered trademark of OSRAM GmbH.
ENCELIUM is a registered trademark of OSRAM SYLVANIA Inc.
All other trademarks are those of their respective owners.


Contact Information
Ellen Slingsby
OSRAM
978-570-3755
e.slingsby@osram.com