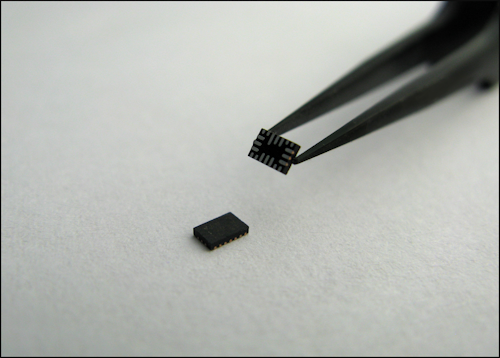 Santa Clara, CA – January 6, 2016 – Silego Technology announces the fifth generation of GreenPAKTM (GPAK) Programmable Mixed-signal ICs. The SLG46531V GPAK 5 further expands Silego's industry leading platform of Configurable Mixed-signal ICs (CMICs).
This latest generation device, including Silego's new Asynchronous State Machine and I2C blocks, introduces even more flexibility, functionality, and ease of design to the NVM programmable GPAK family of devices. With the addition of the Asynchronous State Machine, designers can implement up to 8 unique states with zero code, zero static power, and fail-safe operation. The addition of I2C enables designers to change device configuration, such as analog comparator thresholds, on-the-fly. The I2C block can also act as a digital IO expander. Included in the SLG46531V are improved Counter/Delay blocks, featuring one-shot and frequency detect modes, as well as the capability to drive an external crystal oscillator.
These new functionalities, along with the configurable digital and analog blocks seen in previous generations of GPAK, are all packed into a tiny 2.0 x 3.0 mm 20-pin STQFN with 18-GPIO.
Like other devices in the GPAK family, development of SLG46531V projects takes advantage of the easy-to-use GPAK development hardware and simple GUI interface of GPAK Designer, allowing engineers to quickly and easily implement new designs and respond to changing design requirements. Unique to this latest generation, designers now have the ability to perform on-board emulation, within their design, using I2C.
"We have really taken a huge leap forward in terms of functionality and flexibility with GreenPAK 5," states Sean Carty, Senior Product Marketing Engineer. "These devices offer our customers the potential to do even more with an already extremely versatile platform."
Target Applications include:
Consumer Electronics
Portable: Tablets, Smartphones, Notebooks
PCs and PC peripherals
Wearables
Commercial and Industrial Electronics
Servers
Embedded PCs
Data Communications Equipment
For pricing, samples, datasheets, and technical information about these devices and the GPAK Designer software, contact our customer service team at: info@silego.com or visit our website: www.silego.com.
Please refer to the following sources to see the product's application examples:
1. "Eight Output 8-bit PCM LED Dimming Using ASM": http://www.silego.com/products/488/312/AN-1118.html
2. "Using GreenPAK's I2C Port to Control an RGB LED Breathing Pattern": http://www.silego.com/products/453/312/AN-1100.html
3. "Lighting Control Made Simple with CMICs": https://www.youtube.com/watch?v=LWi_bAFx_4Q
About Silego – The CMIC Company
Silego Technology is a fabless semiconductor company creating configurable mixed-signal integrated circuits, or CMICs, which enable a paradigm shift in the way that hardware engineers design their systems. Our CMICs integrate analog, digital logic, mixed-signal and power functions while eliminating passive and discrete components. Our CMICs enable original equipment manufacturers, or OEMs, in high-volume applications to cost-effectively deliver their hardware products to market faster and with greater design flexibility. Our scalable CMIC platform is comprised of our configurable ICs, our proprietary design software and our development kits. Our solution consists of our proprietary CMIC platform and our delivery model, which includes our interactive design support, rapid prototyping of customer designs and flexible, cost-optimized manufacturing. Our solution provides our customers with mixed-signal ICs that address power, timing and interface functions in their systems. As of December 31, 2014, we have shipped over 1.4 billion CMICs since we introduced them in 2009.
For media information contact:
Victoria Yatskulyak
Silego WW MarCom Manager
vitay@silego.com
408-327-8800